From today (17th) to 21st, Korea's largest game show G-Star 2021 will be held. BTC is open from 2pm, but BTB is available from 10am. As G-Star resumes offline after two years due to COVID-19, each booth was busy preparing for the exhibition.
In the meantime, there was one standout booth at the Busan Information Industry Promotion Agency. It was the booth of Moeplesoft, which developed and serviced 'Cana Tales'. Cana Tales is a mobile version of TCG Sword Girls IP, which was discontinued in 2017 by Moeplesoft. It was released on Google Play on November 11, but it was switched to an open beta system due to overlapping server issues and other issues. It also announced that it would change to a soft launch system in the near future for stabilization.
Moeplesoft is a group of 6 developers who want to revive old memories while proceeding from development to promotion. I had an opportunity to ask them briefly about their feelings and future plans for G-Star, which was held offline for the first time in two years, with them, who have been busy preparing for the promotion on BTB from the first day.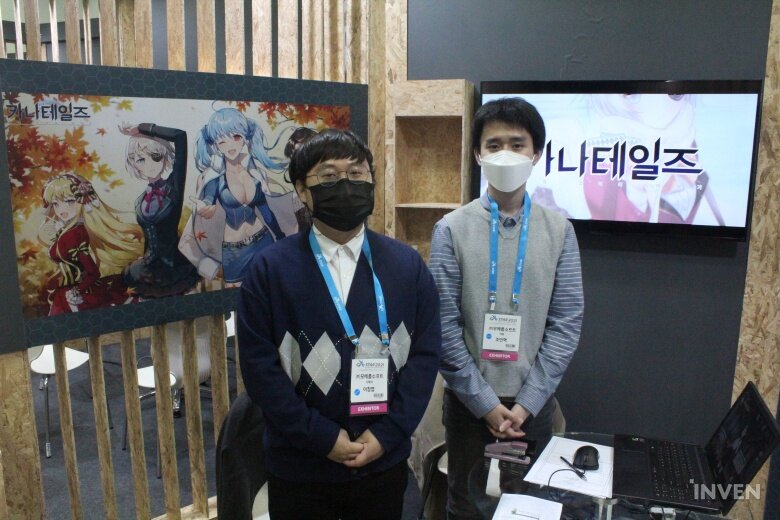 Q. Cana Tales officially launched on the 11th, but has it switched to an open beta system? It must have been a difficult decision.
Cho Min-hyuk: The server crashed frequently, so I kept checking it, and eventually came to the conclusion that the structure had to be changed. So, first of all, various things are cut off, and the server personnel are undergoing stabilization. We plan to switch to a soft launch today or tomorrow.
Changyup Lee: Compared to the build that was released as an official release, we removed various content and features, but we decided that stabilization was the top priority. Since we were also Sword Girls fans, the reason seems to be the lack of stability as we were greedy to add more things to the fan heart. So we want to go a little bit more slowly.
Cho Min-hyuk: The reason for the soft launch without closing the server was that the longer the server was closed, the more distant the fans. So, first of all, we are going out with a soft launch that excludes some features, and we are focusing on securing stability in live situations and adding content step by step.
Q. How many people are on the development team now?
Cho Min-hyuk: There are a total of 6 of us.
Q. While 6 people were busy developing, you continued to upload developer notes until release, attracting attention from users. It must have been a very difficult process, but what was the driving force that kept it going?
Cho Min-hyuk: Because I was also a fan of Sword Girls. After enjoying the game as a user for a long time, I became a developer like this. At that time, I thought that I should do what I wanted to the developers now. Of course, providing good games to users is a priority, but communication with users is also important. I also knew the frustration of not responding to communication while playing the game, and I felt that I had to faithfully respond to communication. There are precedents from other games, so we are referencing various things.
Changyup Lee: Personally, I have experience dealing with customer service in other industries, and I have saved the memory of that time. In addition, since I am also a fan of Sword Girls, I thought about what is most important from a fan's point of view. Even if the game can't be released right away, I wondered if it would be nice if users continued to introduce the content they were curious about, so I've been trying to inform them in my spare time during development. We will continue to inform users of the development status in the future.
Q. You must have been busy preparing for the release when you applied for G-Star. What made you decide to participate in G-Star?
Cho Min-hyuk: In Korea, we would be operating it ourselves, but it seemed difficult for us to go overseas alone. So, we participated to find an overseas publisher or partner to join us. It would have been nice if it had been released until the official release on the 11th as scheduled, but unfortunately it couldn't.
Q. G-Star was held offline for the first time in two years, how do you feel?
Cho Min-hyuk: Last year, he appeared briefly at an indie showcase. To talk about last year's G-Star Indie Showcase, it was mostly online. Offline, the filming team was in the booth, and the booth participants came out at their own time to appeal.
So our game exposure time was not long. But even in that short time, there were users who recognized me. It was just shocking. Now, I came to BTB, and I think I should work hard to find good partners and publishers. My heart is busy preparing for various things (laughs).
▲ Following last year's G-Star Indie Showcase, this year, we participated in BTB.
Q. You said that the service will continue for the time being in the form of a soft launch with some features removed, so I think some fans may be concerned. Can you elaborate on which features will remain the same?
Cho Min-hyuk: The core battle and card nurturing content will remain the same. In addition to the server, the part that became a problem this time was content related to time, such as quests and monthly subscription products. We are focusing on that part of the test. We do internal testing while soft-launching, and we want to re-build a flat-rate product after checking whether it is applied well to users in the form of a free product first, and then undergoing further verification.
Q. Isn't it really difficult to develop an IP that has been terminated once, and to continue the service by continuously finding other ways in such a difficult situation to attract users' attention? What do you think was the driving force behind that?
Cho Min-hyuk: As I mentioned earlier, I was originally one of the average Sword Girls fans. But one day, the service stopped. At that time, I felt regretful, so I bought the IP for the fan heart.
Of course, the fans were huge, but while conducting market research, I saw that the Sword Girls were competitive enough. The strength of Sword Girls was that it was not only a pretty girl, but a simple yet deep card game. If you look at other TCGs, there are many things to think about, such as shuffling cards from the beginning, card linkage effects, counting the number of cards, etc.
But isn't it much simpler for Sword Girls because they build and arrange decks, and then they just fight each other on their own? Simplicity is the best part, I thought. In particular, as the mobile game market grew, I thought that it was not the most suitable genre. At the same time, it has the depth factor of deck organization and layout, so I think it has enough competitiveness.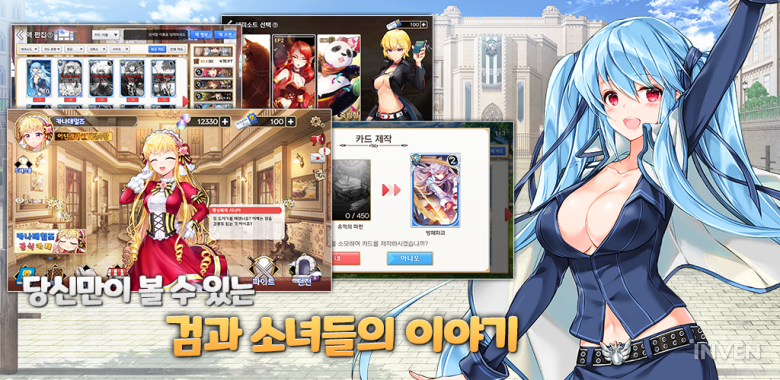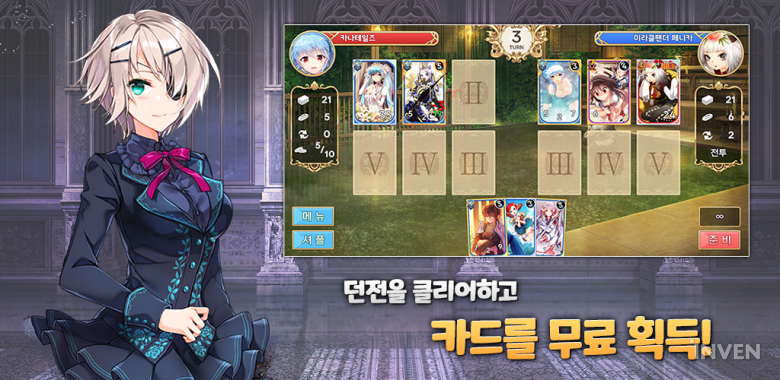 Q. I know that you have received feedback from users in various ways, including posting developer notes regularly and switching to CBT to open beta. What would be the most impressive feedback?
Cho Min-hyuk: Whenever CBT and OBT were conducted, various feedbacks came. Whether you want to make cards right from the deck menu, or the UI is inconvenient, etc., we also played the game from the user's point of view, and the feedback in the intuition and convenience part really touched me. So there was a lot of acceptance in that area. After seeing the feedback like that, I saw users saying they liked it and thanked me, so I thought that this is what I should do.
Q. How would you describe G-Star and Canatales' plans after that?
Cho Min-hyuk: First of all, we want to proceed with finding overseas publishers and partners in G-Star. In Korea, we will operate it ourselves, but overseas it seems difficult. And now, server administrators are focusing on stabilization, so I think we should focus on that for the time being after looking at stabilization after G-Star.
Changyup Lee: Since we only talked about stabilization, to tell you something else, we would like to add a regular episode once a month. After the soft launch, after stabilization to some extent, Episode 4 will be added first. And the Christmas season is coming soon, isn't it? In line with this, we plan to hold a Christmas event. The Christmas event is being prepared with a new resource, not the existing Sword Girls resource.
Of course, stability is paramount. That way, the event can be smoothly presented to users, isn't it? So the server administrators are still working hard. In the other part, after that, we are preparing service and event plans so that users can continue to have fun and play accordingly.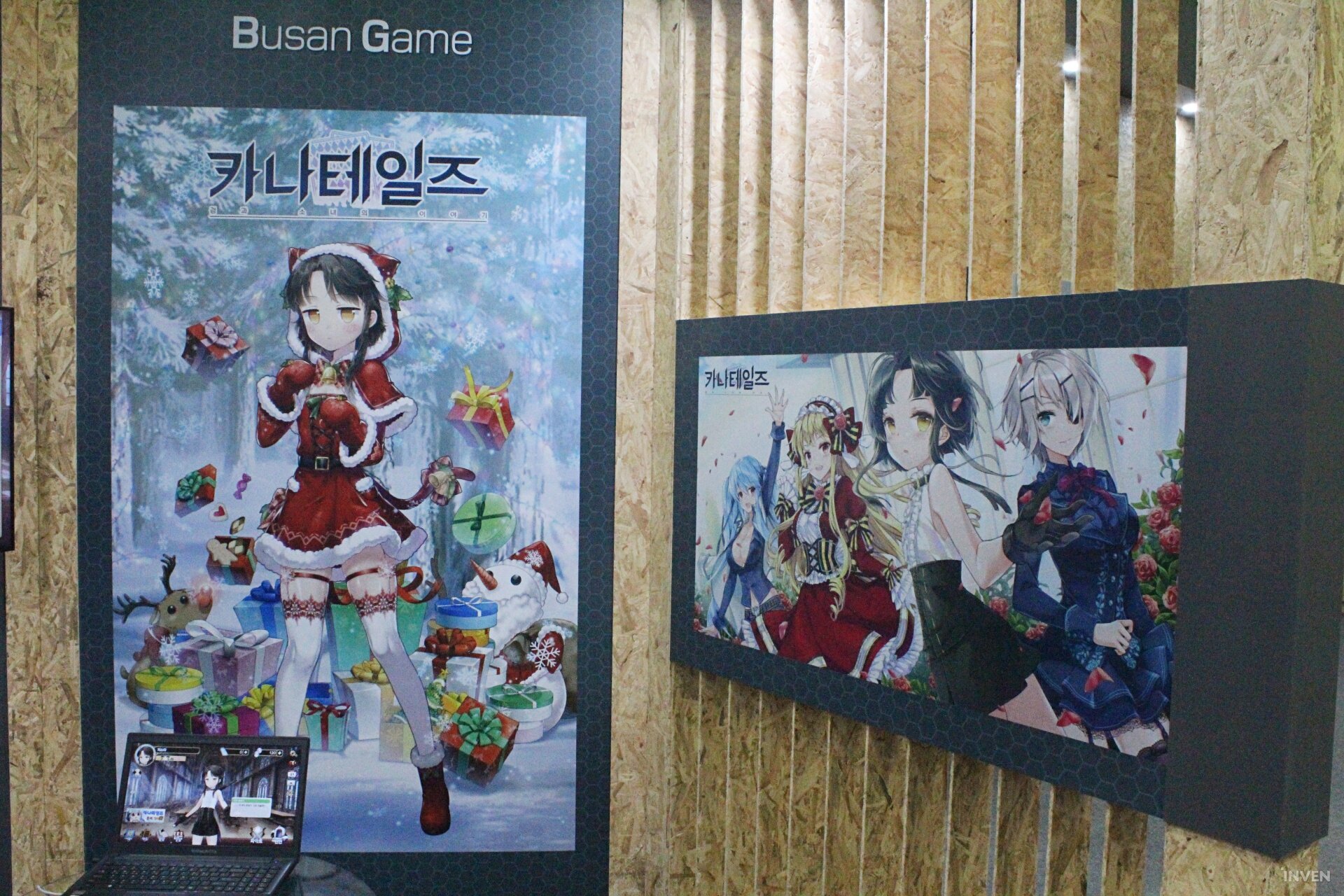 Q. The content has been greatly reduced due to the priority of stabilization. Could you introduce more about the content to be prepared in the future?
Cho Min-hyuk: First of all, since it is a TCG, we want to add content such as friendly matches and ranking matches, which are the basics. In addition, we want to pay more attention to the side story. 'Sword Girls' tends to focus on the main characters, and we want to show more diverse stories by paying attention to the people around them.
Changyup Lee: The goal is to show the charm of Cana Tales to users by going further than following Sword Girls. So, we are preparing in a number of ways.
For example, the ID of the main characters originally met in Episode 2, but in Cana Tales, they meet from 1. Also, users were a bit disappointed about the nerf of Cinia's body size, but there are some changes like that. About him, I said, "It's because I'm growing up." I prepared to explain in various ways, such as growing up about him because the illustrations are not yet consistent, but he found out about him in advance and asked me first.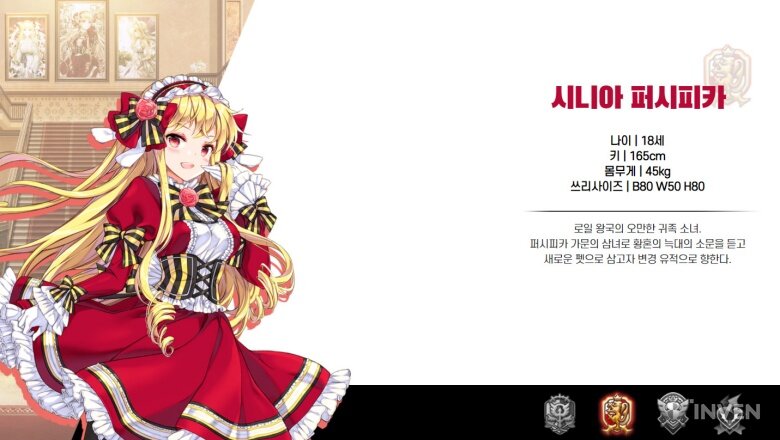 Q. Actually, it's an important thing in a subculture game. Still, it's not easy to catch that little difference, and I think you'd be very surprised by the interest of users.
Changyup Lee: It's definitely amazing. Knowing that this is an important matter, I thought a lot when I wrote down the body size of the character on the pre-order page. However, I was surprised to catch it sooner than I expected. And I was happy to see that there are users who remember Sword Girls that much, and it seems to have confirmed that they are really expecting a lot from our game.
Q. Lastly, would you like to say a word to the users?
Cho Min-hyuk: I think all of this is thanks to the users' waiting. So thank you every time, and I'm just sorry for making you wait longer than expected. We are working hard for stabilization, so please wait a little longer. We want to unravel the story of not only the Sword Girls, but also the Kanatales that we created.
Changyup Lee: I used to be a Sword Girls user, but after the service ended, I'm working on something else. The offer came. So I went straight from Seoul to Busan. The first time Sword Girls came out was when I was a student, so it's a game with many memories. I hope that Canatales based on this will do well. Perhaps other users have the same thoughts. So I think a lot of people are interested. In order to repay the love you have given me, I am burning my body and mind. I wish you all the best in the future.
Reference-www.inven.co.kr