[기사 본문]
At G-CON X IGC, a game conference hosted by G-Star and Inven, Next Stage prepared a lecture titled 'Indie Game Developer's Console Platform Game Ultra Age' based on the experience gained while developing the high-speed action 'Ultra Age'. did. This lecture was delivered by Next Stage CEO Kang Hyun-woo.
Next Stage CEO Kang Hyun-woo
Next Stage has grown from 4 people at the time of its establishment in 2015 to 11 now, but it is still a small indie game developer. It is not easy for an indie game developer to develop an action game, even a console platform. Next Stage is a console action game 'In order to develop 'Ultra Age', he devoted himself to development for about 4 years from 2017, and after a lot of trial and error, it was released on PS4 and Nintendo Switch in September last year, and received a great response, such as achieving an open crit rating of 75.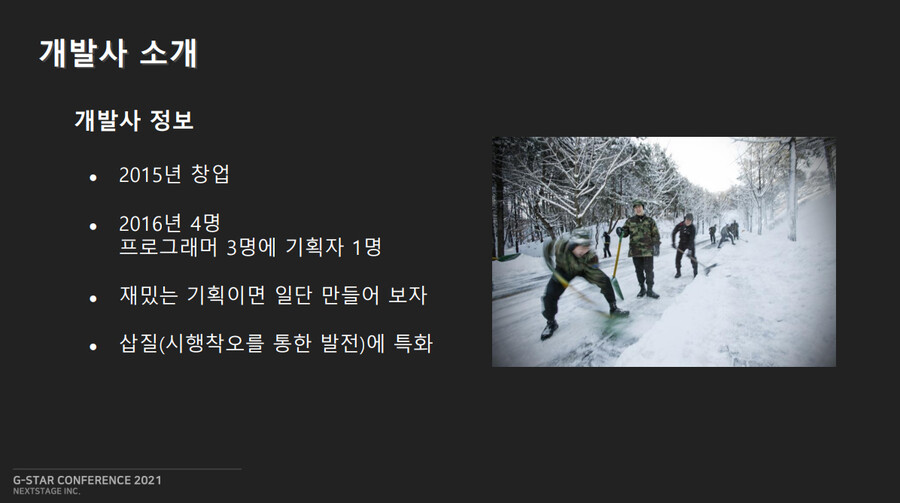 Next Stage CEO Kang Hyun-woo said that the most important part of indie game development is QA (quality verification). It is a small team, so developers and planners should not do both QA, but a separate team.
CEO Kang said, "If there is no QA manpower, programmers have to code and test. Numerous gray zones occur between development, but most programmers do not test gray zones. "Unexpected problems always arise between collaborations. It goes without saying, but the sooner defects are discovered, the better. Active QA is needed to discover defects as quickly as possible."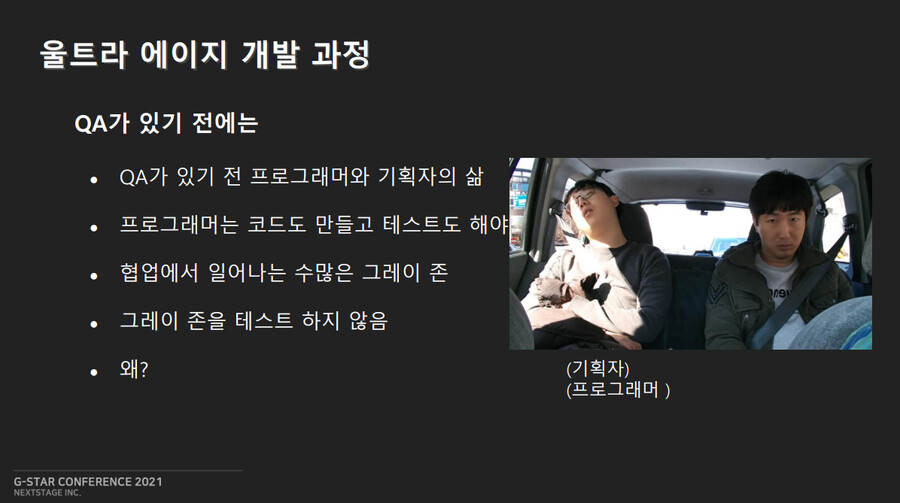 'Active QA', as CEO Kang refers, means that the QA person in charge tests all functional changes and delivers them to the developer in real time. Saving data and committing changes is called a 'commit'. By looking at the commit, you can get an overview of how development is progressing and what things need to be reviewed. If the QA person can check this commit and test the feature changes in real time, gray zones can be avoided and time wasted on fixing bugs can be reduced.
For active QA, communication between developers and QA personnel and a free test environment are important. An environment where QA can check commits, build and test on their own should be prepared, and if you have any questions during the test, you should be able to directly ask anyone, including developers, planners, designers, and PDs.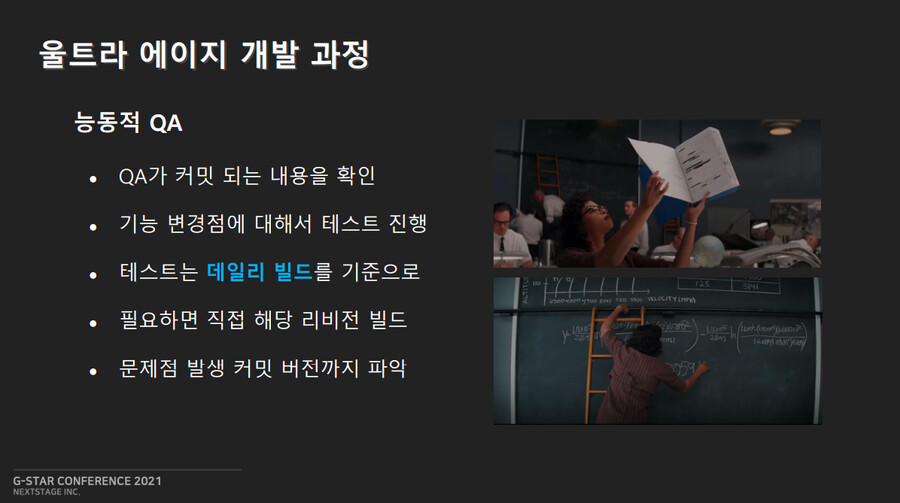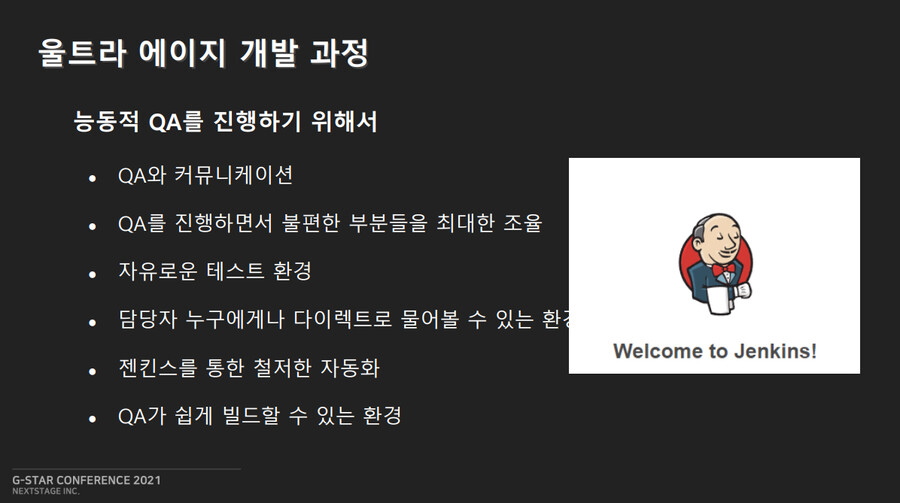 CEO Kang said, "By applying active QA, even if there was a problem, it was pinpointed and pinpointed, and it was quickly communicated to the developer, which greatly reduced the occurrence of gray zones." There was an effect that made me pay more attention." He also added, "Since the QA manager was created, a large number of hidden bugs that were unknown until now were discovered and returned to a huge number of jobs."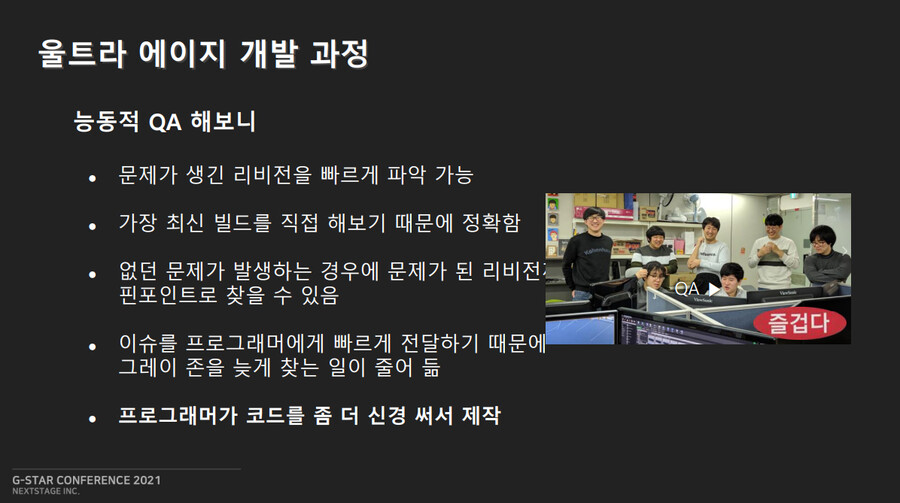 In addition, CEO Kang explained that it is important to make a prototype, conduct external tests, and always verify the fun before starting full-scale development. In particular, in the case of level design, the developer gets used to the game as the development progresses, so he doesn't feel strange.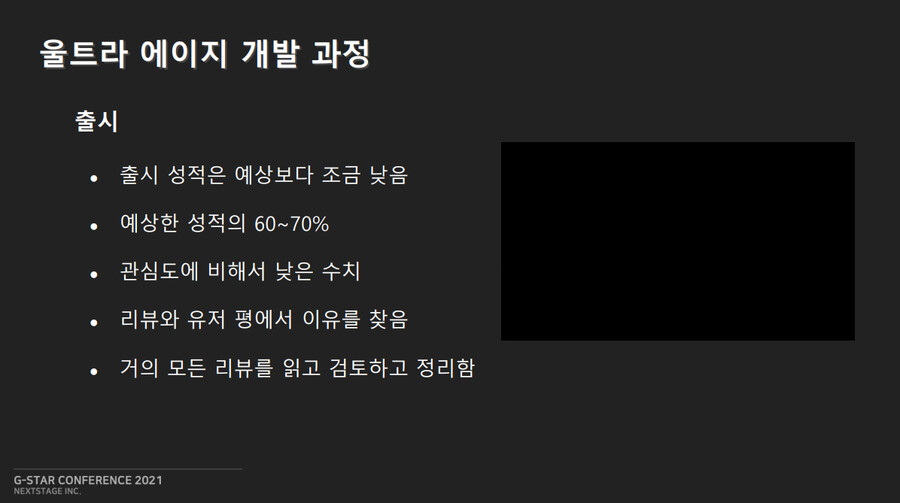 There was also mention of trial and error for console game development. Ultra Age is a console action game made by a rare domestic game developer, but it is also an area that indie game companies cannot easily challenge as cases are rare. CEO Kang said, "There are few people who know about console platforms in Korea. In this case, it is important to first ask for help from the console platform holder. The console platform holder provides a lot of knowledge generously." argued Representative console platform holders include Sony Interactive Entertainment (SIE) and Nintendo.
CEO Kang also said, "Each platform looks the same but is structurally different, so it is difficult to develop without playing a lot of games for the platform you want to develop. Everyone who develops should play console games. It takes longer than expected," he explained. In particular, "Console games are the most difficult when developing UI/UX. The keyboard, mouse and controller have completely different operation methods." You should never listen to a story that other games have everything but ours doesn't." He repeatedly emphasized the importance of convenience features.
Lastly, CEO Kang said, "The most important thing in indie game development is 'the will to make'" and concluded the lecture by giving support, "Since we've completed it, you can do it too."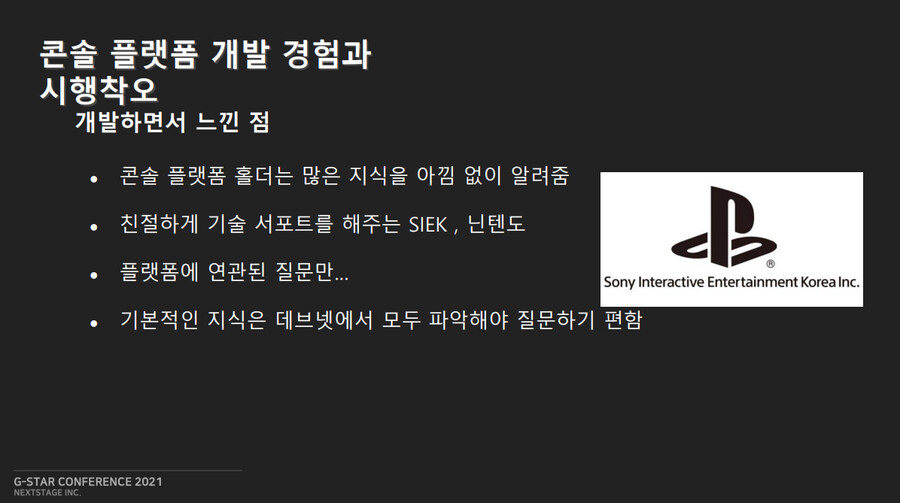 Reference-bbs.ruliweb.com