[기사 본문]
Developed by STUDIO N9 (Distributor: CREST Co., Ltd.) The Nintendo Switch download version will be available in Korea from November 18, 2021 (Thursday). Due to many requests from users, the sales area has been expanded to Hong Kong as well as Korea, and details can be found at the following Nintendo eShop.
Korea:https://store.nintendo.co.kr/70010000036847
Hong Kong:https://ec.nintendo.com/HK/zh/titles/70010000036848
is a dungeon exploration RPG presented by CREST & N9, a turn-based battle game featuring randomly generated dungeons, a variety of heroes, and a rich amount of content.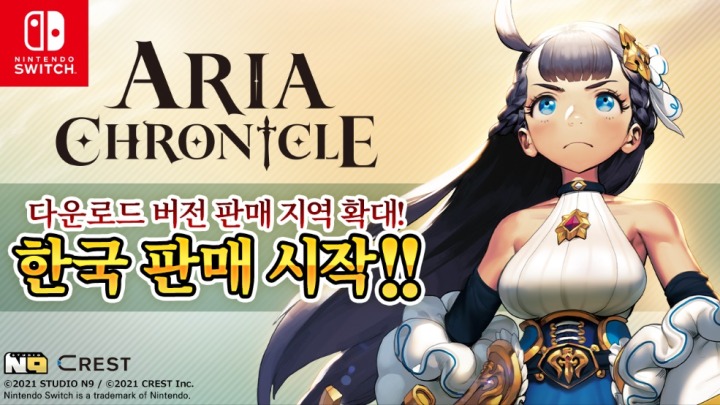 ■ Product overview
[Sales]: CREST
[Development]: STUDIO N9
[Genre]: Turn-based battle RPG
[Number of players]: 1 person
[Sales price]Steam version: 18,500 won
Nintendo Switch Download Version: 37,000 won
[Game Rating]12 years old
[CV]Yurika Kubo, Asuna Tomari, Natsumi Fujiwara, Emi Hirayama, etc.
Official site: https://www.aria-chronicle.com
Official Twitter: https://twitter.com/AriaChronicle
Nintendo eShop: https://store-jp.nintendo.com/list/software/70010000036849.html
Steam store page: https://store.steampowered.com/app/1229900/ARIA_CHRONICLE/
■ CREST Co., Ltd.
[ Company Name ]: CREST Co., Ltd.
[Official Website]: https://www.crest-inc.net/
[ representative ]: CEO Yang Junmo
: Representative Director Masataka Mikami
©2021 STUDIO N9 / ©2021 CREST Inc. All Rights Reserved.
※Images are some screens under development.
※This publication is subject to change without notice.
※The Nintendo Switch logo and Nintendo Switch are registered trademarks of Nintendo Corporation.
※©2021 Valve Corporation. Steam and the Steam logo are trademarks or registered trademarks of Valve Corporation in the United States and other countries.


Reference-bbs.ruliweb.com