Gravity held the 'G-Star 2021 Gravity Press Conference' to introduce its new products to reporters at the G-Star Press Center on the 18th.
The new works introduced at this conference were 'Ragnarok V: Resurrection' and 'Ragnarok Begins'. In addition, an introduction to the future update plan of 'Ragnarok Online', which celebrated its 20th anniversary this year, was followed. The meeting was attended by Gravity's development manager Jong-pil Cheon, design team leader Jeong Doo-young, planning part manager Pyo Seung-jae, business PM Jeong Jin-hwa, PD Choi Hyun-jin in charge of the development of 'Ragnarok Begins', 'Ragnarok Online' general producer Min-woo Jeon, and PD Kim Jong-hoon. Following the introduction of the game, we had time to answer various questions about the game and Gravity's future business direction.
Q. I know that 'Ragnarok Origin' did well abroad, but I would like to hear the direction of how the business will be developed for 'Ragnarok V: Resurrection'.
'Ragnarok V: Resurrection' aims to launch in Oceania in the first half of next year. This is to verify service stabilization and optimization, and we plan to enrich the content based on the opinions expressed here. After polishing, it is scheduled to be serviced in Korea, but please understand that the specific schedule has not been decided yet.
Q. Side-scrolling games are rare, but I wonder if it's the reason why 'Ragnarok Begins' was planned like this, or what was the cause.
If you look at the existing games using Ragnarok IP, there are a lot of traditional MMORPGs, so it was difficult to know how to differentiate them. I thought it would be difficult to differentiate with a simple system, so I thought about how to approach it in a completely different way. Of course, it didn't end with what was decided to be side-scrolling. Various attempts have been made to achieve this form now.
Q. I think the rating was a bit frustrating. How do you plan to improve it?
There were many opinions about that part in the last CBT as well as in the VOG test conducted before that. This is something the development team is also considering. However, since it was designed so that various skills can be used for each job, I am thinking about improving it in a way that gives more strength to one side. Of course, in the official release version, we will make sure that all users are convinced.
Q. In the case of 'Ragnarok Begins', it is cross-platform, but I wonder if there are PC room premium benefits, etc.
It is being prepared in many ways. It's not confirmed yet, so it's hard to say exactly, but once the preparations are complete, we'll make it public through official channels, etc.
Q. At the time of the VOG test, the platform was PC, but this time, it was changed to cross-platform. Was it developed with cross-platform in mind from the beginning?
It was developed with cross-platform in mind from the beginning of development. That's why, even users who played VOG or CBT said that it might come out on mobile someday. The reason for the change of the platform was being prepared internally, but the cross-platform service was recently confirmed, so this time, this was announced at the G-Star site.
Q. At the time of the VOG test, there was a part where additional stats were obtained by engraving costumes in the illustrated book, but the increase was greater than that obtained as in-game goods, so I was concerned about P2W. What do you think?
Basically, most of the items in the 'Ragnarok Begins' game can be obtained in-game. Almost 100% for equipment and 90% for cards. There are also a lot of costumes. Of course, we cannot give up the chargeable part, but we are preparing so that no-charge or small-charge users can enjoy it without feeling burdened.
Q. How long was the development period for 'Ragnarok Begins'?
It has been developed for about 4 years, although both manpower recruitment and changes in the development environment due to the corona virus should be considered.
Q. Are there any console R&D plans for cross-platform?
Currently, only PC and mobile are supported. Other platforms require internal discussion.
Q. Come to think of it, there doesn't seem to be any talk about NFT or Metaverse regarding gravity.
First of all, I think the priority is to organize content for users who like our games. In that regard, NFTs are not thinking about it yet.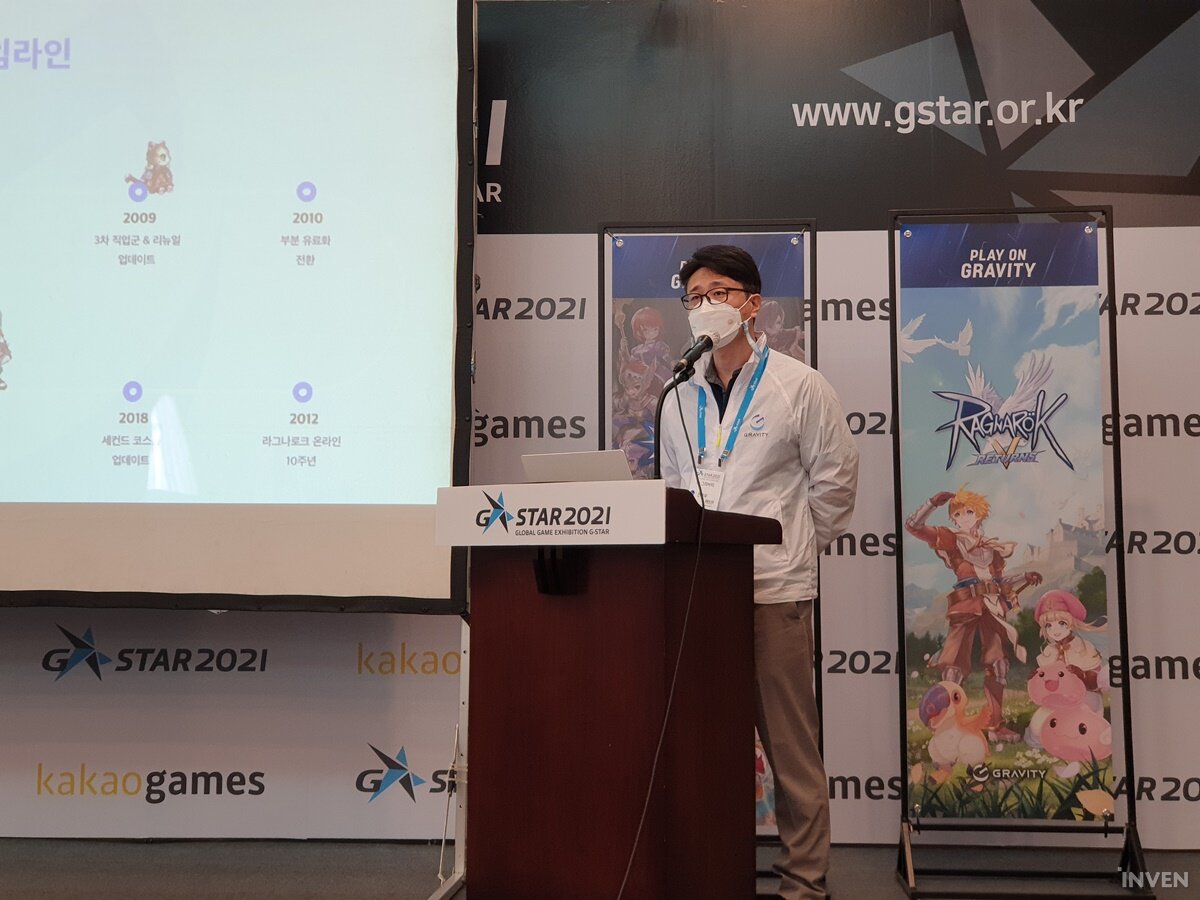 Q. Lastly, what is the secret to the longevity of the 20th anniversary service of 'Ragnarok Online'?
I think it was thanks to the love of the users who enjoyed the game rather than what we did well. In the past, there were times when I wondered if it would be possible to celebrate the 10th anniversary, but after going through all sorts of good and bad things, I celebrated the 20th anniversary like this. We will do our best to celebrate our 30th and 40th anniversary in the future.
Reference-www.inven.co.kr