[기사 본문]
– Demonstration of arcade-type content that can be enjoyed by people of all ages by combining dance with K-POP
– Introduced the SpoEdutainment School service that enables AR/VR indoor sports and educational activities
– Korea Industrial Technology R&D Daejeon, Seoul COEX from November 17th to 19th
QLab (CEO Lee Sang-gi), a specialized AR/AI development company, is attracting attention by unveiling 'K-POP Dancemaster' at the Korea Industrial Technology R&D Daejeon (hosted by the Ministry of Trade, Industry and Energy/Held at COEX in Seoul). Through this event, Q Lab will pioneer various sales channels to advance its business model in earnest.
'K-POP Dance Master' is an experiential dance arcade game using AR/AI technology developed with the support of the Ministry of Science and ICT. K-pop dance arcade content that was developed based on the motion information of a professional dance trainer, recognizes the user's motion through a camera, and provides feedback in real time by comparing it with the professional dancer's data. By providing game elements with various reward systems according to the user's dance skills, anyone can enjoy dancing easily and fun. It is expected that the 'K-POP Dance Master' developed using K-POP, the pinnacle of Hallyu, and motion recognition technology, will receive attention from many countries around the world that love K-pop.
Meanwhile, at this event, Q Lab also introduced 'Strong Playground', an indoor theme park-type spo edutainment school service currently supported by the Ministry of Trade, Industry and Energy. As an indoor sports room content using AR/VR technology, it is an indoor comprehensive activity content that allows children from kindergarten to elementary school students to enjoy and learn various physical education subjects such as number game, alien invasion, finding the wrong picture, soccer, and basketball indoors. It can be installed and experienced in various public places such as , welfare centers, etc.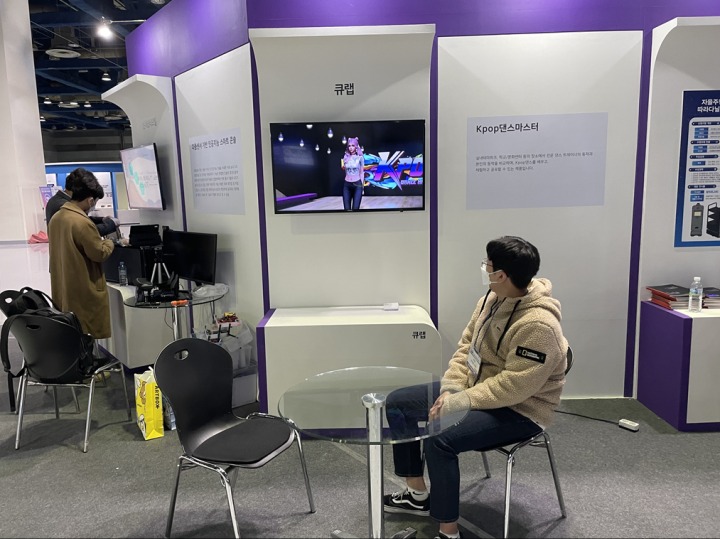 Reference-bbs.ruliweb.com