[기사 본문]
Nimble Neuron's battle royale MOBA, 'Eternal Return', serviced by Kakao Games, had an interview at the G-Star 2021 site. 'Eternal Return', which won the Popularity Award and Excellence Award at this year's Korea Game Awards, is promoting a global service.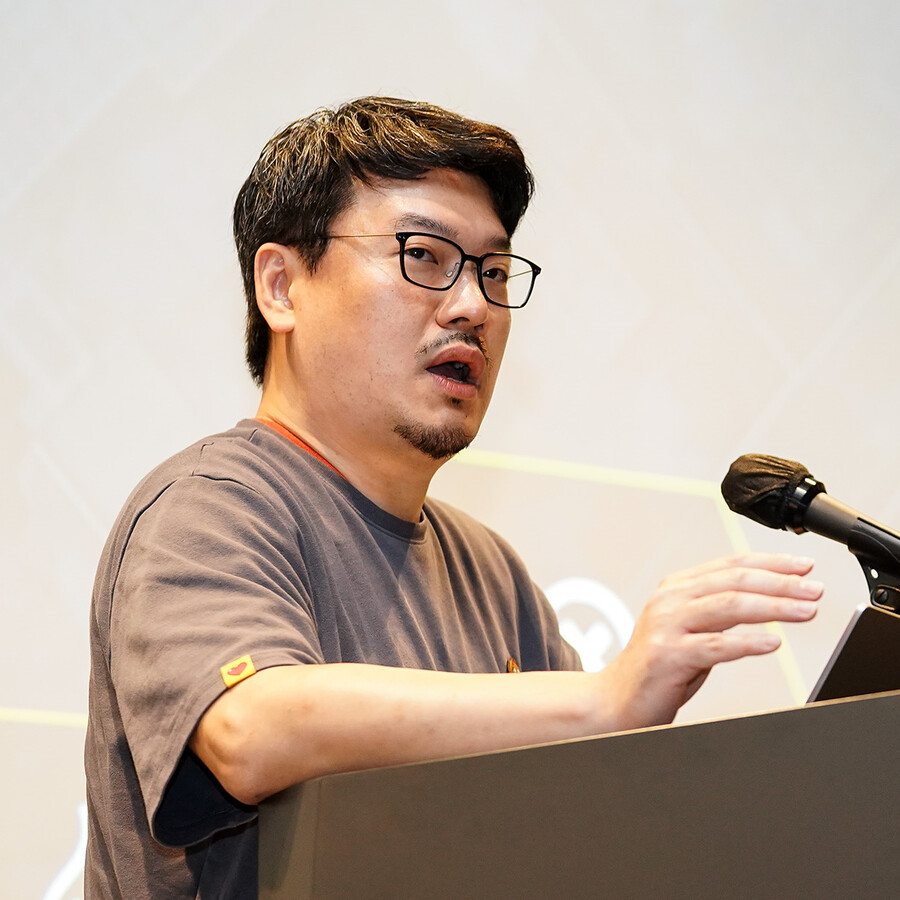 Kim Nam-seok, CEO of Nimble Neuron
● Recently, competitions are mainly held in duo mode, can it be said that the future e-sports trend is going that way?
Kim Nam-seok: As a result of experimenting with us, we came to think that the duo mode is effective both in terms of fun to watch and fun to play. The actual performance is also the same, so in the future, the duo mode will be the focus.
In addition, what I realized through this G-Star event match is that it would be fun for talented people to do it without duplicating characters in solo mode. I'm going to consider this one too.
● What is the status of e-sports in Eternal Return? And do you have any thoughts on offline competitions using PC rooms?
Kim Nam-seok: First of all, as we are esports fans ourselves, we are going to try to do it well. Over the past year, I have experienced various attempts and failures. In a recent community meeting, we talked about a pilot project centered on the promotion, but it still feels insufficient.
I want to try offline competitions using PC rooms in various ways after Corona is over.
● How far is the future development roadmap? It's still in early access, but when will the official transition be?
Kim Nam-seok: There is still a long way to go before official service. We still need to fill in the number of characters and skins, and we are thinking of adding a new mode that gamers with different skills and tastes can do. If 2021 was the year of laying the groundwork, the goal is to create value that allows us to enjoy our games from various angles in 2022.
A mode that allows you to enjoy the game more lightly, such as the tentative light mode, is being created with that context and purpose. The timing of the official service may not become visible naturally as these development results are disclosed. About mid-to-late 2022, we plan to talk with Microsoft and Kakao Games to decide.
● What do you think is needed and lacking in order to compete with global AAA games?
Kim Nam-seok: There are so many, but after communicating with the team and organizing them, it is important to establish a periodic retention cycle that gives and realizes expectations for the gamer community on a regular and long-term basis. Would you call it a nickname? Resonate with users anywhere in the world.
As the season-based games are settled, the development process is planned and shared from a long-term perspective in advance. There is a famous saying that I personally like, and the founder of Xiaomi said, "If you are on the path of a typhoon created by industry trends and user participation, even pigs can fly." left a saying I like that word. I also want to become a flying pig.
● What is the share of global regional performance? Also, what are the results after the launch of Kakao?
Kim Nam-seok: North America is the second largest after Korea. Korea, Asia and North America are the most important focus groups. We are contemplating how to further expand the region based on that foundation. Just because the region is different does not change the basic thinking. Just how to make it more fun and convey more information?
Kakao Games is being helped by the know-how of operating various games, and Microsoft is receiving great help from both because it has many cases and insights in the global market.
After the launch of Kakao, the user index of both Kakao and Steam turned to an upward trend due to the retention effect in addition to the consideration and effort of Kakao Games. North America is currently servicing Steam and MS builds, but I don't think about Kakao Build and I think the localization of the service is more important than the build.
● There is an opinion about opening a server exclusively for Koreans. Any chance?
Kim Nam-seok: There are no concrete plans yet. Server separation, new issues, etc., should be based on the experience of gamers and respect their intentions, but server separation is not an easy decision because it is a connected issue that is applied to the entire global region, not just one region. We would like to hear how much the voices of users are.
● Are you thinking of content that increases character modeling? I want to play while looking into my character more.
Kim Nam-seok: I have a lot of that desire too. But the fun of the mod is another matter. Then there is the concern that two completely different games will be put into one. Maybe it would be better to separate it and make a new game with a completely different game.
● What is the structure of the aforementioned light mode?
Kim Nam-seok: I can't tell you in detail yet, but basically, our game is a core multiplayer game, and now core play is very central. I think there are people who like to play multiplayer, but who don't like core play, who like to play entertainment. We want to prepare content that will serve as a stepping stone to connect such people to core play.

● The game name was changed to Eternal Return along with the Kakao service. Why?
Kim Nam-seok: Global gamers, our team, publishers, and even Korean gamers were often confused with the previous game. Gamers should recognize the game accurately, but the idea was to eliminate the confusion. It was a problem that could be concluded thanks to Kakao.
● I am expressing difficulties in introducing hacking elements. Will hacking be included in the lite mode?
Kim Nam-seok: If hacking goes into it, it will be completely different from the lite mode I've been talking about. Wouldn't the game be more core if hacked? The lite mod has nothing to do with hacking characters and is being created. As I said before, hacking is very fun to imagine, but when you try to make it, it is a feature that has no answer in terms of games. There is a lot of talk about how to solve this. A lot of tests are required for a hack to come out.
● A new trailer also revealed a snowy map. Do you plan on continuing to roll out these new map skins in the long run?
Kim Nam-seok: It's one of the things we really want to do. So, as a teaser, I showed you the snow-covered island of Lumia. There is a lot of talk about how and how it will be provided. We will be able to provide more detailed information in the future.
● There is a story that progress is too slow in relation to the Battle Pass.
Kim Nam-seok: The Battle Pass isn't the kind of content that you end up driving all at once. The Battle Pass itself is being used more and more, and I know that Halo Infinite introduced the Battle Pass by releasing a separate multiplayer mode for free, and I know a similar story came out here. In the same way, we should continue to watch the community reaction and optimize the experience.
Reference-bbs.ruliweb.com