[기사 본문]
Producer Wonho Son, developer of Action Square's next PC/console game, 'Anvil', gave a lecture on the development process of 'Anvil', which had many twists and turns, under the title 'Console Development Challenge' at G-Star 2021 G-CON X IGC. 'Anvil' is a completely new top-down shooter that continues from 'Gigantic X', which was made as a mobile game in the past. The lecture contents were written from the lecturer's point of view for convenience of understanding.
'Gigantic X' was a project made between 2017 and 2019, and it was a mobile platform shooting action. As a top-down shooter, about 40 people were put into development. The good part of the reaction obtained through the test is that the shooting action is excellent and fun, and it contains a unique taste rather than a unique taste of a Korean game through a global oriented SF concept.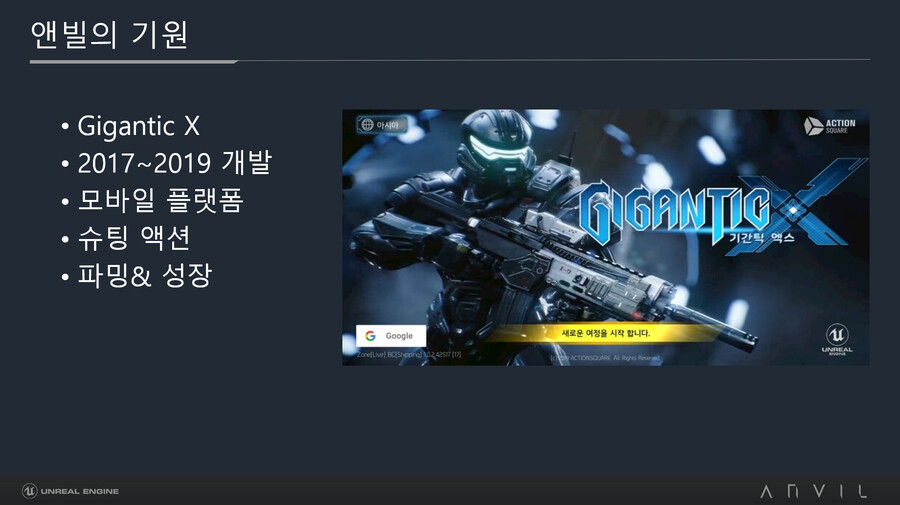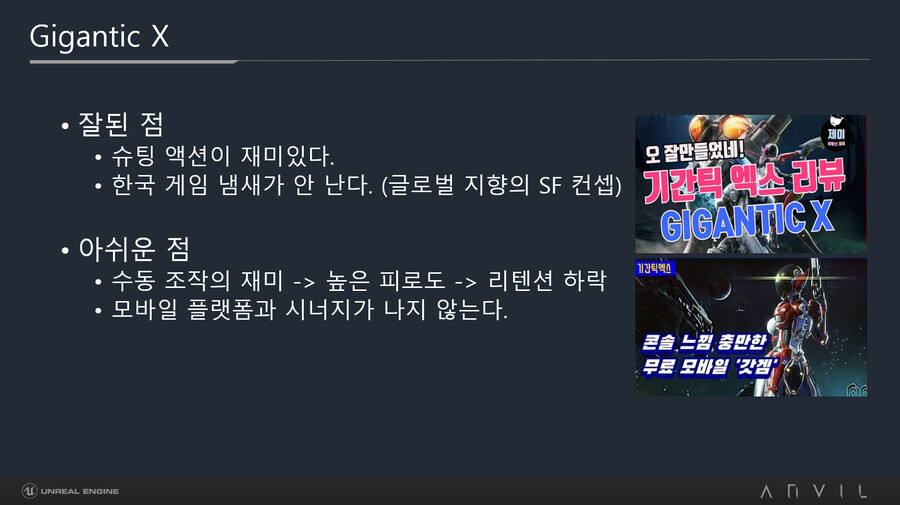 However, on the other hand, even though it is mobile, manual operation is absolute, and the fatigue of manual operation is quite high, so players do not continue to play. It had the characteristics of a game that did not have synergy with the mobile platform.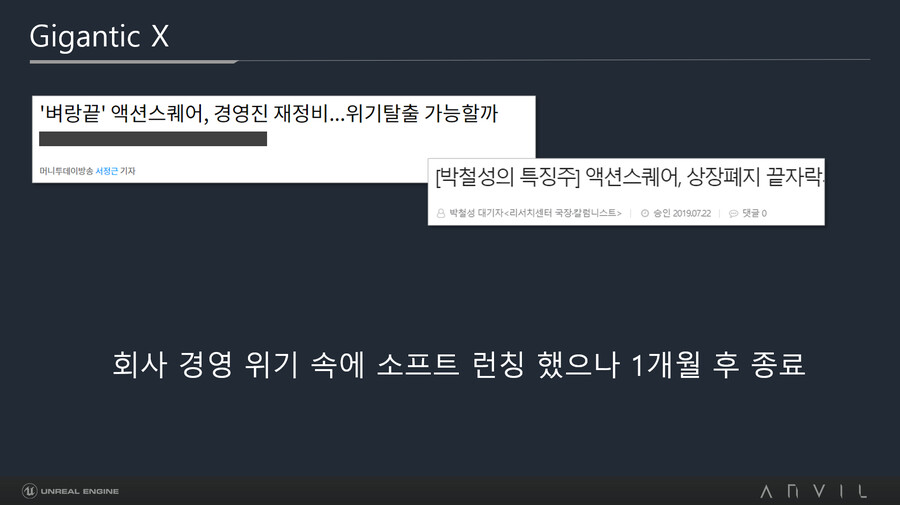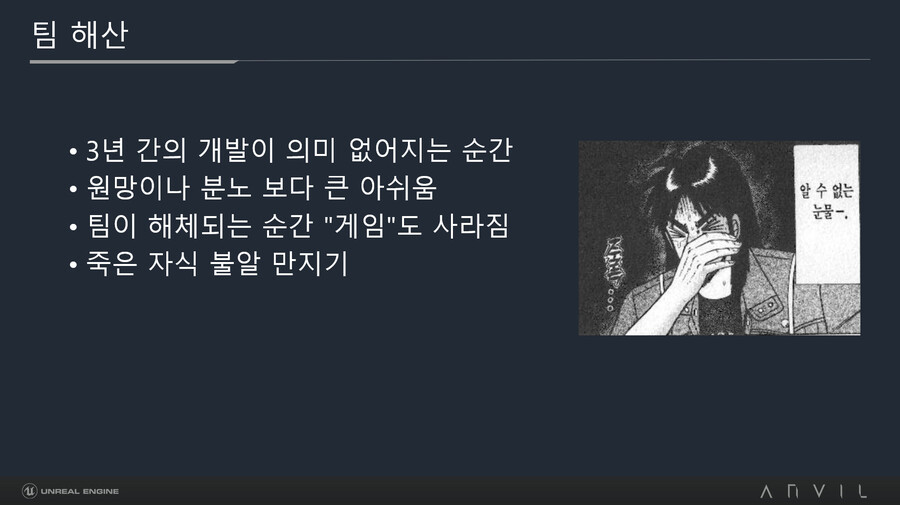 After three years of development, the soft launch was carried out, but the service was terminated after one month due to the management crisis of Action Square. Although many teams have been disbanded before, Gigantic X was a sudden occurrence, and the regret was greater than resentment or anger. All three years of development results have been lost. Naturally, everyone continued to have more and more fondness for the game.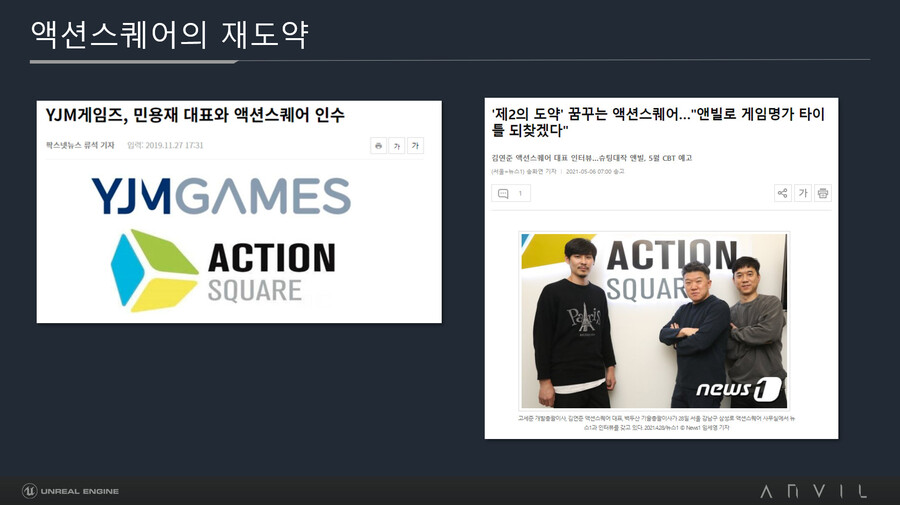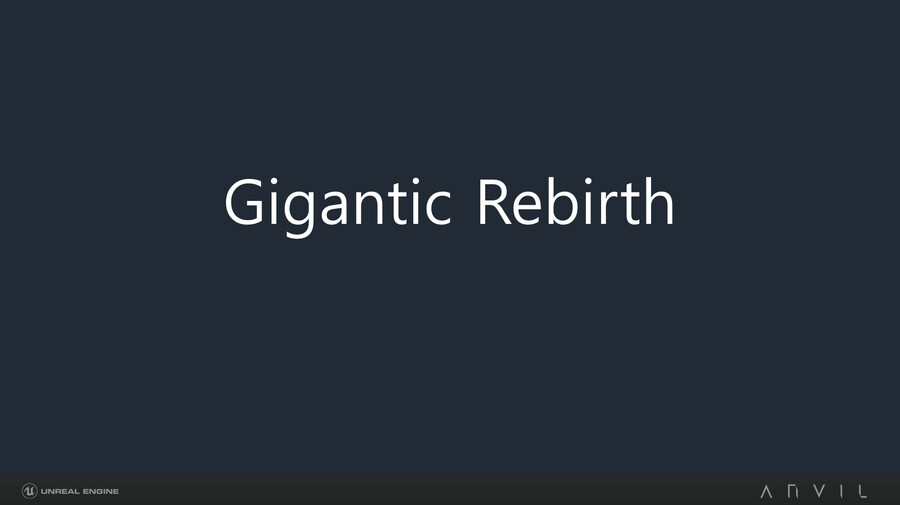 After that, while working for another company, I talked a lot with the Gigantic X team members about the regret of the game being broken. Then, I heard that Action Square was acquired by YJM and replaced with a new management and development leader, and the company changed.
Usually people have a bad perception of second-hand projects, but I was different. It's a project I've been loving for three years, and there were a lot of regrets, so I thought if my colleagues could go back and make it back then, wouldn't it be possible to turn back the futile time of the past three years? I had a feeling that So I rejoined Action Square without much thought.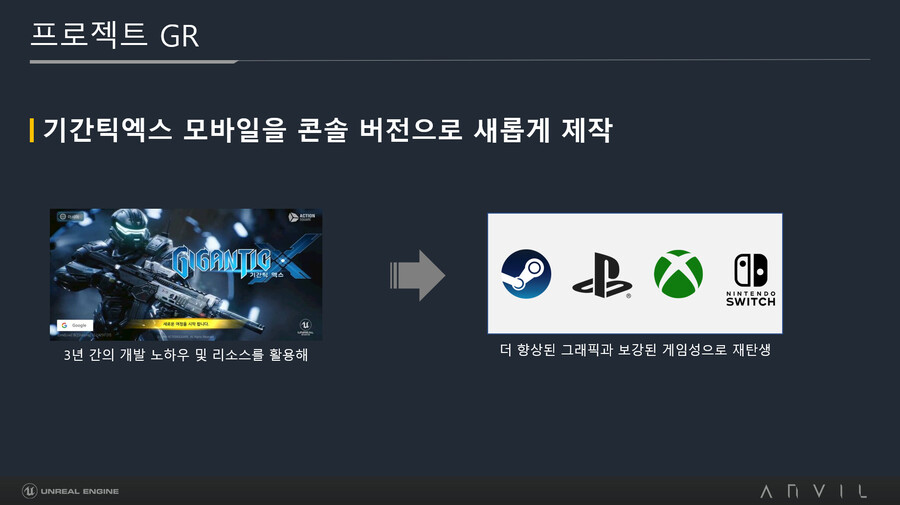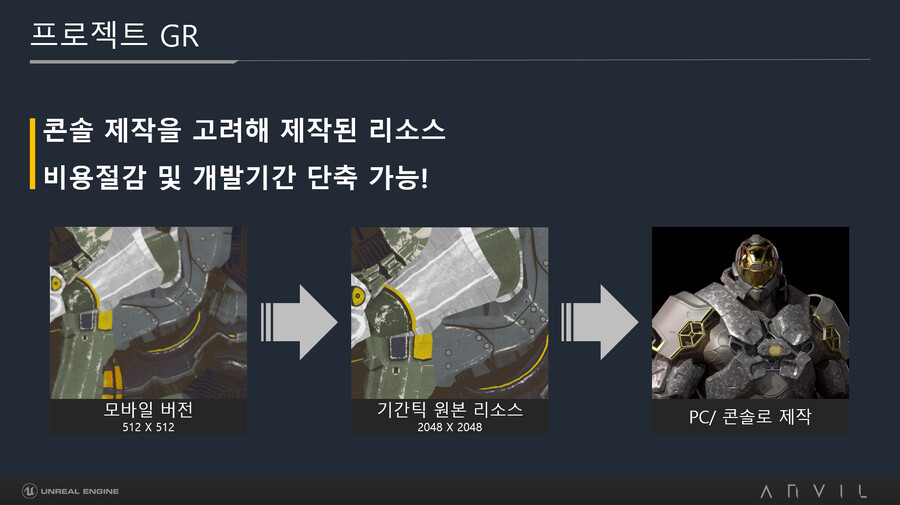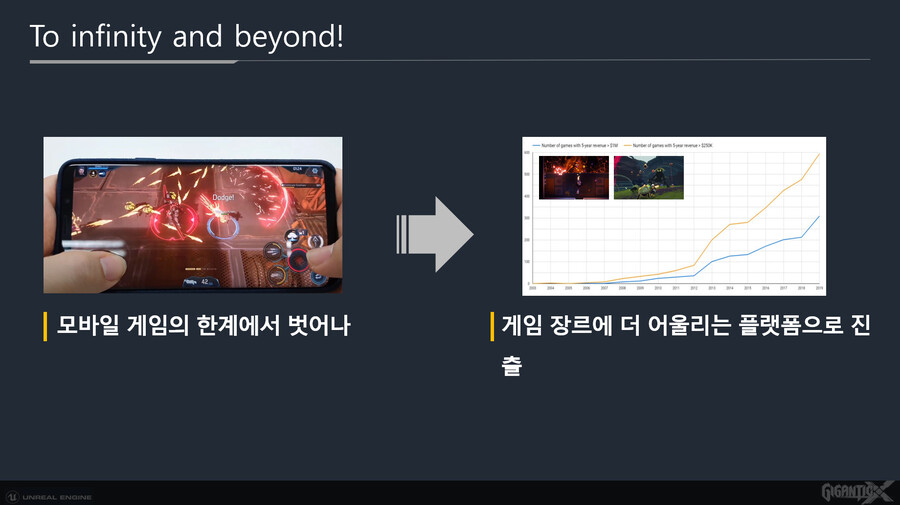 In the framework of Gigantic X, I thought about what it would be like to take the core play and put it on the console PC platform. It was a part that had a high possibility of passing through the market. From a planning point of view, I also thought that if I re-create the game I made once, it would naturally rise.
Fortunately, the resources created during mobile had high goals at the time, and the original resources had high-spec resources that would not cause any major problems even if they switched to PC. So it was possible to save a lot of development, especially at that time, Risk of Rain was popular, and Hades was not released yet, so it was a very good time for timing. In particular, I was able to get rid of all the parts that were forced in for mobile.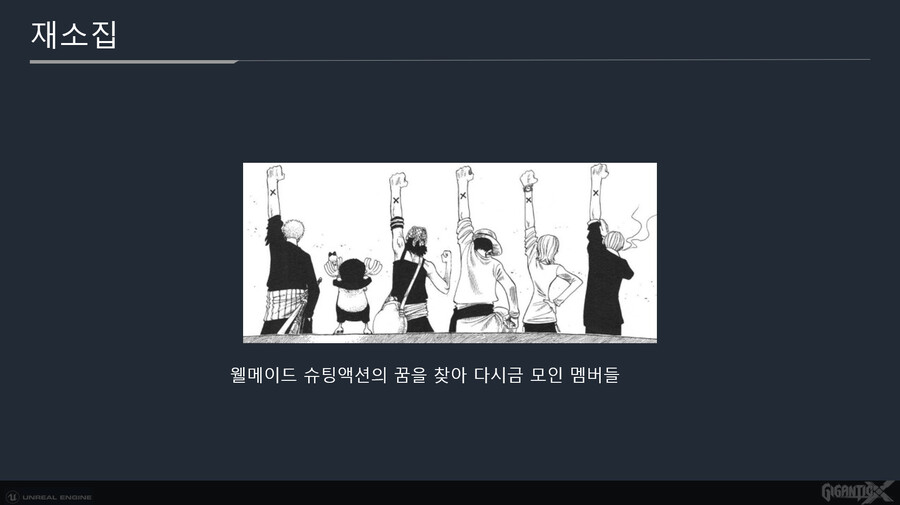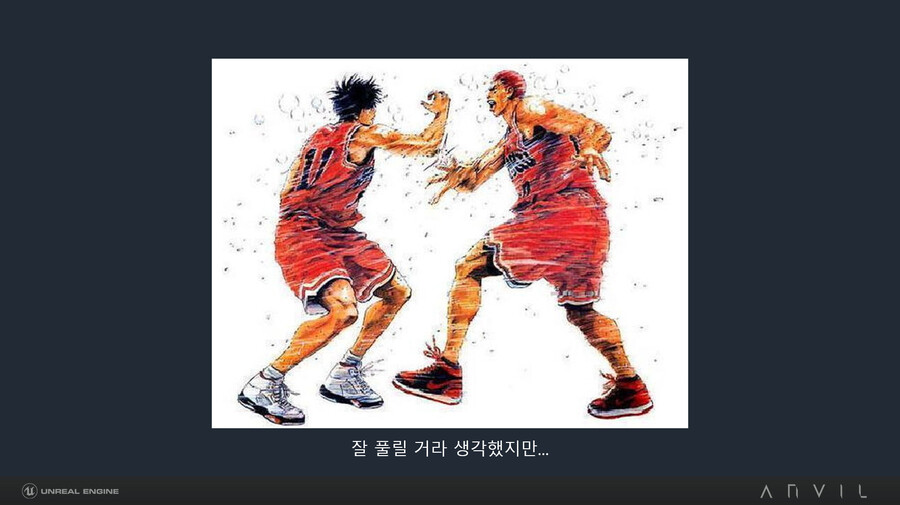 So, for this game, the members who had been scattered in the past were called back and new people were recruited. Of course, there were a lot of problems. To the members who had the pain of leaving the company after the game disappeared because of this project, how do you ask them to come back together in the same company and, of course, the management and development team have changed, but come together and make the same game? But fortunately, my heart was well put together. When it comes to making our own game again, everyone seems to have the same mindset. There was a person who said he would never see Action Square again, but now he is with us. I think it was possible because the trust of both the development team and management was re-established.
But it wasn't quite as smooth. When I moved the game I had made on mobile back to PC, several problems arose.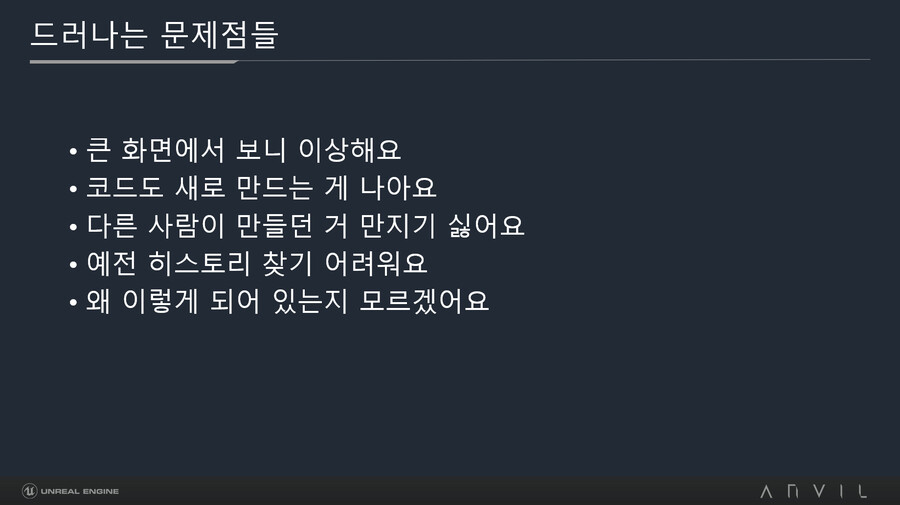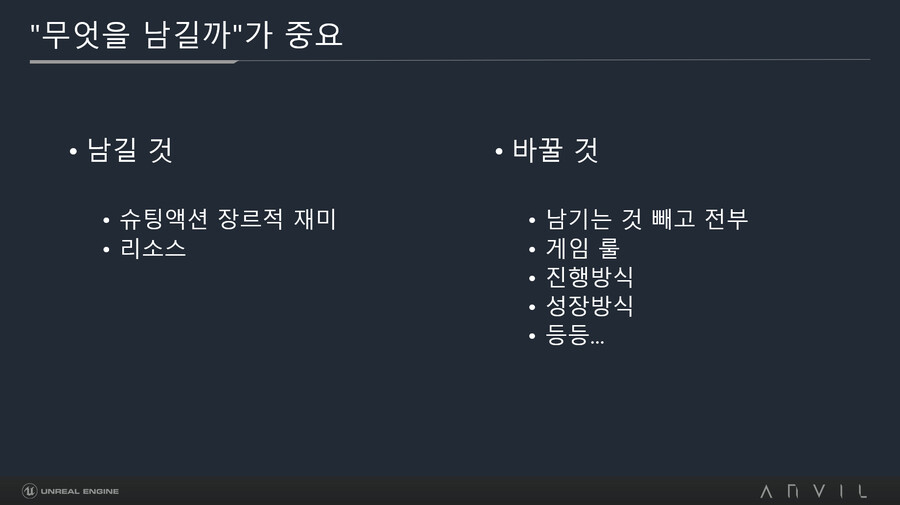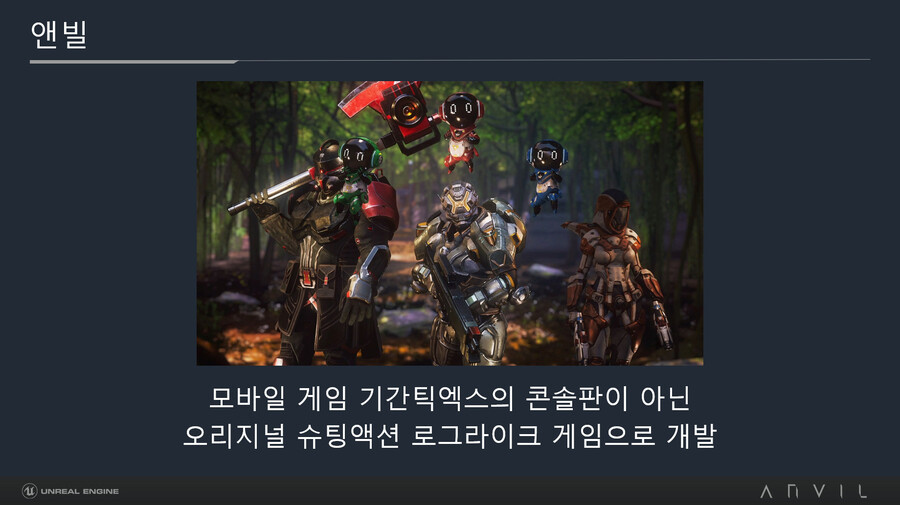 When viewed on a large screen, the screen was strange, and in some cases it was better to recreate it with multiple resources. And I prefer to overturn the programming code and create a new one, not the one to supplement it. And it was difficult to find the development history again. There was also a problem that there was no original graphic at all.
So, I decided to leave the basic rules of the game, the fun of shooting action, and some resources, and overturn everything else. to throw it away without any regrets. As a result, it was made as an original new game rather than a console version of Gigantic X.
There were cases where we met our former partners again in one way or another, but it was the first time we had worked on a project together and then got together to rebuild the same project again. Of course, because we worked together, the fact that we got along well and knew the history was an expected advantage, but rather than that, the fact that we share the same wounds was a very big advantage. Would you call it communalism? Knowing the problems I had at that time and having the mindset to overcome them together became a driving force for me to overcome various stresses. It feels like everyone can handle their stress well.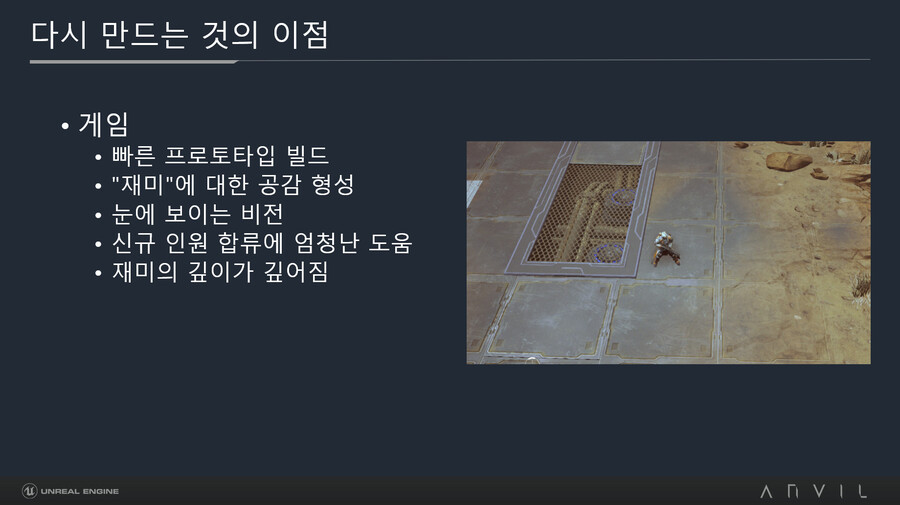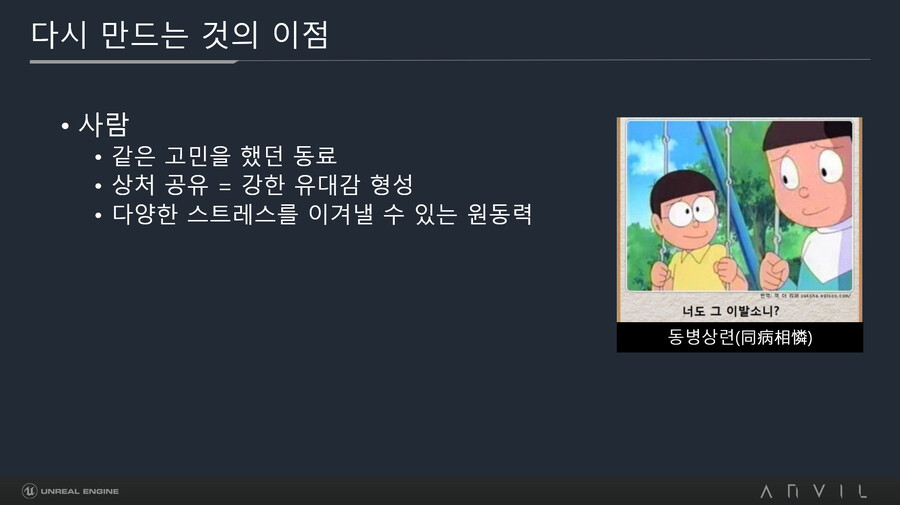 There were also many advantages in terms of development. The prototype came out very quickly, and the prototype build came out just three months after starting development. Prototypes are inherently quite fragile and often produce results that are difficult to measure properly, but since the anvil already has the original and the vision has already been shared, I was able to create a visible and high-quality prototype very quickly.
It was a great advantage to be able to quickly build a visible vision. Every developer is a tester in itself. In terms of verifying fun rather than functional QA, these prototypes were very helpful. The art and programming teams continued to play and experienced upgrading the game in various ways.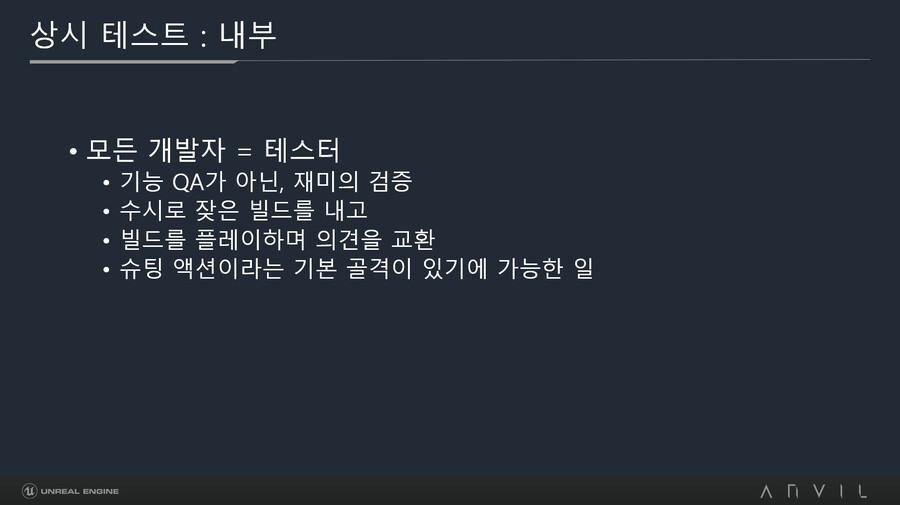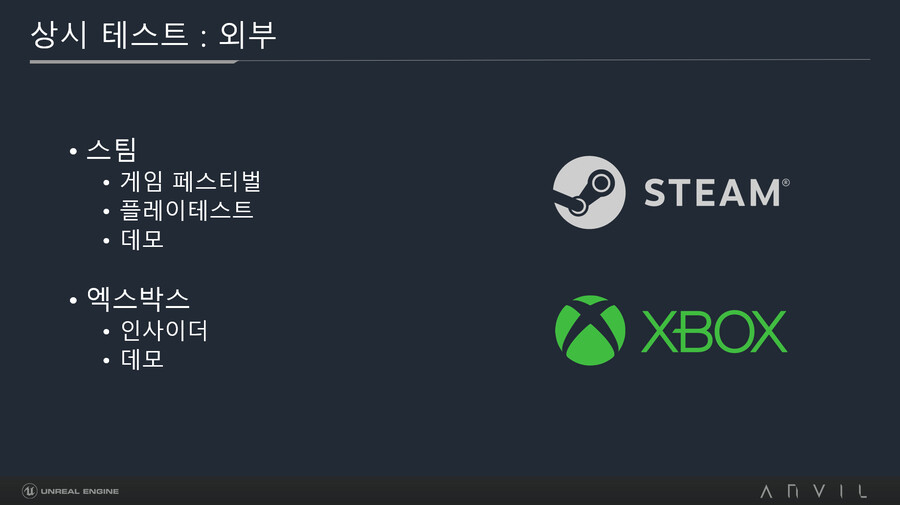 And from time to time external tests were conducted. I wasn't afraid of that. When needed, we immediately packaged and uploaded the build we were testing internally. In particular, console and Steam developers have many ways to provide demos to players, and I would like to explain them in detail.
Steam has game festivals, playtests, and demos, and Xbox has Insiders and demos.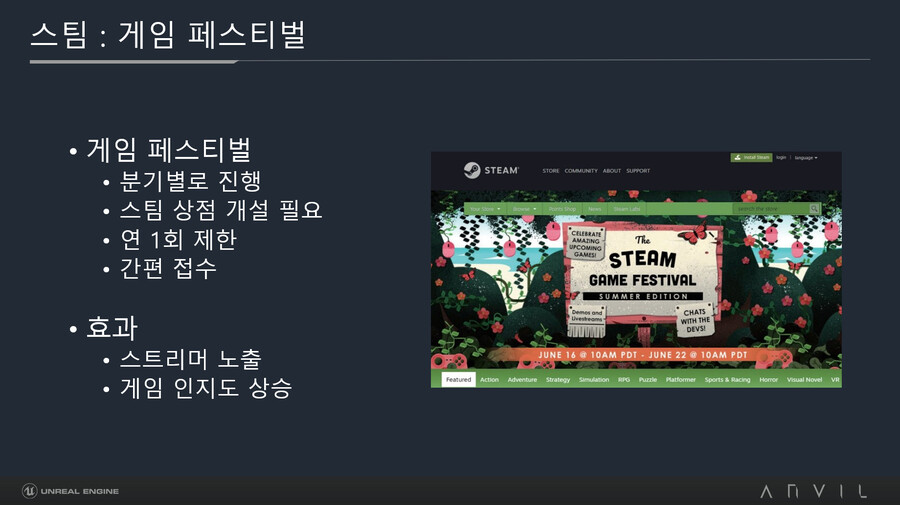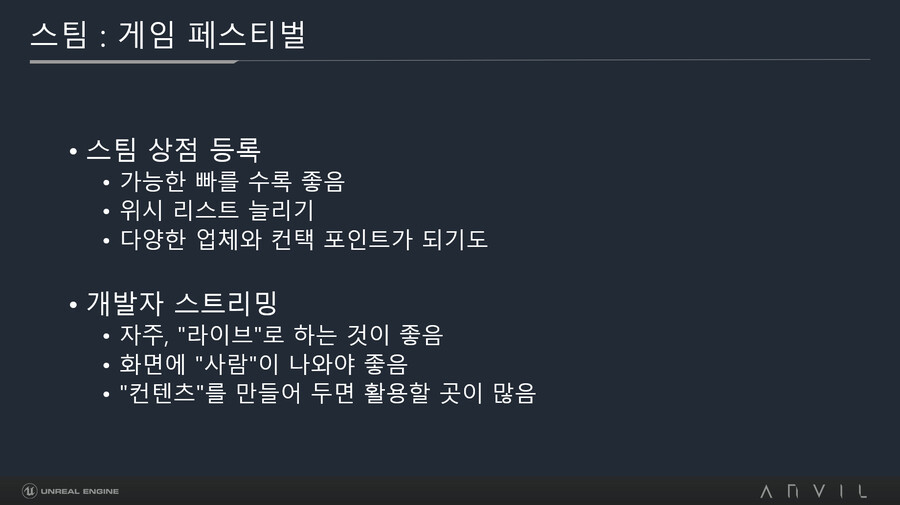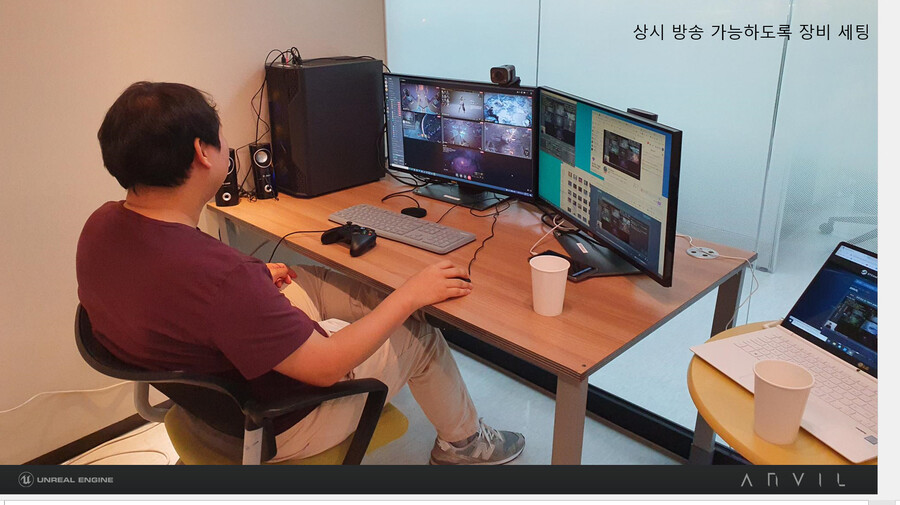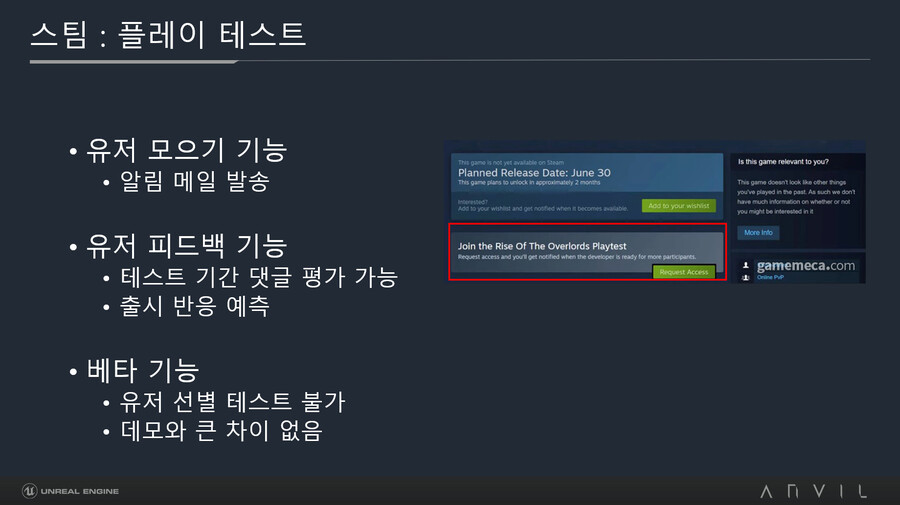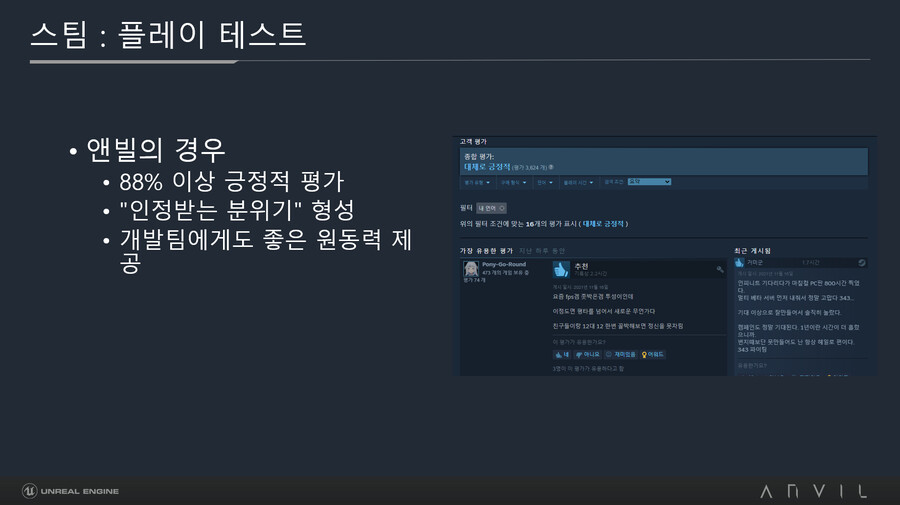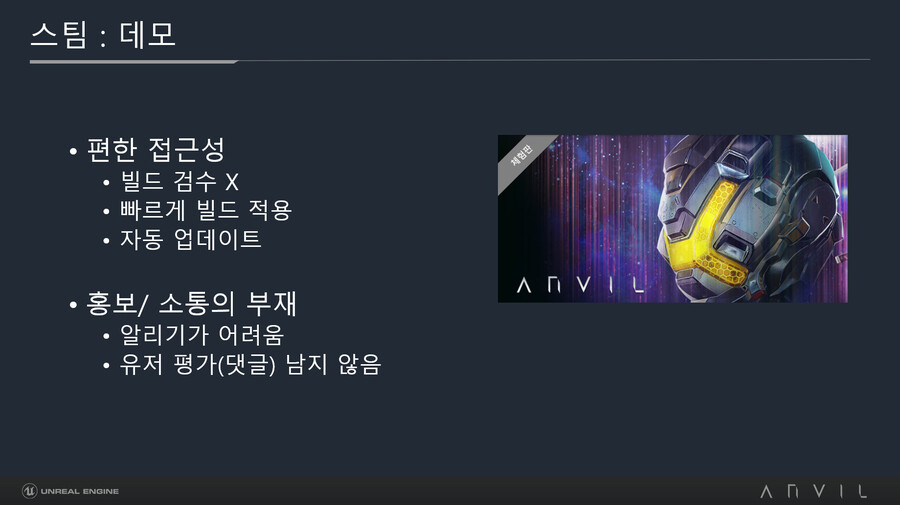 The Steam Game Festival is held quarterly, and a Steam store must be opened. You can participate only once a year, and it is very easy to apply. Streamer exposure is good, so please participate. Very efficient.
Steam store registration can be registered first without a game build, so it is better to do it quickly. There are many advantages. You can expand your wish list, and you can also contact companies through this Steam store.
In the Steam Game Festival, developer streaming is the mainstay of the event, and the ranking of developer broadcasts goes up and down like a sort of ranking. If there are a few tips, it's better to do it live often, to see people playing on the screen, and the more the developer answers questions or communicates with the players, the better the response. It is better to record this video so that it can be used as content.
The Steam playtest feature was recently added as a beta, and players can play for a certain period of time by registering a build. Induction was very good because notifications were sent to those who registered on the wish list or registered for the playtest beta. And with this, you can leave a Steam rating without having to purchase the game. The fact that user feedback remains is a very big strength. However, users and regions cannot be selected, and only first-come-first-served players can play. This feedback gave Anvil a positive rating of over 88%.
The Steam demo can be opened and closed from time to time, but it is difficult to tell that the demo build has been updated. Therefore, it is difficult to attract more people at once than expected, and there are no user reviews left.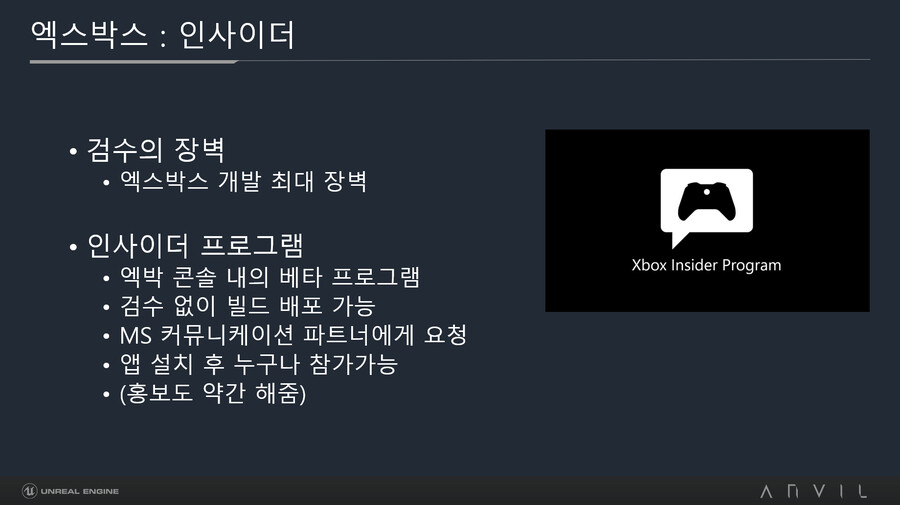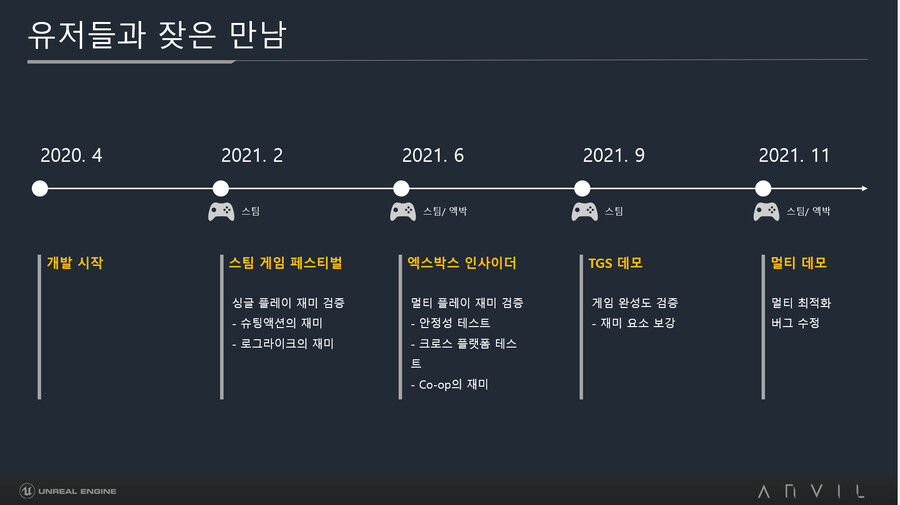 As those of you who develop consoles know, inspection is the biggest barrier to Xbox development. The inspection standards are very high, it takes a lot of time and there are many issues. However, the Insider program can directly present the game to users without inspection. It's a great way to test your game.
I think the development team has a long way to go. However, Korea is said to be a console wasteland, but we also try to take root as a good game in it. I want to hear that the game is fun with the continued demo, so I am continuously trying to enhance the gameplay. The stability of the multiplayer environment is also important.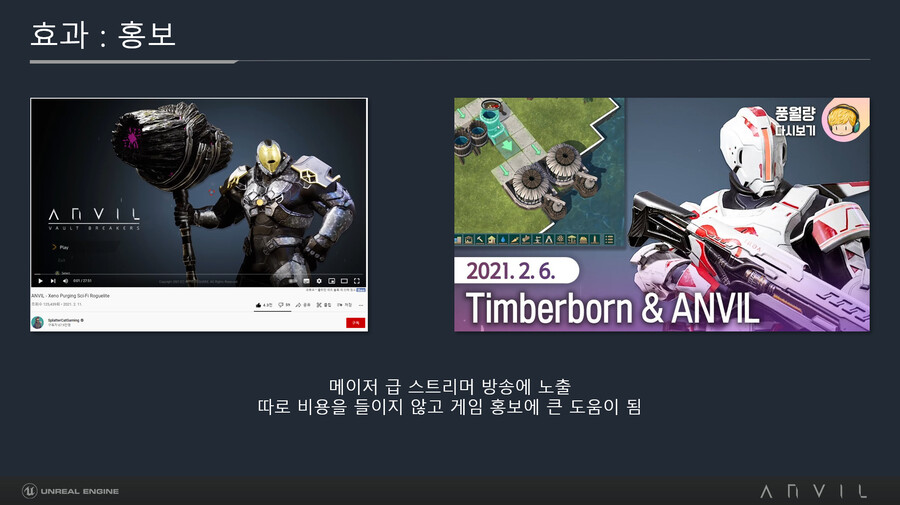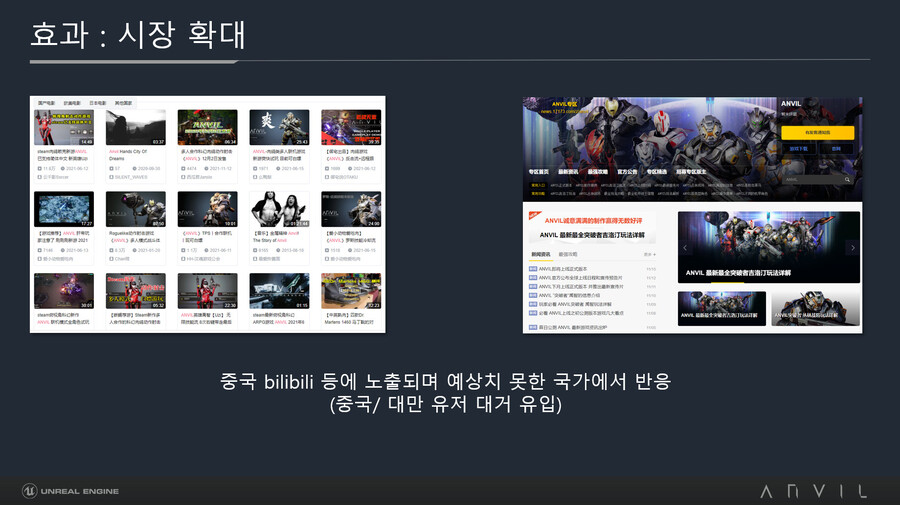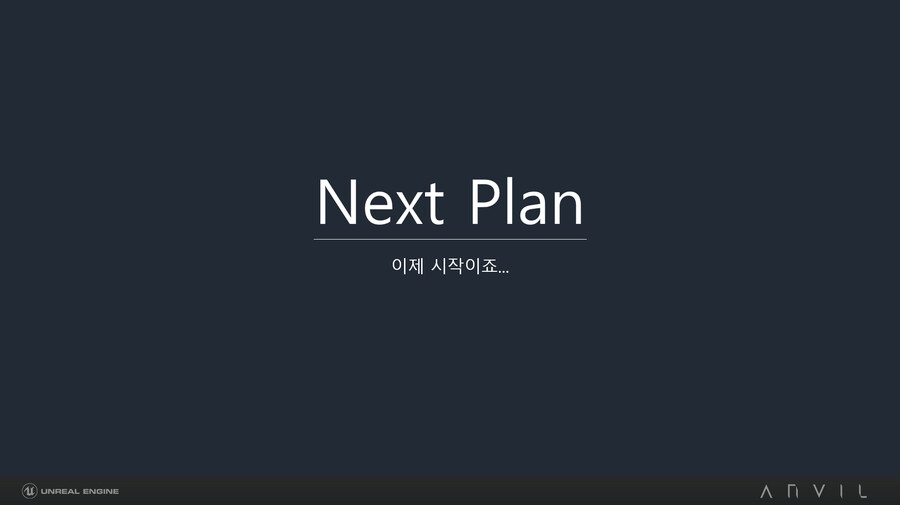 Anvil is planning to operate a season system that changes the meta to a season system. After three or four seasons, we are aiming for an official release. In the future, multi-platform expansion will be carried out for Nintendo Switch and PS.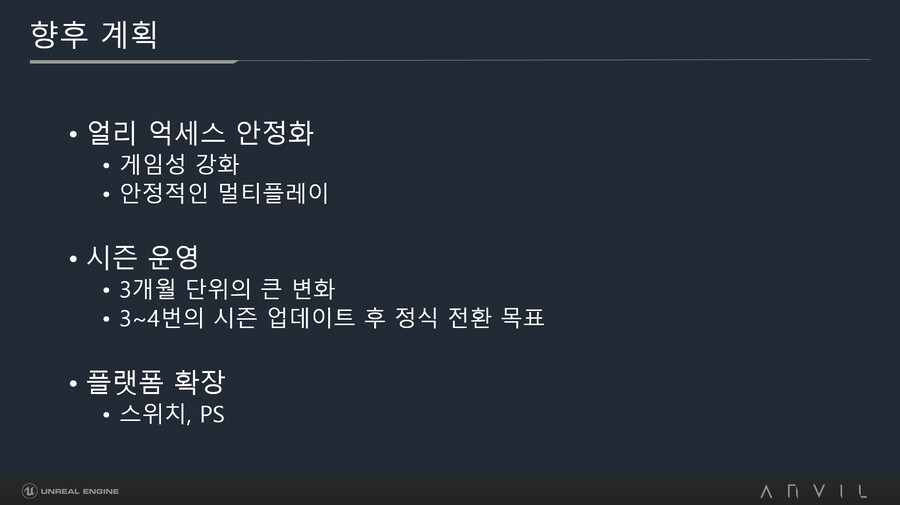 Making PC/Console games is difficult. There are many games that dominate this genre, and I have seen that the public relations pipeline acquired in Korea does not work abroad at all. And not being able to speak English while making PC/console games is a pretty critical disadvantage.
There are many difficult parts. So, at the company level, it is necessary to provide an advantage to the development team. In the case of Anvil, there was a strong perception that it was a second-hand project, and when recruiting team members, it was difficult to come. However, it appealed to the game itself rather than me or the company, which helped recruit other developers with a quick prototype.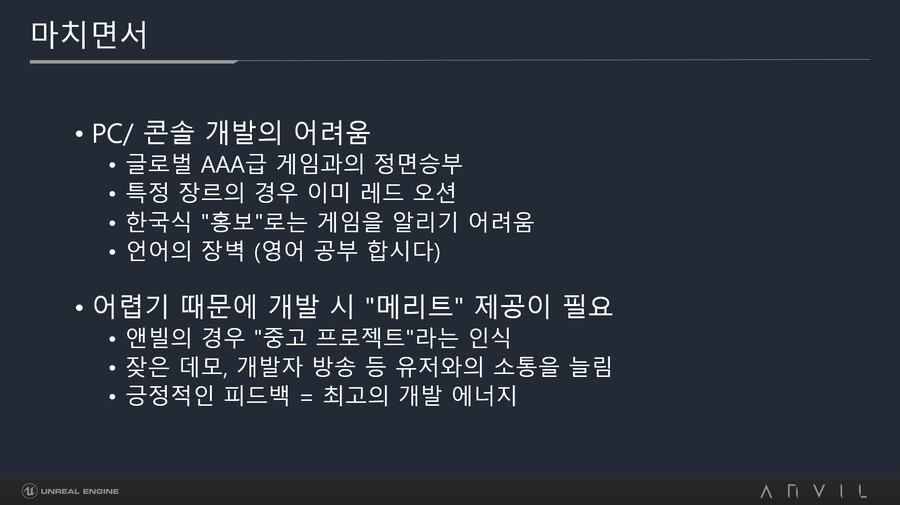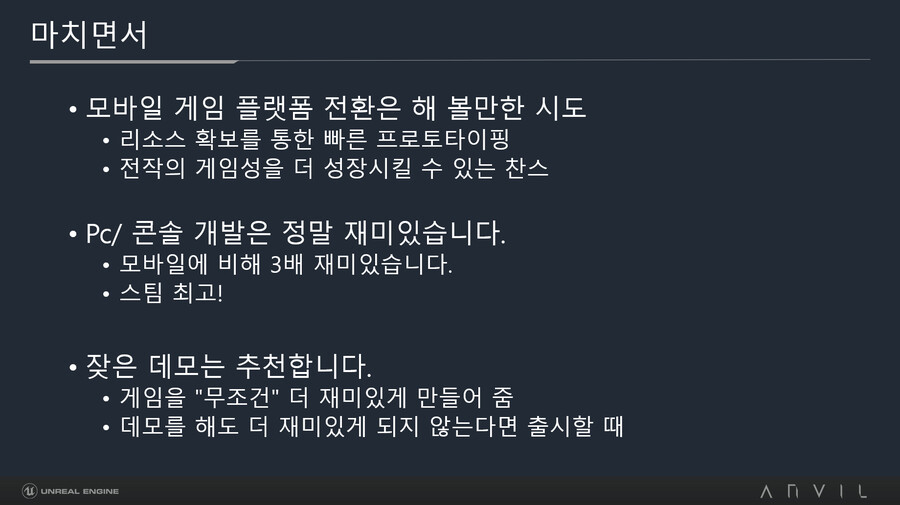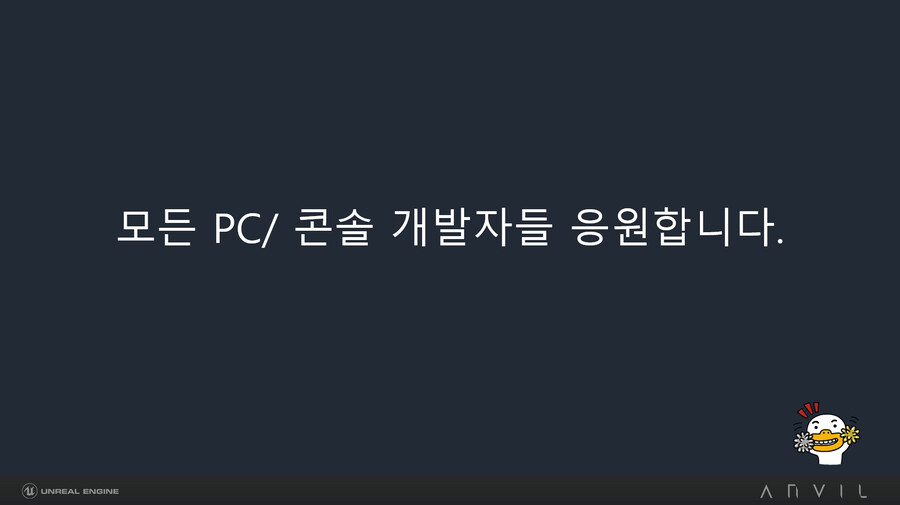 In conclusion, I think the transition of mobile games to PC/console is a fairly worthwhile endeavor. There are many advantages such as quick build-up and prototyping by securing resources, and there is an opportunity to make up for what was lacking in the previous work and improve the game performance. As the series progresses, the game will inevitably evolve.
And developers, please try PC/console development. I've been developing mobile and MMO all the time, and this is my first time developing a standalone game, and it's three times more fun than mobile. Of course, mobile seems to make 300 times more money (laughs).
The Steam platform is very development-friendly, and you can get a lot of help. Frequent demos are recommended, and if development slows down from a certain point in spite of frequent demos, it is probably not the time of release.
Cheers to all PC/Console developers. If you have any advice, help, or discussion with us in the future, please feel free to contact us.
Reference-bbs.ruliweb.com