subject: Global Game Market Trend: Present and Future
Lecturer: David Kim – App Annie / Vice President of Global Partnerships
Presentation area: market trend
Lecture time: 2021.11.17 (Thu) 11:00 ~ 11:50
Lecture Summary: Through granular genre analysis of monetization, engagement, and retention, we have prepared game market insights that can help you build future game roadmaps.
David Kim, Vice President of Global Partnership of App Annie, a data platform that supports mobile strategy, took the time to introduce the game market trends analyzed by App Annie until the third quarter of 2021 under the theme of 'Global Game Market Trend: Present and Future' at this IGC. had
App Annie subdivides games of various genres and analyzes them from various angles such as region, age, and gender to identify market trends. In addition, we will go into in-depth analysis by dividing it into monetization, participation, and retention, and point out what useful functions are. Through this analysis, App Annie's goal is to provide insights that will ultimately help developers build a game roadmap.
In this lecture, Vice President David Kim reveals the data created based on App Annie's game IQ platform, and is confident that through this analysis, many companies will be able to keep up with the rapidly evolving trends according to genres and regions.
---
■ Mobile game genre trend
– Look at market trends, analyze regionally and demographically
---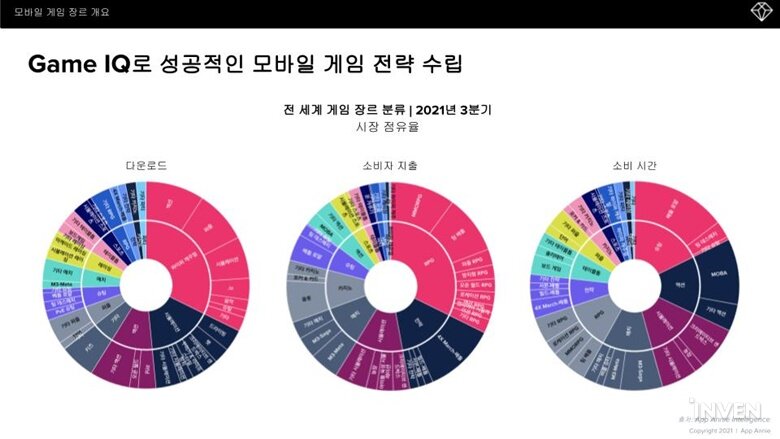 Looking at the global game genres that performed well in the third quarter of this year, the most downloaded genre is hyper-casual. As for consumer spending, the RPG genre continues to lead the way, with shooters taking the top spot in terms of time spent.
Among hyper-casual, puzzles are the second most downloaded sub-genre after action. When looking at all game sub-genres, the download share accounted for 8.2%. Time spent (624m) also achieved the highest performance ever. The game that recorded the most downloads is 'Comics Bob', and 'Brain Out' has been occupying the top charts for real users since its release.
Running, the sub-genre of action, which took the top spot in downloads, recorded a download share of 2.8% and consumer spending 0.18%. Consumer spending in the running genre is steadily on the rise, explains David Kim. 'Cookie Run: OvenBreak' by the domestic company Dev Sisters is particularly notable for taking the second place in consumer spending, and the 'Subway Surfers' and 'Talking Tom' series have been consistently maintaining the top spot since their launch.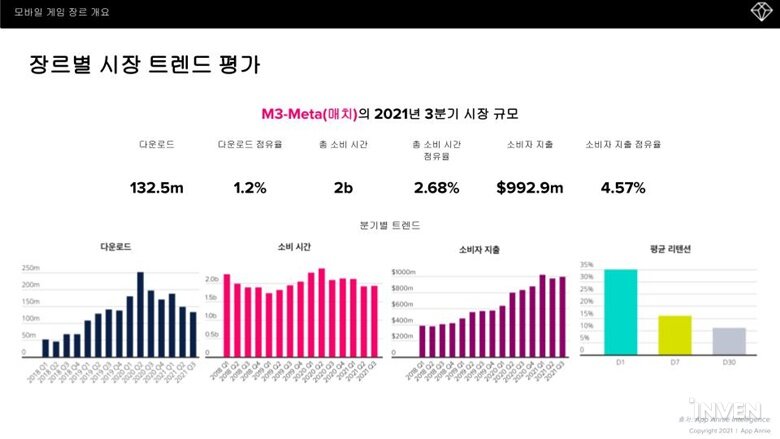 M3-meta match, led by 'Dream House', is the most downloaded sub-genre among match genres, and recorded the fifth highest consumer spending. In addition, the consumption time is more than twice as long as the previous puzzle and running. Consumer spending continues to grow, but is slightly lower than in the first quarter. Average retention is also high. After 30 days of downloading, it succeeded in protecting about 10% of users.
Analyzing each sub-genre by region, India achieved the first place in downloads in all three sub-genres mentioned above. In particular, in the download sector of the puzzle genre, it recorded a remarkable growth of 348% compared to 2019. On the running side, with 'Cookie Run' at the fore, the US and South Korea occupy the second and third places in spending. China ranks first, but it has decreased by -45% compared to three years ago.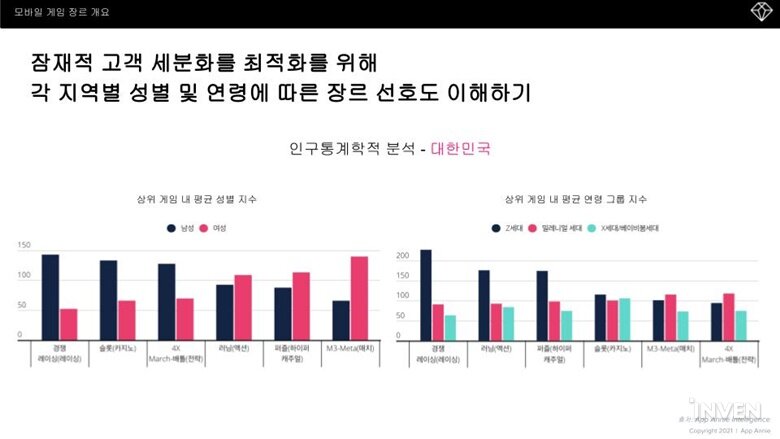 Through demographic analysis, it was possible to predict who is most likely to play which genre according to conditions such as gender and age as well as region. For example, in Korea, compared to the general population, male users are 1.43 times more likely to play racing games, and female users are 1.4 times more likely to play M3-meta match games. In addition, it is predicted that Gen Z users will play the racing genre with a probability of 2.27 times.
---
■ In-depth analysis of monetization strategy · participation · retention
– Analyze functions that increase revenue, participation, and retention
---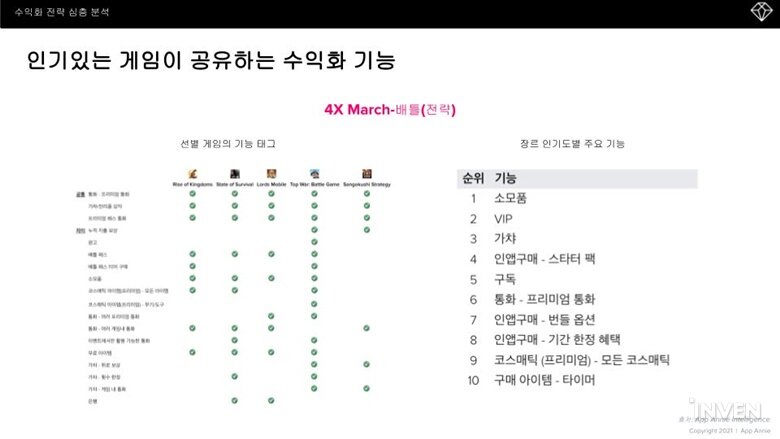 Not all games with a large number of active users are profitable. App Annie analyzed what features are being used to monetize five 4X March-Battle genre high-profit games, including 'Rise of Kingdoms', 'State of Survival' and 'Road Mobile'. The monetization function tags commonly used by the game are premium currency and gacha.
Conversely, the customizable in-app purchase bundle is one of the differentiators offered by the 4X March-Battle genre. Custom in-app purchase bundles serve to extend the consumer purchase price point of your target audience, giving them more options to monetize. Representatively, 'Rise of Kingdoms' and 'State of Survival' are using this in-app bundle well.
The following is an in-depth analysis of participation. Each game has different characteristics, such as allowing you to be immersed in the game once connected, or to log in frequently even if the session duration is short. Comparing 'Ninja Must Die 3', which took the first place in consumer spending in the running genre, with 'Cookie Run', which took the second place, 'Ninja Must Die 3' had a higher average session per user, but the average usage time per session was 'Cookie Run'. 'This is higher.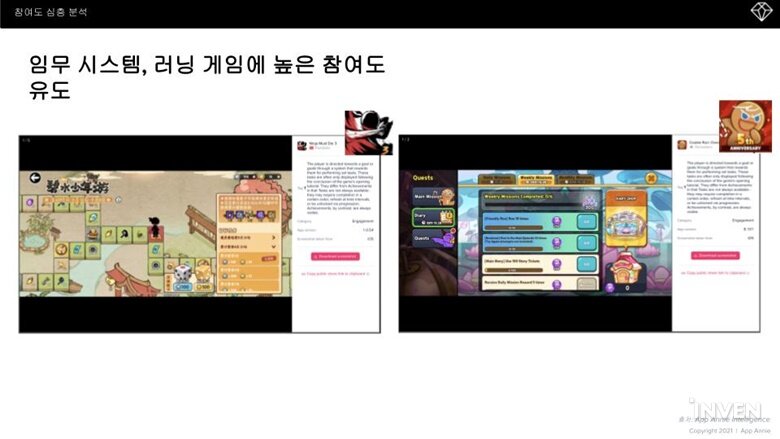 The top 3 games in the running genre all feature one-time events and mission systems, guides, leaderboards, and multiplayer. The mission system is one of the participatory components found in most games. A well-implemented task system not only rewards players, but also gives them meaningful situations to complement their gameplay.
In a racing game based on competition, the daily repeat function is noteworthy. Daily repeat play and rewards provide users with new content, increasing re-engagement opportunities and increasing monetization opportunities. 'Kart Rider' and 'QQ Speed' are great examples of appropriate use of repeat play rewards.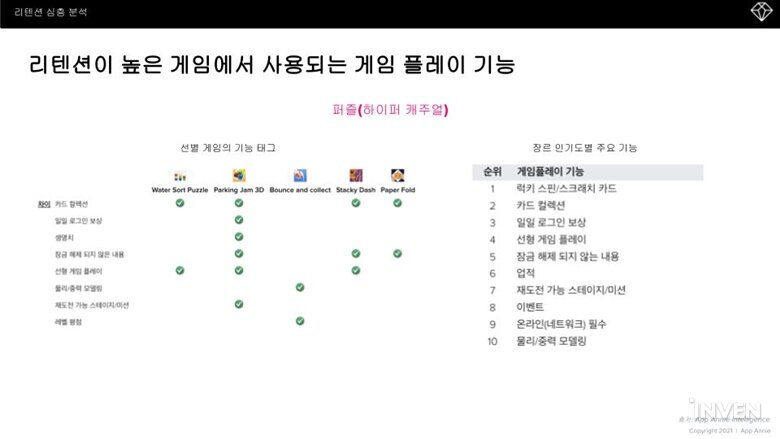 If so, what features are game companies using to maintain this level of participation? Looking at the top games with high retention in the puzzle genre and the features used in those games, it was found that the function tags were used much more diversely than the previously introduced monetization or participation categories. The most popular features were lucky spins and scratch cards.
Many of the hypercasual games use the card collection feature to keep players engaged with collectible characters, skins, gear, and more. Unlocking is a feature that players can use as they progress through the game, providing a preview to help raise expectations and encourage repeat play and re-engagement.
---
■ Key trends in the mobile market in the third quarter of 2021
– Analyze top-ranking games and publishers to understand market trends
---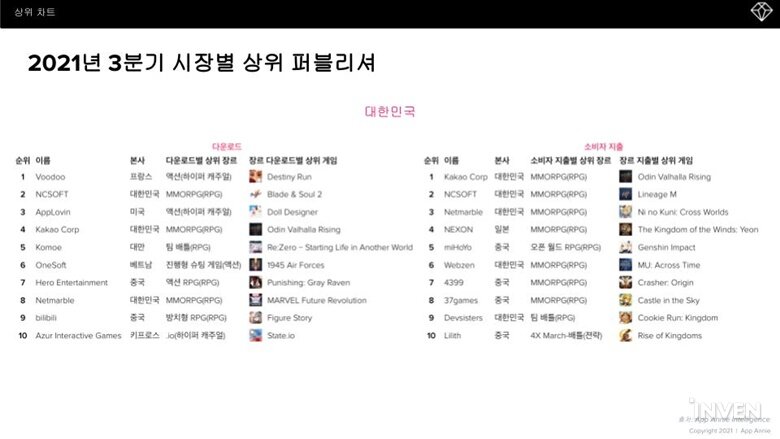 Finally, we look at the ranking of top game apps and publishers in the third quarter of 2021 in Korea. In Korea, MMORPG games ranked 4th in consumer spending. 'Odin Valhalla Rising', 'Lineage M' and 'Lineage 2M' made it to the top three. In terms of download, 'Blade and Soul 2' took the lead, and in terms of actual users, 'Roblox' took the lead.
The top game publishers by download were Bodo (France), NCsoft (Korea), and AppRobin (USA). Bodo and AppRobin are publishers of 'Destiny Run' and 'Doll Designer', which represent the action genres. In terms of consumer spending, Korean companies Kakao, NCsoft, and Netmarble ranked first and third side by side. All of them are based on MMORPGs.
Summarizing the main points, we can see the key trends in the mobile game market. Hyper-casual games make up a huge pie in the download segment, and the most popular download game is the running action genre. In consumer spending, the March-Battle, Slot, and M3-Meta match genres are attracting attention. Additionally, 8 of the top 10 downloads worldwide focused on hyper-casual games by mobile publishers.
Reference-www.inven.co.kr