subject: Still, we make indie games: the story of five college students of different schools and ages developing 'San Butterfly'
Lecturer: Yoo Seung-hyun – Wonder Potion / CEO
Presentation area: planning, development
Lecture time: 2021.11.19 (Fri) 14:00 ~ 14:50
Lecture Summary: Five college students who didn't know anything about how they felt while making 'Wild Butterfly' were expressed honestly and plainly.
---
■ Wonder Potion Formation
– Until planning 'San Butterfly'
---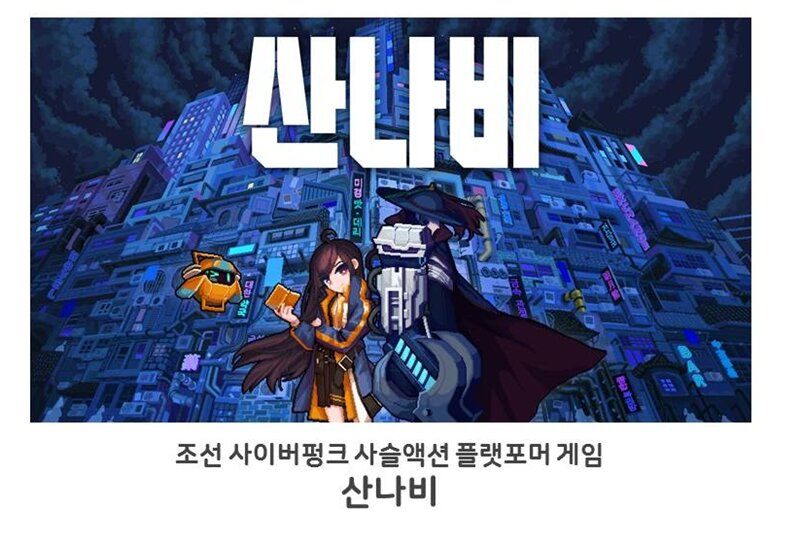 Wonder Potion is an indie game development team created by five college students of different ages and schools. Sannabi is developing 'Sannabi', a Joseon cyberpunk rope action platformer action game. Sannabi, with its story, platformer, and rope action, started early access in February 2020 and released a demo version in March 2021. Sannabi will be officially released in the first quarter of 2022. Team leader Yoo Seung-hyeon, the team leader and planner of Wonder Potion, relaxed his neck and calmly talked about how wild butterflies started and are being made.
"Our Wonder Potion, our Wonder Potion, is making a game called Mountain Butterfly. It is a game of a bizarre genre called Joseon Cyberpunk Chain Action Platformer. You start by gathering people around you like friends, siblings, or school clubs? I recruited team members from Game Jam. It's a sound."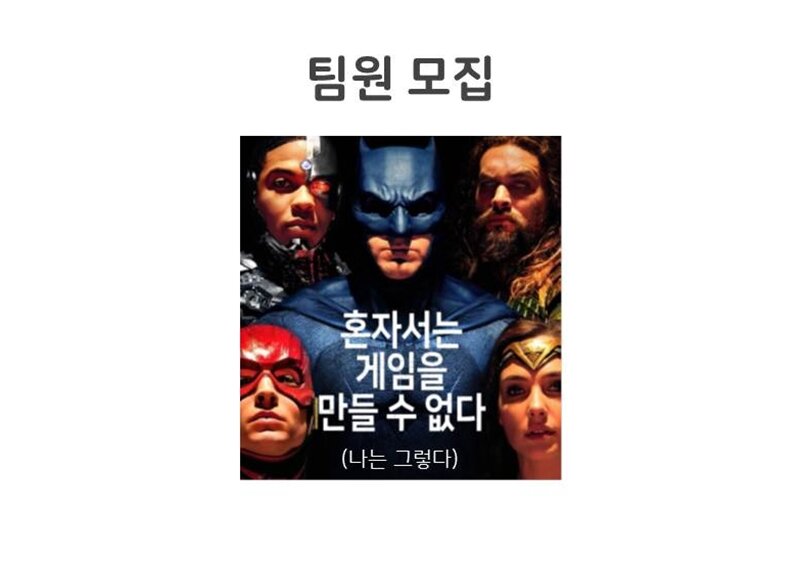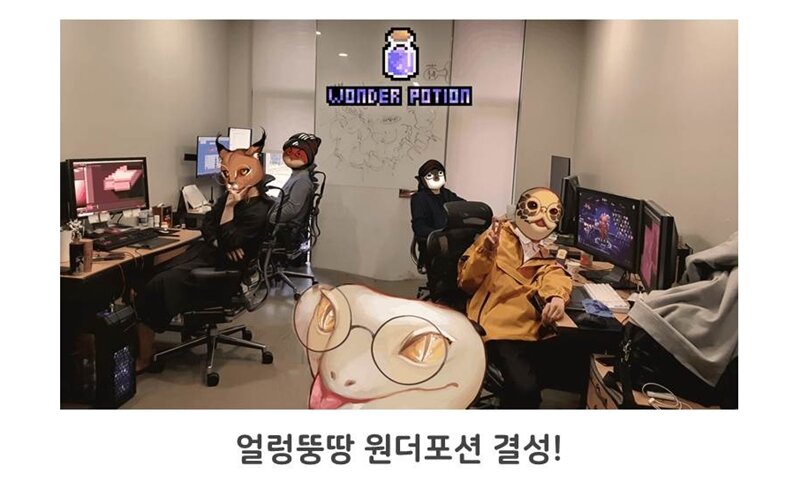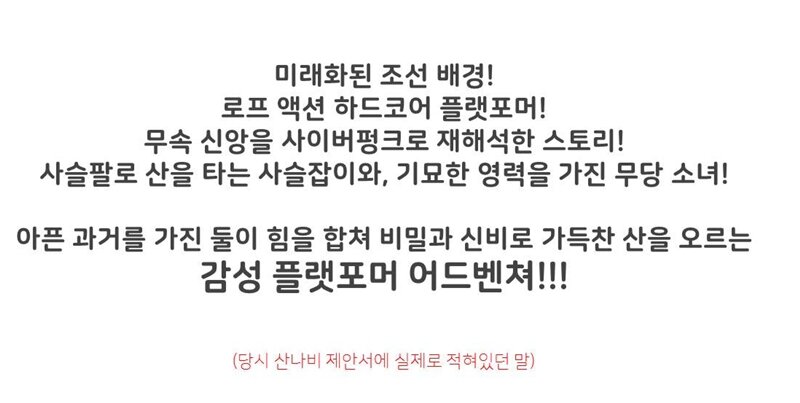 "That's how Wonder Potion was created. However, we were all a group of people who had no game development experience, knowledge, or sense of reality. The only thing we had was a desire to do things that other people didn't do. Thousands of games a month It's pouring into Steam, and we have to compete, right? There was no way we could compete with other games, because the development power itself is incomparable."
"So we thought that if we made a game poorly, there would definitely be an upward compatibility of our game. So we came to the conclusion that it should be an irreplaceable game. Futurized shipbuilding, rope action, platformer, and shamanism are reinterpreted as cyberpunk. , a chainsaver and a shaman girl, the emotional story of climbing a mountain by joining forces. A project that does not seem like this was adopted. The reason is that we do not develop games. We decided to do this because we did not know what we were trying to make. Yes, yes. No experience required.
---
■ Problems arise
– Rope action and storytelling
---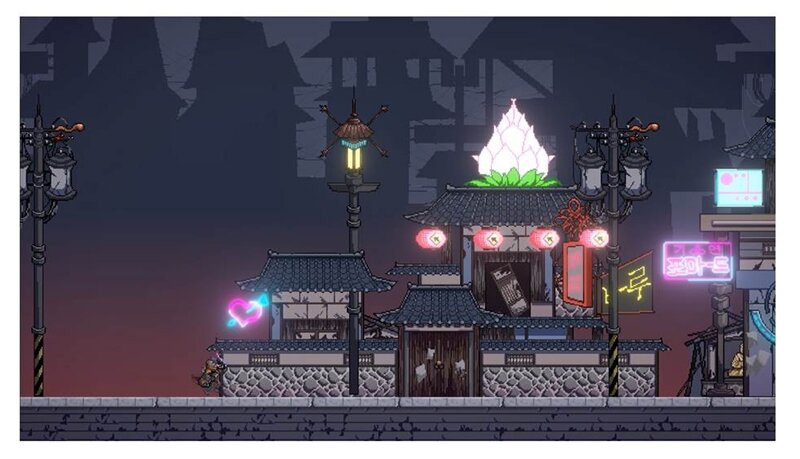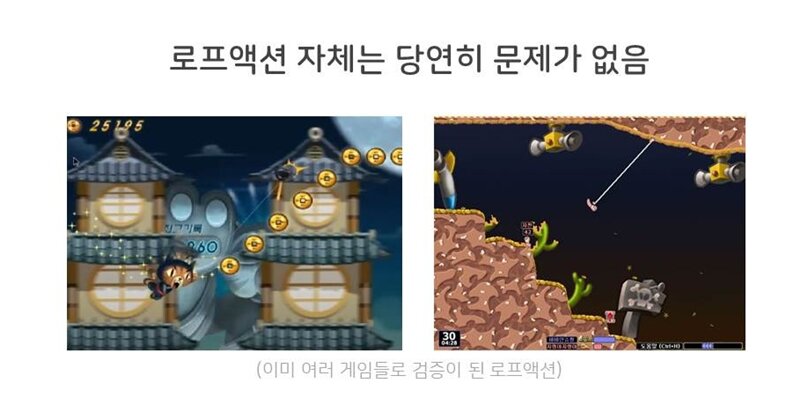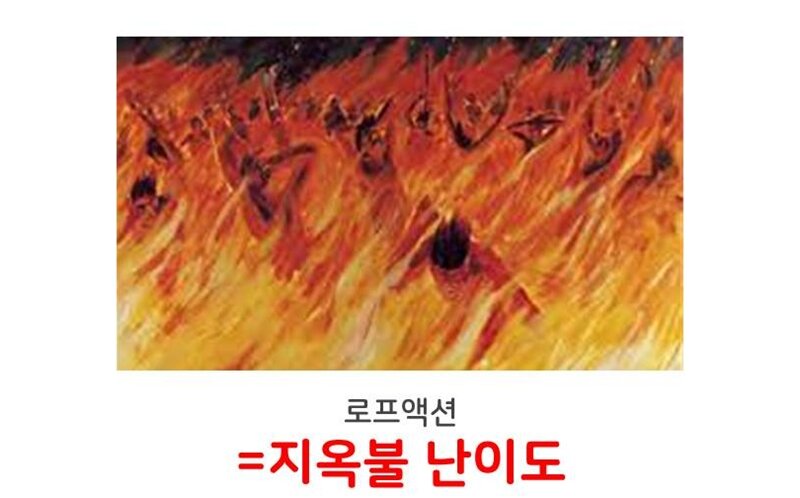 "Sunbutterfly had two big problems. The first is rope action. Rope action is a proven mechanism. But when you make it, rope action is hell. They say action games are the graveyard of developers, right? But, it's just movement. No, it couldn't have been easier to create an action method that hooks and moves somewhere. In other words, I saw the game development as too simple. I thought it would be fun to just have an idea. Implement, test, fix bugs. I didn't know that the actual production process was the main stage of game development. I wanted a platformer like Spider-Man, and then the jar game came out."
"Is it the end of making it difficult? Absolutely not. After receiving user tests and feedback, users experience different levels of difficulty and control. Saying that it is difficult to make is meaningless to users. If the game is uncomfortable, it is just an uncomfortable game. And the feedback is really hard to understand for a beginner developer. I got used to the inconvenience while playing the uncomfortable game while making it."
"There was also a problem with the story. I read a lot of books, wrote a lot, and like a lot of creative works, so I vaguely thought that I could make it somehow. The elements weren't ready. I realized too late that the story was more important than the story. I made the game with only the story for a year. The rope action and the core elements of the story took less than a month to figure out the problem. It took about a year. I had to solve them all. I ended up using the Unity Physics Engine, which I was not using. I also decided to revamp the story. I deleted all but the parts I could handle."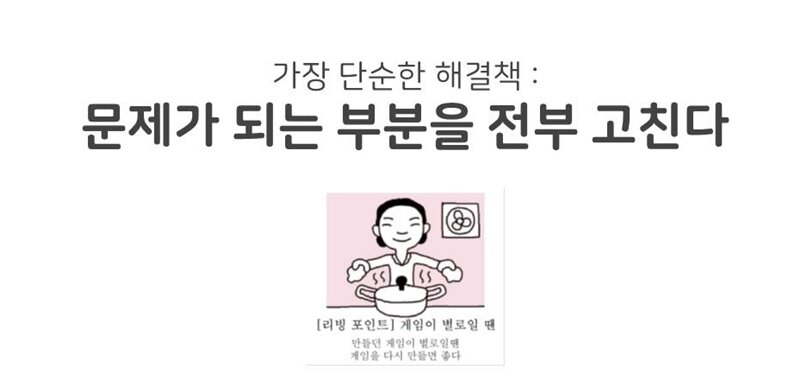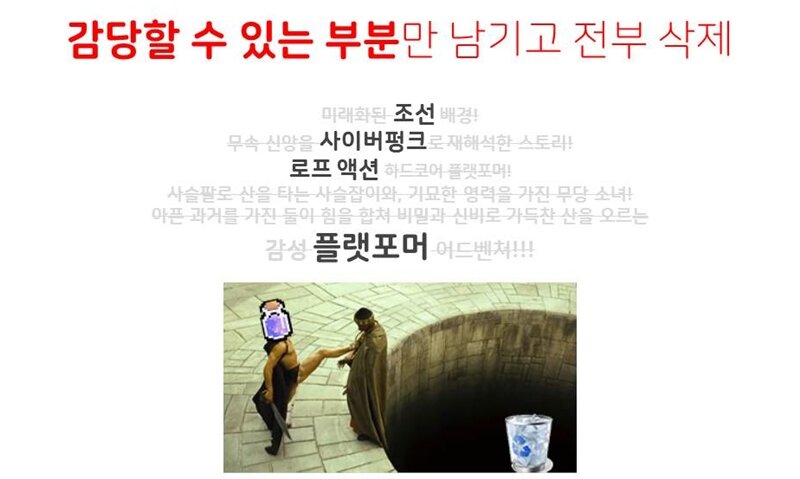 "The controls and the storyline. These two alone can't be the problem. There are so many other reasons, so many things have changed. Sannabi was a game that was initially aimed at a precision platformer like Celeste. It was a game without combat. , it was too difficult to control to make a precision platformer like Celeste, there were problems with difficulty or fun, and it was really strange not to fight with the character's huge mechanical arms, so I added combat."
"Nevertheless, there was one thing that should never change. The essence of Sannabi is that it is a platformer. As it is a platformer, the biggest point of the game was movement, and we had to make it use movement as well. Attacks for attack are excluded as much as possible. And the concept of a girl who accompanies the main character is going to be similar to the game called ICO. A heroine who has no fighting ability and has to keep an eye on it. You have to keep paying attention not to die. Of course, there is a role of a heroine to that extent, and the experience this play gives is really strong, but the controls are still unfamiliar and difficult, but it is several times harder to take care of others, so I changed it. It was never an easy task, but we fixed it one by one."
---
■ Two things I felt
– Feedback analysis, about difficulty
---
"Next, I would like to talk about two things that we felt the most during development. These are only our subjective experiences and interpretations. The first is the kernel of feedback. Small indie game teams that cannot receive professional QA like us often use the method of distributing games through networks, chat rooms, and communities and requesting feedback from an unspecified number of people. It's part of it."
"Sannabi is an action platformer, and it is targeted at core users. But let's say Sannabi has received such feedback. I think it would be nice to have auto-aim. I think it would be nice if there was a reinforcement element. Whether you agree with the feedback or not, it is difficult to ignore the sincere advice of users that this will make things better. The basic premise is that the feedback may actually be wrong."
"To be more precise, it could be feedback from people who don't think we'll play our game. People who like mobile games, people who only play MMORPGs, and people who only choose difficult games, have their own game taste on the platformer Sannabi. can be sent as feedback, meaning that people who do not enjoy and will not play our genre games may have played it because we asked for it. They are giving feedback in good faith, taking their time and giving them sincere feedback. So I think I will be more swayed by this feedback. That's why it's more dangerous."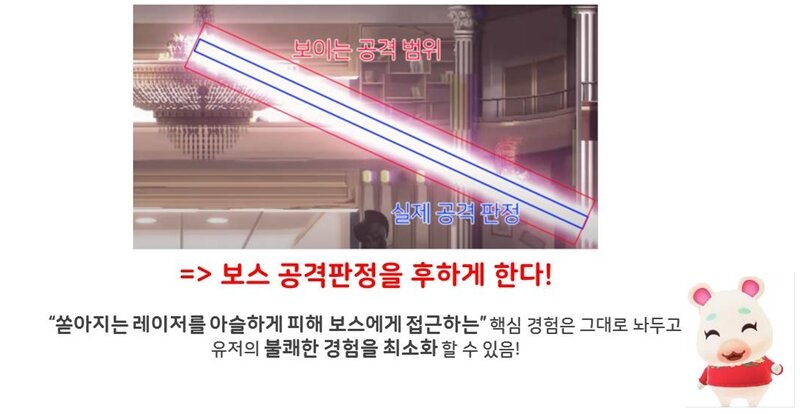 "Then what do we do? We try to rip the shell of the feedback out and pull out the hidden kernel inside. We have a tutorial boss in our game, and some people have given us feedback that the boss's attack speed seems too fast. We accept this feedback as it is. If the boss attack speed is lowered, there is a risk that the core experience of this boss battle is to be approached by avoiding the laser beam. Our developer thinks that this boss's attack speed is appropriate, so we changed the boss's attack roll to make it easier to dodge the attack by reducing the actual attack roll and making the roll shorter than the visible attack range. We left the speed the same, but the next feedback didn't say that anymore."
"The second is a story about difficulty and discomfort. If the game is too difficult, the users will feel unpleasant. Then, if you make it easy, the game will not be pleasant. It should have been a level of difficulty. It's not about increasing the difficulty, but about how to get the difficulty to a reasonable level while maintaining the unique experience and fun."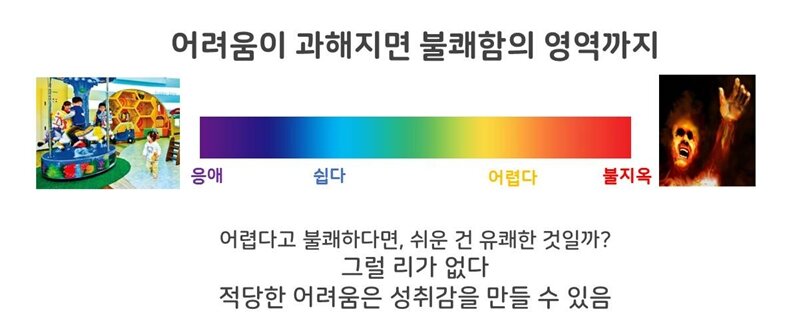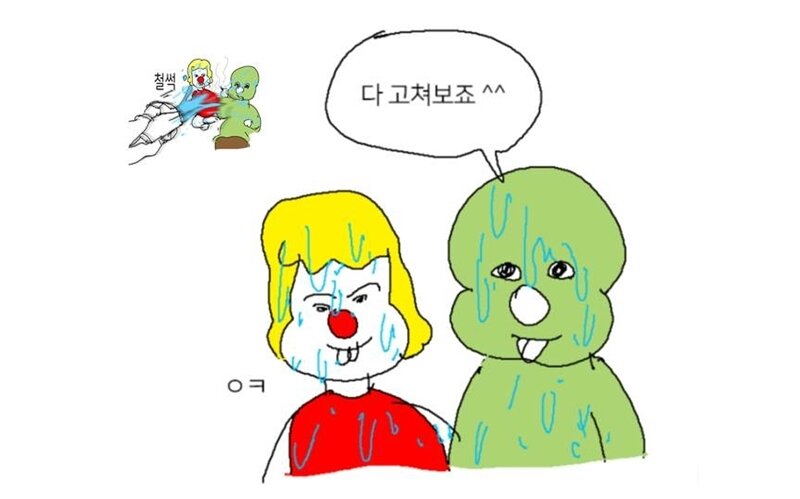 "The first is tolerance. When creating a level, I often get caught up in the urge to force the player to give the correct answer. It's like, 'If you don't jump here properly, you will die'. Controlling the behavior of these users is the difficulty itself It seems to cause more discomfort even if the . ."
"The second thing is to open up other possibilities. Having more than one way to get to the destination will speed up the user finding a way and greatly reduce the chance of getting stuck in the game. You don't die the same way over and over again. And the third point is the key: to make it a lot easier than the developers thought. We did all the testing and QA so we got used to the game controls as soon as we got used to them. Thousands of hours of playtime. And we know how to break it. There is absolutely no chance of getting lost. This often makes the level tighter and tighter."
"Yes. I've talked about this and that until now, but everyone must have noticed by now. Mountain Butterfly was not a game prepared from the beginning. I didn't know anything about it, so I learned it by headbutting it myself. I was lucky. I need skills to do it, but if I do, I'm not on the indie game team. But if I blame it on down, it doesn't seem too good, so to mention another reason, when I found out there was a problem, I tried to fix it all. "Anyway, that's where we've come from, and we'll continue to do so in the future. Let's keep moving forward and keep going until the release."
Reference-www.inven.co.kr