subject: Preparing Metaverse with Epic Games
Lecturer: Name – Shin Kwang-seop / Epic Games Engine Business Lead
Presentation area: metaverse
Lecture time: 2021.11.18 (Thu) 14:00 ~ 14:50
Lecture Summary: In the upcoming metaverse world, what is Epic Games preparing for?
Metaverse, a system that expands reality into the digital world and enables political, economic, social and cultural activities, is the hottest topic at G-Star 2021. Several technology companies have recently started developing metaverse in earnest, and Epic Games is the same. Tim Sweeney, CEO of Epic Games, said that Epic Games has been working on metaverse development for several years.
Tim Sweeney defined the metaverse as a digitized communal space where users can express themselves and interact freely with each other. It is an online playground where users can play games, watch movies, and test-drive new designs with users.
Shin Kwang-seop, Epic Games Engine Business Lead, said that the metaverse world would still take another 10 years or so. There are a lot of problems that need to be solved, so now it's the stage of making and testing what we can do. However, Epic Games is preparing from now on. For the metaverse world that is getting closer day by day, we are opening a waterway in three major areas: development, service, and publishing.
---
■ Development: Making Unreal Engine a great creative tool for creators
– More comfortable, faster, more realistic
---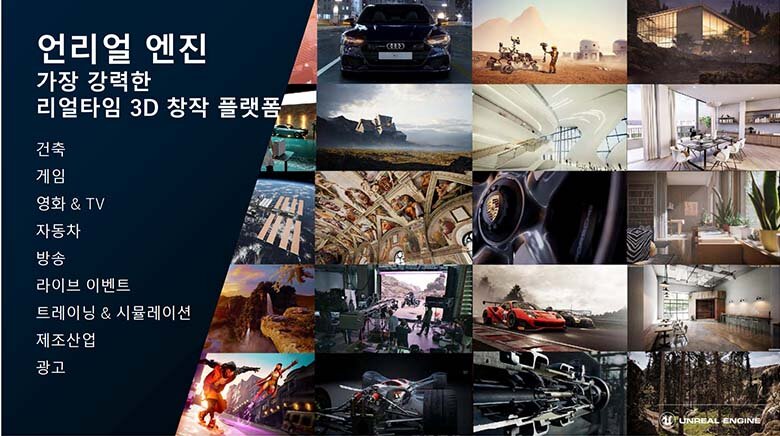 Unreal Engine 4 was first released in 2014 and has been available for free since 2015. The reason is that the production company, Epic Games, wants Unreal Engine to be a creative tool for creators who want to express the world. But simply being 'free' shouldn't be the biggest advantage of Unreal Engine. It should be free, yet be able to provide creators with the best features.
There are many different fields where Unreal Engine is used. It is used not only for game production, which was its original purpose, but also for film and animation production, car modeling, building design, and 3D rendering of landscapes, sky, and light to express the open world as realistic graphics.
The use of Unreal Engine is not limited to things. Unreal Engine is also a great tool for representing digitized humans. The most important part of expressing a person is the expression of the eyes and hair. Unreal Engine has continued to advance the technology to realistically represent these parts.
The fact that Unreal Engine was provided free of charge also benefited Epic Games. Users who were provided with open sources researched and shared information with Epic Games developers on the parts that Unreal Engine can express better, and parts that can be applied more easily and quickly. Thanks to this, Epic Games was able to develop the technology quickly, remembering the contributions of users, and leaving nicknames of users who helped in each patch note.
'Real-time rendering' is also one of the features that represent Unreal Engine. 'Real-time rendering', which is expressed in 3D in real time, is already being used in many fields. The most recent use is in the film industry. Filmmakers are using Unreal Engine's 'real-time rendering' feature to see how graphics are projected on the screen in real time. In addition, it is playing a big role in various aspects of film production, large and small, such as finding a more efficient directing method by changing the position of the camera, and removing unnecessary light reflections for filming.
The most important thing is that your creations should be able to come out to the world easily and comfortably. What Epic Games paid attention to is compatibility expressed as 'one-source multi-use'. Epic Games has continuously improved the compatibility so that graphics created in other tools can be easily expressed in Unreal Engine. And that field has already been applied to various fields such as automobile design, product design, and building design.
Another area of ​​concern is optimization. TV is not the only platform on which graphics are expressed. There are various image output devices such as smartphones, movie screens, monitors, and tablet PCs that are most closely used in our lives, and the way graphics are expressed should be different according to the characteristics of each device. Unreal Engine is developing an engine so that it can provide optimized images by adjusting the required graphic quality according to the platform.
---
■ Service: It's not just the creator's creation
– so that your creations can be better served to the world
---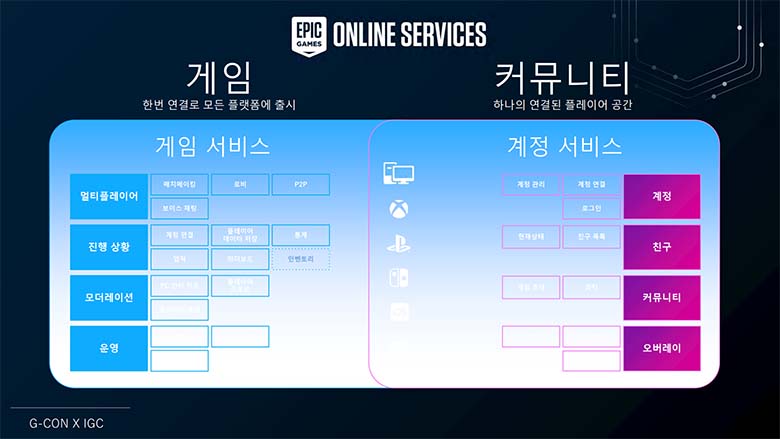 It's great for creators to create their own inspiration. However, creation alone does not solve everything. Creations must be released into the world and known to people, creators' intellectual property rights must be protected, and they must be widely served to many users.
The second area Epic Games is working on is the provision of a stable and excellent service platform. In order for creators' creations to be well provided to users, Epic Games is developing and improving many additional services and providing them to users. Broadly, through the Epic Games Store, games with many creators promote them to users and provide security programs to protect creators' creations from hackers. Epic Games also provides programs that users need in real life, such as voice chat programs.
It is also very important for creators to earn money through creation. Because it is an important motivator for creators. Epic Games is receiving minimal service fees through the Epic Games Store so that developers can get more commissions. In addition, a function that allows creators to publish directly is being provided as a beta service.
The most important thing is the creator. Without creators, the metaverse would be meaningless. The metaverse that Epic Games thinks is a 3D world where everyone can participate and enjoy together. Just as people with various broadcasting abilities appeared when YouTube provided a video platform, we hope that various creations made by creators through the tools provided by Epic Games will appear in the metaverse. In a world where everyone creates real-time content, Epic Games believes it will be.
---
■ Publishing: A scenario that did not see the light of 10 years ago
– I hope that Epic Games will contribute to the emergence of another squid game.
---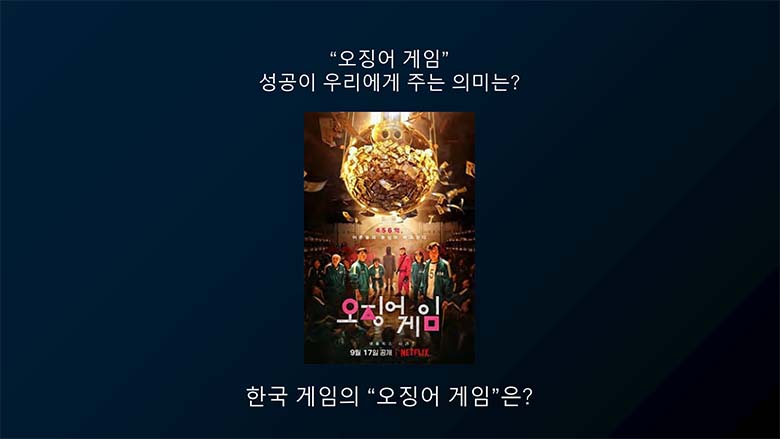 Director Hwang Dong-hyuk of the world-wide hit drama Squid Game has been holding the Squid Game scenario in his hands for 10 years. The scenario, which never saw the light of the world, was released to the world through Netflix, and caused a huge sensation.
The script for Squid Game, the director who directed the drama, and the actors who acted in it were all as we know them. But the moment they came out in the world, a nonsensical phenomenon occurred. As a game developer, witnessing it firsthand made me think, 'What is a squid game in the Korean game industry?' Even now, in Korea, I think that many game developers have a creative work that has as much impact as a squid game scenario.
Could it be that the creations that could become the 2nd and 3rd squid games haven't come out yet? I want Unreal Engine and Epic Games to become platforms so that these hidden pearls can come out in the world. Creating IP and content that resonates in the world will be the core of the metaverse that will unfold in the future. The lecture concludes with anticipation of how the positions of existing broadcasters and Netflix have changed, and how they have changed their positions now, and the appearance of various contents.
Reference-www.inven.co.kr