[기사 본문]
– The fight to get rid of the name of the deserted ninja "Kiba"
– Experience the Hyper Ninja action during the Steam demo release
– Retweet event open to commemorate the start of funding! Nintendo Switch Lite Giveaway by Lottery
Game publisher CFK announced on Twitter that from today (November 19, 2021), a retweet event for the new hyper ninja action "Ninja Issen" will be held, and Nintendo Switch Lite will be presented through a lottery.
「Ninja Issen」is a hyper ninja action game that depicts the revenge of a deserted ninja "Kiba" that takes place in a cyberpunk city of delight.
● Ninja + Cyberpunk + Hyper Action
The player becomes a ninja "Kiba" who was falsely accused of killing the head of the family, and while escaping from a pursuer, he accidentally time-leaps to the city of the future. After being rescued by a top engineer "Hanzo" and gaining new abilities, "Kiba" returns to the original world and begins a battle for revenge to clear his name.
This work, which presents ninjas walking through a cyberpunk future city, is drawing attention from domestic and overseas users with a sense of play that dominates the battlefield using colorful and splendid ninja skills. One-to-many battles with both speed and action, and high-level boss battles that require everything to be used, are the fun of "Ninja Issen" that you can't miss.
● Crowdfunding in progress! Let's play the trial version
CFK is currently crowdfunding on Kickstarter with the goal of completing "Ninja Issen" with users. Various digital and physical rewards will be provided.
In addition, through the trial version released on Steam, you can play some of the main elements of the work, such as hyper action and thrilling boss battles unique to "Ninja Issen". If you liked the trial version with the contents of Chapter 1, be sure to check out the Kickstarter page for this work.
"Ninja Issen" is expected to be continuously improved based on user feedback, so we ask for your interest and feedback on the Kickstarter project and the Steam trial version.
● Join the Retweet Event and Win a Nintendo Switch Lite
To commemorate the start of crowdfunding for "Ninja Issen", CFK will start a retweet event today (November 19, 2021) to give out a Nintendo Switch Lite by lottery.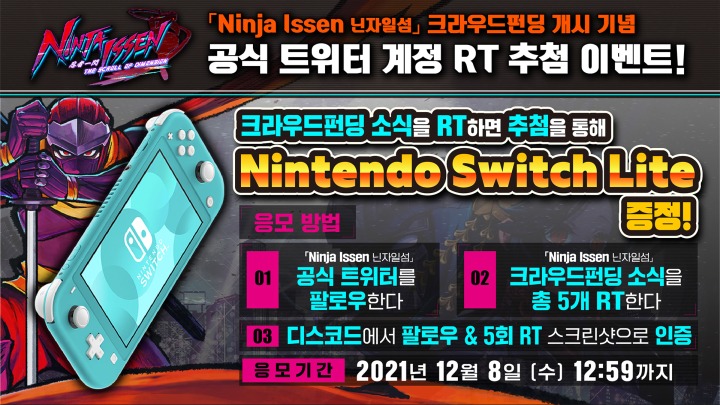 • Application period: from November 19, 2021 (Fri) to December 8, 2021 (Wed) 12:59
• How to participate:
1. Follow 「Ninja Issen」official Twitter
2. Retweet each of 5 crowdfunding related tweets
3. Participation is completed by verifying the retweeted image on "Ninja Issen" official Discord.
• Lottery Giveaway: Nintendo Switch Lite (1 total)
• Winner Announcement: To be announced on December 24, 2021 (Friday) 「Ninja Issen」 official Twitter and Discord
For more information on the hyper ninja action "Ninja Issen", which depicts a ninja's revenge play to get rid of the frame, you can check out the Steam store page and the Kickstarter page.
● official twitter
https://twitter.com/ninjaissen
● official discord
● Steam Store Page (Demo Revealed)
https://store.steampowered.com/app/1714550/Ninja_Issen/
● Kickstarter Campaign
https://www.kickstarter.com/projects/ninja-issen/ninja-issen-a-hyper-ninja-action-game
● screenshot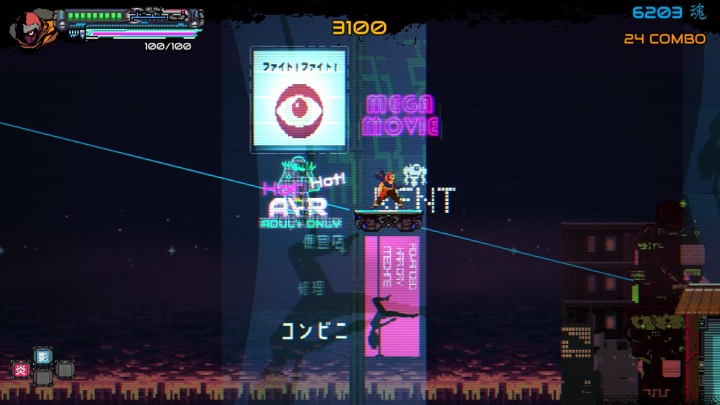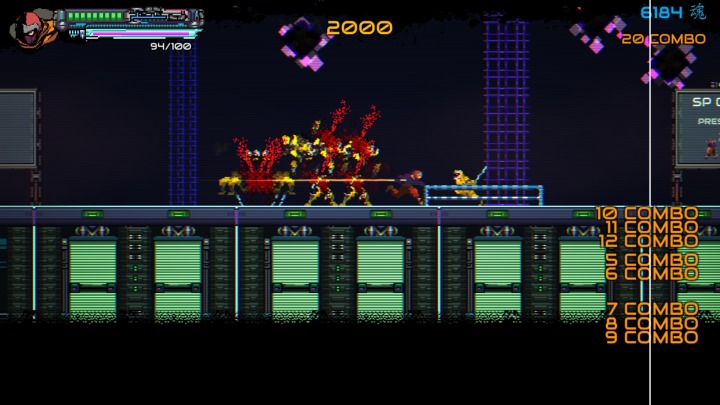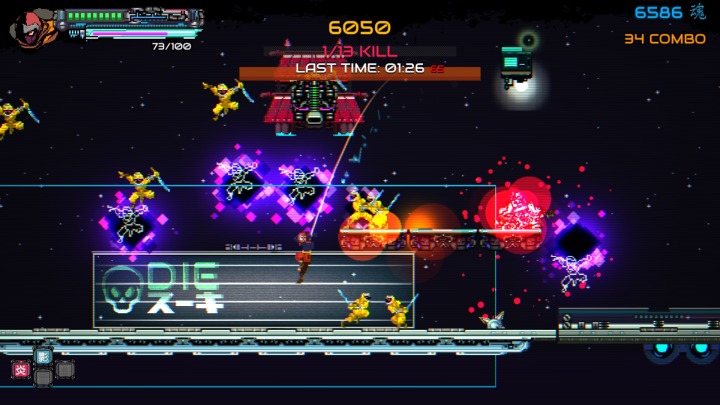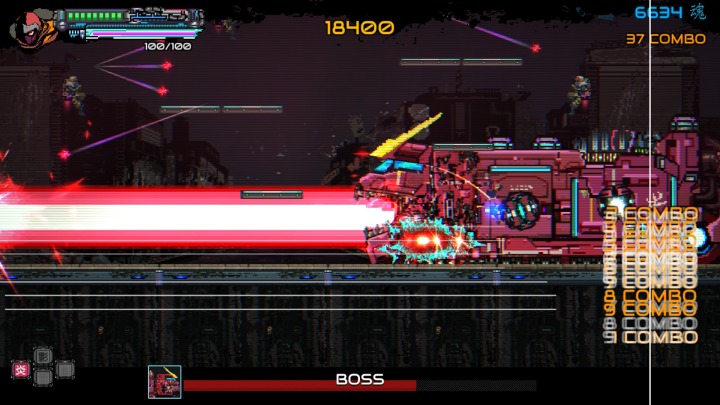 ● Product information
Title: Ninja Issen
Model: PC (Steam), Nintendo Switch
Genre: Hyper Ninja Action
Release date: undecided (trial version released)
Price: TBD
Number of users : 1
Supported languages: Korean, English, Japanese
Release: CFK
Copyright notice: ©2021 Asteroid-J All Rights Reserved. Published by CFK


Reference-bbs.ruliweb.com