On the 17th, Riot unveiled four new games from publisher Riot Forge, which is responsible for expanding the League of Legends universe. Among them, two games are still under development, and 'The Fallen King' and 'The Hextech Mayhem' will be released immediately and can be enjoyed.
Riot Forge has announced that it will gradually expand the story of League of Legends, starting with a newly released game. This is not the first time that various games have been released as games from popular IPs, but it is quite rare to reinterpret a game in a variety of genres like Riot Forge.
What did Riot think when creating Riot Forge, and what kind of activities will Riot Forge carry out in the future? Through a group video Q&A with Riot Forge creative director Rowan Parker, Airship Syndicate co-founder and Fallen Wang design director Steve Madureira, and Choice Provision co-founder and Hextech Mayhem design director Alex Noyce. I had time to solve my doubts.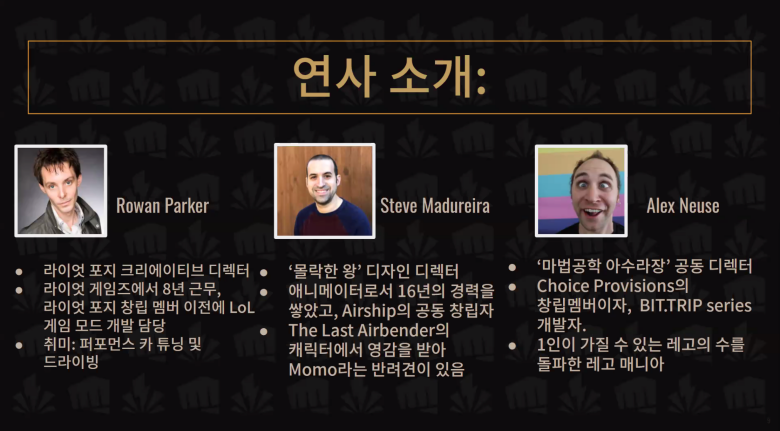 Q. It seems that 'Magic Engineering Mayhem' was released without much marketing, but was it intentional? Also, I wonder how long it took to develop the game.
Rowan Parker (Rowan): We consider appropriate marketing for each game. 'Hextech Mayhem' thought now was the right time to release thanks to the arcane that dealt with Pilt-Over. We are also planning post-launch marketing, and we plan to take appropriate marketing strategies for each game in the future.
Alex Noyce (hereafter Alex): The game development took about a year.
Q. It seems that 'The Fallen King' was also released abruptly without any news. Is there any reason why you didn't disclose the development process or release schedule for the two games released this time?
Rowan: 'The Fallen King' was announced to be released to gamers in advance, but due to the pandemic, the plan had to be postponed. Instead, we tried to improve the quality of the game, and relatively less focused on marketing.
Q. 'Magic Engineering Mayhem' chose Netflix Games as its mobile platform. Why did you choose Netflix Games?
Alex : While developing 'Magic Engineering Mayhem', we wanted as many gamers as possible to enjoy it. We thought Netflix Games was a platform that gamers were paying attention to, and we thought it would be good to release our games here.
Rowan: At the time of its release, Netflix Games appeared, and it was decided that the time was right to release it on that platform.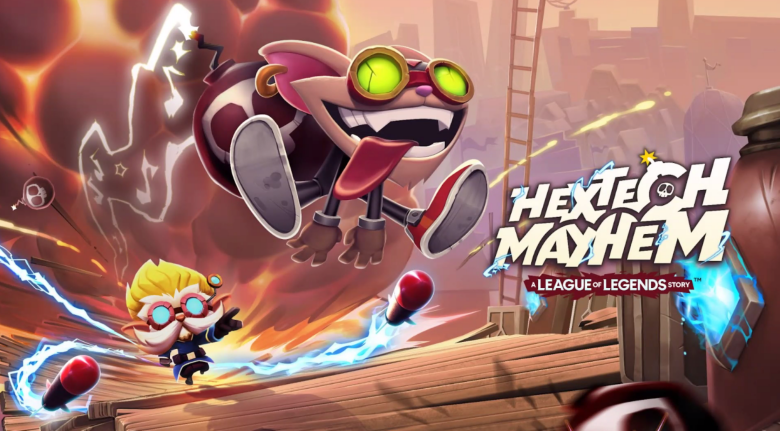 Q. I felt that the interface of 'The Fallen King' lacked convenience, especially the absence of a mini map was a pity. Are there any plans to add a mini map in the future?
Steve Madureira (hereafter Steve): We are currently checking a lot of feedback from users, and among them there was a story about the mini map. Unfortunately, I have no intention of adding a mini-map.
We always listen to our users and try to improve while fixing bugs. One of the things to fix the game according to the current feedback is that it is difficult to select a keyboard and mouse during battle, but we are trying to improve it so that it can automatically recommend categories according to the situation to enable quick battles.
Q. You think this is a prequel story of Viego, the true protagonist of 'The Fallen King'. What is the most important thing about this game?
Steve : The original plan was to release the game after League of Legends' 'The Fallen King' event was over. The plan itself was made three years ago, but the release was delayed as the pandemic continued.
Rowan: In 'The Fallen King', a charming character named Viego appeared, so he was decided as the champion in League of Legends Summoner's Rift.
Q. Are there plans to release games with stories of other characters in the future?
Rowan: As you can see from the information released on the 17th, two games are scheduled to be released in the future, and many other League of Legends games will be made.
Q. The price of the two released works is relatively low. It felt like Riot Forge was focused on expanding the League of Legends universe rather than making money. What do you think?
Alex : 'Magic Engineering Mayhem' is a relatively small-scale game. It was released in the US at around $9, but I think it's a reasonable price compared to the game.
Steve : Many gamers wanted to enjoy the game. 'The Fallen King' is a big game and guarantees a lot of story and playtime. We think we've released this game at a reasonable price, and we think it's a game with a lot of fun for the price.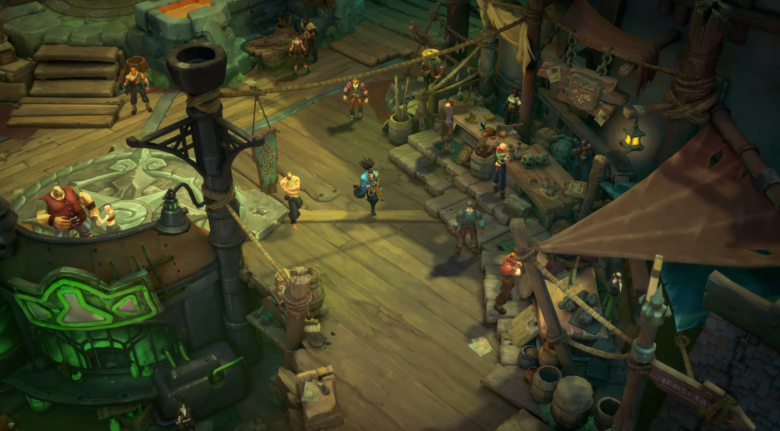 Q. I'm curious as to why Ziggs and Heimerdinger's narrative was turned into a rhythm game.
Alex : If you're familiar with Choice Provisioning Studio, you're probably familiar with the 'Beat Trip' game we made. 'Beat Trip' is a rhythm runner game, and when I first wanted to make a game with the worldview of League of Legends, Ziggs came to mind. I thought Ziggs' madness and explosive beat suited the game, so I applied it to the rhythm runner game.
Q. I think 'The Fallen King' has a high barrier to entry due to its difficult difficulty. What do you think about this?
Steve : Airship Syndicate has previously released a game called 'Battle Chasers'. 'The Fallen King' boasts a higher level of difficulty than 'Battle Chaser', but you can select multiple difficulties instead.
If you want to enjoy the game with difficulty, select the high difficulty level, and if you want to enjoy the story mainly, select the low difficulty level. In the case of the story mode, you can even pass the battle, so you can choose the style you want and enjoy it.
Q. Do you have any plans to add a key binding system to 'Magic Engineering Mayhem'?
Alex : I'm actually planning a key binding system. An exact update schedule has not been confirmed, but key bindings may be available soon. We're keeping an eye on the community, and we're listening to feedback, so feel free to contact us.
Q. Contrary to how easy it looks, 'Magic Engineering Mayhem' seems to have a lot of room for thought when operating it because there are a lot of interactions to aim for in order to score high. Is there anything you paid attention to to organize a game note like this?
Alex : As you can see, 'Magic Engineering Mayhem' seems easy when things to do are displayed on the screen. But in order to score high, you have to find things to interact with between the fronts and take the appropriate action. It looks very difficult, but if you overcome it, you will feel like a champion.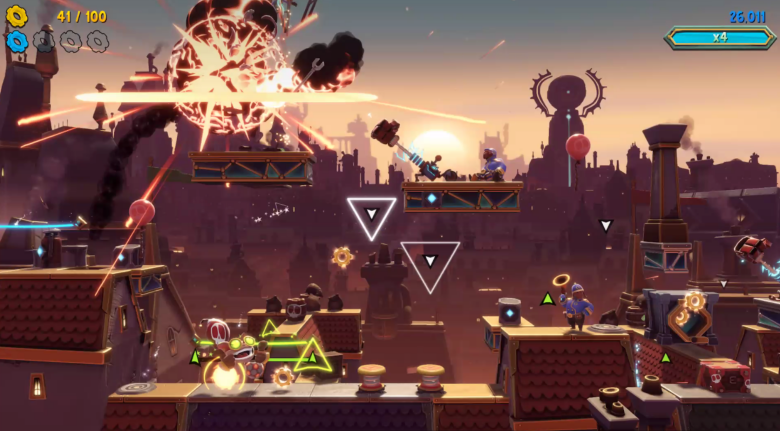 Q. Have both games been developed? I wonder if you are preparing additional DLC.
Steve : Currently, we are focusing on fixing bugs and various feedbacks that gamers find.
Alex : The Hextech Mayhem is also currently focused on fixing feedback.
Q. How will you introduce the upcoming games to be released through Riot Forge and the game release cycle?
Rowan: For now, I would like to focus on the previously released games. New releases will be released every year. Because I think it's good to let players experience the world of League of Legends by releasing a new game every year.
Q. I'm curious about the release results of 'The Fallen King' and 'Magic Engineering Mayhem'.
Rowan: It is still too early to compare regions by region. We feel that gamers like it enough and we think we did it successfully.
Alex : I'm hearing a lot of positive feedback from people around me. Although there are criticisms of the aforementioned key bindings, I am happy to tell you about improvements honestly, and I am enjoying the current atmosphere.
Steve : Watching gamers play the game is fun and exciting. If you look at the reaction of gamers, most of them view the story very well, and I'm happy with it.
Q. I enjoyed the comic book-like cutscenes in 'The Fallen King'. What kind of work did you do to create such outstanding art, and how did you establish a cooperative relationship with Riot?
Steve : There is a developer on the team, Joe Madureira, who is also a famous cartoonist. For reference, Joe Madurei is my brother, and we have been working together as a team for nearly 15 years.
In addition, the atmosphere of the Airship Syndicate in the company tends to criticize the work a lot. They strive to meet high standards, and although it is not large, there is a culture of pushing each other as if it were a large place.
Rowan: As a Riot Posey, I think it's great to work with someone like Joe Madureira. A new interpretation of League of Legends characters is possible through the eyes of a great cartoonist. Thanks to you, I was able to enjoy the whole work with a happy heart.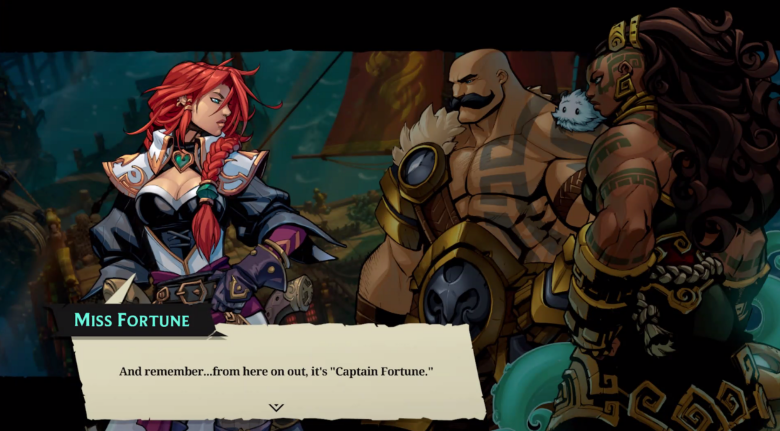 Q. Thanks to the lane switching system of 'The Fallen King', I was able to enjoy the battle in depth, but on the contrary, it felt difficult. Why did you make this?
Steve : What was important to me while making the game was that I wanted to be rewarded for winning a difficult battle. It's like a puzzle. Even the perfect strategy required gamers to keep thinking because there is a path shift.
As a tip for the progress of the battle, you can use the info mode in battle as well. Through this, you can know the behavior of the creature in advance and it can be a hint for planning a strategy. If the battle feels too difficult, adjusting the difficulty is another way. Alternatively, you can develop your character while performing various activities that can be done in the game, such as side quests and item farming.
Q. Is there a reason for releasing difficult and easy games like 'The Fallen King' and 'Magic Engineering Mayhem' at the same time? Do you plan to continue the pattern of releasing difficult and easy games at the same time in the future?
Rowan: It is not known whether it will be released in such a pattern in the future. However, I thought it would be helpful to release both easy and difficult games at the same time. As we develop, we focus on the story, the characters, and the world of League of Legends. Therefore, it seems difficult to confirm that it will be released based on difficulty in the future.
Q. 'Magic Engineering Mayhem' looks like a spectacular fireworks display. What part of the directing did you focus on, and did you want to preserve the artistry?
Alex : 'Hextech Mayhem' wanted exploding walls to feel like they were moving. We wanted to get to the point where the player felt frantic, just like the character Ziggs felt. So, it was right to focus on artistry, and I thought Ziggs' Frenzy was the main focus.
Q. Ziggs appears as Heimerdinger's assistant in 'Magic Engineering Mayhem', whereas Victor appears as an assistant in Arcane. What kind of story is true?
Rowan: Ziggs is more of a rival than Heimerdinger's assistant. Ziggs is a character trying to show that he can stand up to Heimerdinger. I think the storyline is different for each game. There are character-oriented games and there are story-oriented games. 'Magic Engineering Mayhem' is a character-oriented game, and the interaction between Heimerdinger and Ziggs is important.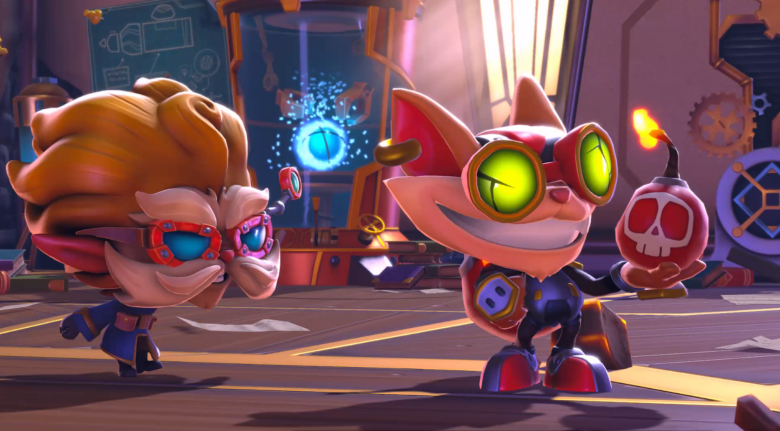 Q. I think 'Magic Engineering Mayhem' is a good game for streamers to play with its brilliant direction, but was it deliberately aimed at?
Alex : It is true that it was made with streamers in mind. We want users to improve their skills as they play the game and eventually climb to the challenger rankings. Watching a streamer play a game feels like a magical moment. It's fun to watch them play and get excited.
By the way, if you clear all the games, two modes will open, among which there is the Impossible Mode.
Q. The interesting thing about 'The Fallen King' is that you were faithful to the original concept of each character while creating a new combat system. What efforts did you make for this?
Steve : One of the fun experiences I had while developing 'The Fallen King' was the process of transforming a champion's abilities into a turn-based system. We wanted to reflect the passives and ultimates in the original, but expand them into our game.
Q. Korean gamers are famous for breaking games quickly. How long did you think about the play time of 'The Fallen King' and 'Magic Engineering Mayhem'?
Alex : The 'Hex Engineering Mayhem' believes that the player can break it all in 3 hours in one sitting. However, if you enjoy all the content provided in the game, you should spend 20 to 30 hours. The core play is intentionally made short because our game is a game that requires a lot of concentration. Therefore, rather than lengthening it, it was made to be short and fun.
Steve : 'The Fallen King' contains many stories from the original. Therefore, I think it will take 20 hours to reach the end even if you don't do the side quests. If you do everything from growth, item collection, achievements, etc., I think it will take 40-50 hours. For reference, it is often seen that streamers enjoy fishing content, but if you enjoy these mini-games, it is expected that the time will be longer.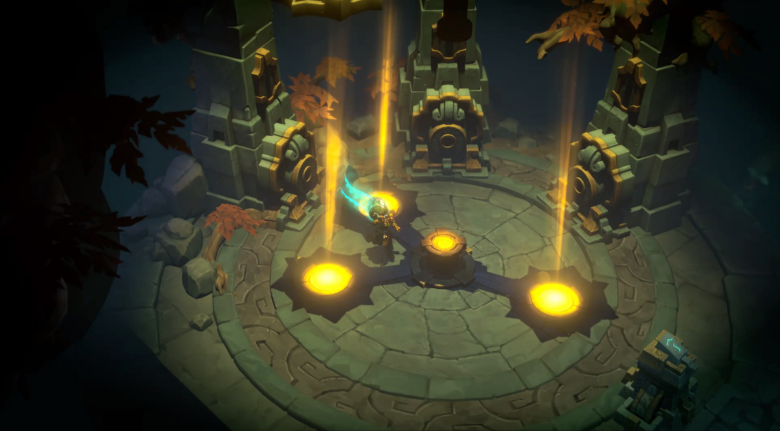 Q. Are there plans to release on other platforms such as the mobile version of 'The Fallen King' and the PS and Xbox versions of 'Magical Engineering Mayhem'?
Rowan: Riot Forge doesn't shy away from specific platforms. There are no plans to release the game on the mentioned platform yet, but if the circumstances arise, we would like to release the game on various platforms so that many users can enjoy it.
Q. What do you think is most important to Riot Forge when working with third-party companies, and what kind of collaborations do you offer to create works?
Rowan: When we ask the developer, we ask the first question about what they want to make with League of Legends. Because we're collaborating with famous games like Airship Syndicate and Choice Provisioning.
When I contact them, I first ask them what they like in League of Legends, and then they develop the game while building a close partnership. Rather than making blueprints and approaching them in Riot Forge, you can think of them as making progress together.
Q. Lastly, is there anything you would like to say to Korean gamers?
Steve : We are delighted to release 'The Fallen King'. We hope that users who enjoy our game will enjoy the interaction between the characters and the story.
Alex : I am excited and excited about what Riot Forge will do in the future. I think it can be refreshing to see a new look for a League of Legends character through Riot Forge.
'Magic Engineering Mayhem' and 'The Fallen King' were released at the same time, but looking around, I saw a lot of people playing both games at the same time. The difficulty level is different, so if you are having a hard time playing a difficult game, I think it is good to cool your head while playing an easy game. I think what Riot Forge does well is that the game offers different experiences.
Rowan: I would like to thank the Korean players. Korea has been with Riot for over 10 years. Riot Forge is a place that publishes single-player games, and I think you can feel a lot of fun through our games.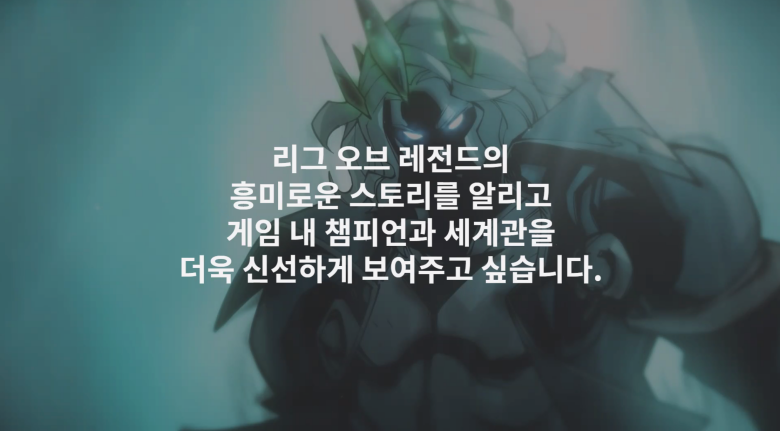 Reference-www.inven.co.kr