subject: Games and the metaverse
Lecturer: Name – Seunghee Lee / Director of The Sandbox Korea Business
Presentation area: metaverse
Lecture time: 2021.11.18 (Thu) 16:00 ~ 16:50
Lecture Summary: The definition of metaverse and the future of metaverse drawn by the sandbox
Metaverse, everyone must have heard this word at least once somewhere. Various media outlets are competing with each other to introduce 'Metaverse', and many companies are using various PR and marketing strategies that incorporate it.
Facebook CEO Mark Zuckerberg said, "The next generation is the era of the metaverse," and changed the Facebook name to Meta. It has become an icon of a hot issue that is paying attention to various industries.
The projected market size of Metaverse in 2030 is estimated at KRW 1,700 trillion, which is an increase of 8,080% compared to the current time.
What is the metaverse and why is everyone so enthusiastic about it? To provide an answer to this, Seunghee Lee, the general manager of The Sandbox business (hereafter, Seunghee Lee, Director of Sandbox) stepped up to the IGC podium. He explained the meaning of the metaverse, the synergy created by the meeting of the metaverse and the NFT, and furthermore, what kind of service the sandbox provides by combining the metaverse.
---
■ Definition of Metaverse
– World divided into real and virtual, inside and outside
---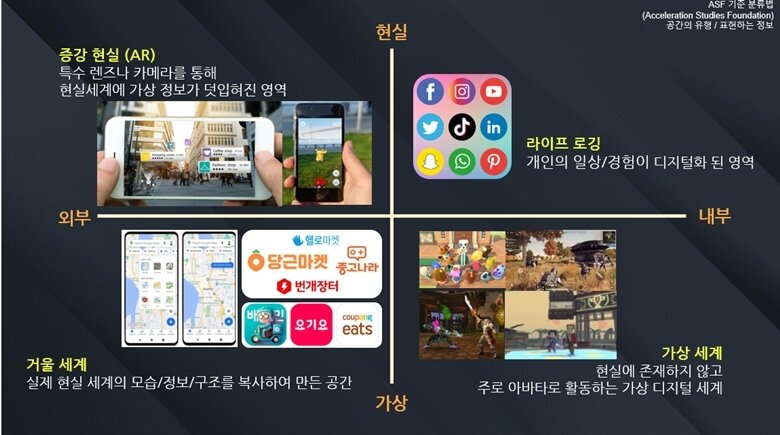 Metaverse is a compound word combining 'Meta' meaning transcendence and virtuality and 'Universe' meaning world and universe. In other words, it simply means 'virtual world'.
In fact, the term first appeared 30 years ago, and at that time, it is said that all actions performed in the real world were defined as metaverses in the virtual world. It is to express the digital and online digitalization of things in the real world as a metaverse. For example, Pokemon GO with Google Maps or AR technology, and Baedal Minjok, where services are provided based on real maps, can all be considered to be included in the metaverse.
The metaverse can be classified into four types according to reality and virtuality, and internal and external. If I implement my realistic daily life internally, it becomes 'life logging' such as Facebook, Twitter, and Instagram. applicable. When a virtual concept is brought inside, it becomes 'the virtual world and the avatar that exists in it', and when the virtual is combined with the outside, it appears as a 'Google Map or map-based delivery app' made by copying the appearance of the real world. will do
So, is World of Warcraft (WoW) a metaverse? To this, Director Seunghee Lee replied, "WoW is also a kind of metaverse." It can be said to be a metaverse of the virtual-internal concept described above, as it creates my own avatar in the virtual world and engages in various activities.
---
■ The metaverse world drawn by the sandbox
– Avatar, Land, and Sand
---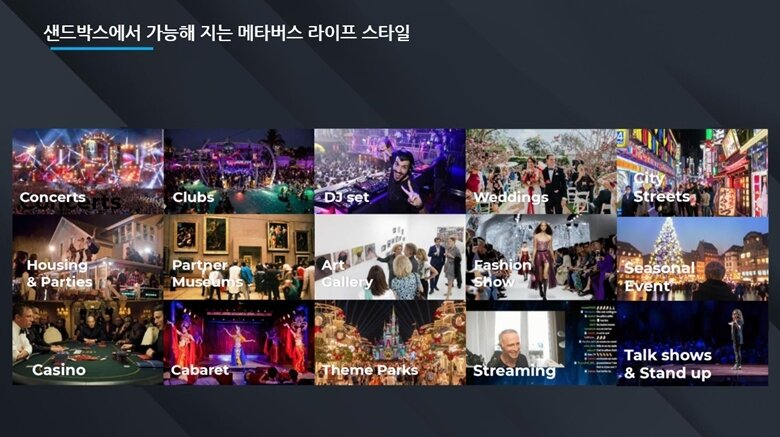 Currently, Sandbox is building various types of metaverse services, and it is positioned as a blockchain-based game platform where anyone can easily create games, own virtual assets, communicate with users, trade, and generate profits. have.
It provides voxel 'Avatar', a core item of Metaverse that can be easily customized according to each user's taste, and is also developing 'LAND,' a virtual real estate service. In addition, 'SAND', a virtual currency, is also issued. 'Land' is a form of purchasing land in a virtual space and decorating and designing the land according to one's own taste. One piece of land is about the size of a soccer field, and in this virtual space, events can be held with free themes such as concerts, exhibitions, fashion shows, and social events, and clubs, museums, and theme parks can also be established.
Although Rand is currently in the alpha stage, it is said that it has 650,000 users worldwide. Currently, there are about 14,000 land owners, and the number of land is about 160,000, and about 65% of the 260,000 land has been sold. Director Seung-hee Lee said that those who purchased land in the early days realized profits through land as much as the price of land in Seoul rose.
'Sand' is a cryptocurrency issued based on blockchain and is a utility token that can be used within the sandbox ecosystem. Sand can be acquired through gameplay, and based on this, you can purchase or upgrade equipment, customize your avatar, and purchase assets and land. Furthermore, sand holders can directly participate in the voting to determine the policy and direction of the game.
In conclusion, the core elements of the metaverse implemented by the sandbox are 'avatars' that express yourself in the virtual world, 'land' where they can engage in various activities, and 'sand', a currency where they can purchase various necessary things. It can be said that there are three in total.
---
■ NFT: The next world led by the metaverse
– Anyone can create, limitless and diverse
---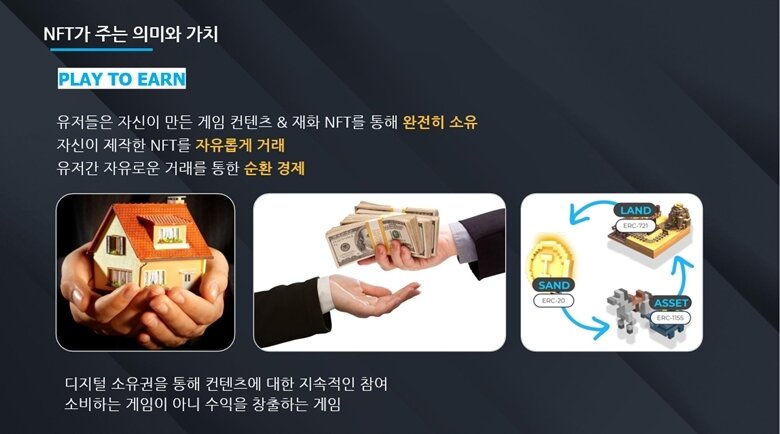 Regarding the method of attempting to move to the next generation of games that incorporate the metaverse, Director Seunghee Lee mentioned NFT. NFT stands for Non-Fungible Tokens, meaning 'non-fungible tokens'. To put it more bluntly, it means 'digital creations recorded on the block chain'. Because it records information such as the creator's signature, size, creation date, sales history, and ownership in the blockchain, counterfeiting is impossible, but tracking is easy.
Digital creations, NFTs, can be created by anyone and can be registered on the blockchain without difficulty. In the case of popular NFTs, they are sometimes traded at a high price, and pixel avatar creations have been traded at the highest price of about 620 billion won.
The categories of NFTs are infinite and diverse. Types of NFT include game assets (weapons, vehicles, characters, equipment, etc.), collectible cards, virtual real estate, and digital art, and domain names and music can also be created with NFT.
Until now, games have been produced by game companies, and users have been enjoying the games by paying the game companies. However, if a game is made through NFT, users can make and sell in-game items themselves. In other words, the user no longer stays as a player but becomes a creator.
Even if you purchase an item in the game, if the game company closes the door, my items stored in the server are decomposed. Therefore, it is an item that I paid for, but it was not completely my property. However, when NFT-based services are combined, users can have complete ownership of each item.
NFT is meaningful in that I own the creation and I create the value of the creation myself. In addition, the story related to the creation also affects the value. For example, if BLACKPINK Jennie purchases an item that I own, owns it, and then sells it to another person, the value will change.
Not only that it is permanently recorded, but that the user has full ownership, that is the most important value NFT gives. If technology/environmental restrictions are lifted and NFT compatibility on different platforms becomes possible in the future, the future of NFT will grow beyond imagination, Director Seunghee Lee predicted.
In addition, by making it possible to generate revenue through NFT in the metaverse, it is predicted that in the future, various jobs will be created in various forms such as game creators in the metaverse, asset producers, and brokers who select and select good land in the land. did.
---
■ The core of Metaverse is IP and collaboration with brands
– Metaverse to expand in various ways
---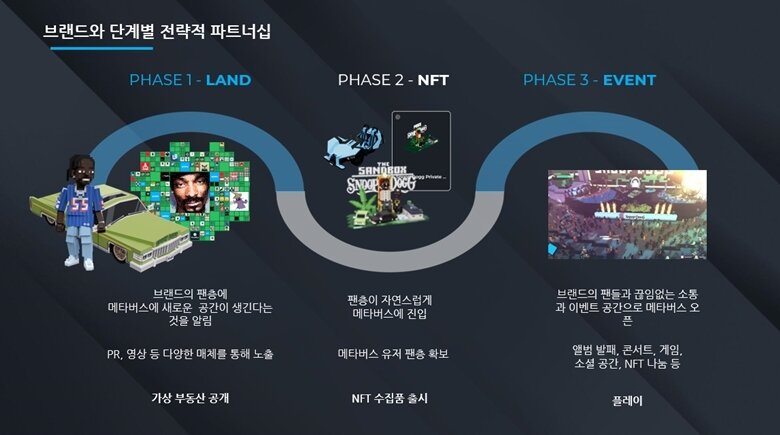 As the most important point at present, Director Seunghee Lee selected 'collaboration with various IPs and brands'. Currently, IPs working with the Sandbox Metaverse include The Walking Dead, Smurfs, and Pororo, and about 165 IPs are said to be collaborating with the Sandbox.
For example, in the case of the famous American hip-hop singer 'Snoop Dogg', after forming a partnership, they created a land in the land and held a private party in the metaverse virtual space. For this purpose, party invitations were sold, and about 1,000 invitations were sold out within 20 minutes of opening, generating a profit of 800 million won.
Although it seems a rather unfamiliar concept, 'Metaverse' was surprisingly close to our lives. Many people are already consuming content in the metaverse and creating NFTs for the metaverse. And it seems that this metaverse will expand in various fields in the future.
Finally, Director Lee Seung-hee announced, "The future that Sandbox dreams of is to create an environment so that artists can have their own jobs and engage in various creative activities within the metaverse." finished
Reference-www.inven.co.kr