Data provided – Kakao Games
On the 19th, Kakao Games (CEO Nam Gung-Hun and Jo Gye-Hyun) added 4 new characters and 'Descente Subjugation Sword Dragon' to the mobile action RPG 'World Flipper' jointly developed by Cygames and Cygames subsidiary Seatail on the 19th. .
'World Flipper' added 4 characters through this update. ' 5 [강철의 늑대 시렌]' is a military officer of the 'land government' that controls the land, has overwhelming charisma and has many subordinates, and '★5 [큰 날개의 정령사 시우에]' is the character of a tribal shaman who lives in the frontier with spirits.
Also, it is a magician who controls water and poison and sprays poison at nearby enemies to inflict damage. [심해의 괴인 자르]'3 [마물에게 사랑받는 자 노셀]' was added.
At the same time, you can enjoy the new content 'Descent Dragon of Subjugation of Fire'. 'Descent Subjugation Flame Dragon' is a content that subjugates 'Ilsabatica, the Flame Dragon Dragon' that appears for a limited time. You can exchange various equipment and growth materials through the goods you acquire after participating in the mission until December 3rd. .
On the other hand, details about the addition of 4 new characters for 'World Flipper' and the addition of 'Flying Dragon of Advent Subjugation' can be found on the brand page and the official community.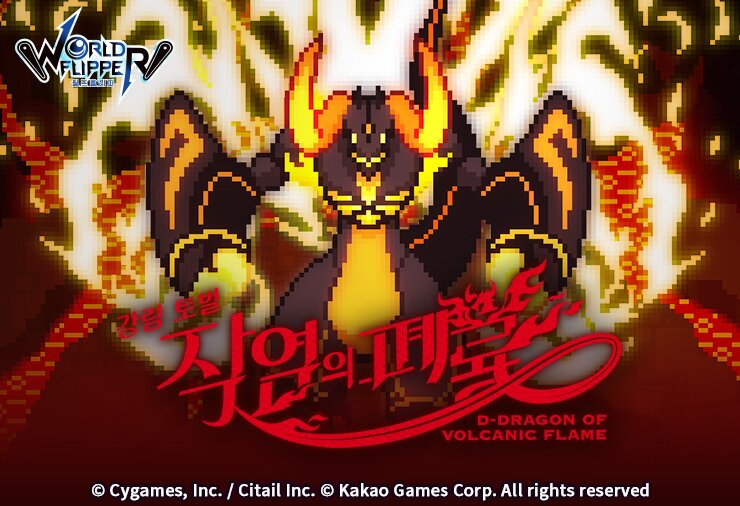 Reference-www.inven.co.kr