subject: Australian gaming market
Lecturer: Yujin Kim, Bae Jeong-hee, Philippa BUTLER
– Australian Embassy Trade and Investment Representative, GLOBAL BUSINESS & TALENT ATTRACTION TASKFORCE AUSTRALIA / Korea Representative, Global Talent Officer
Presentation area: etc
Lecture time: 2021.11.19 (Thu) 11:00 ~ 11:50
Lecture Summary: The current state of the Australian game industry was disclosed to game workers who want to advance overseas, especially in Australia, and various benefits that can be obtained from entering the country were introduced.
---
■ State of New South Wales
– Where most startups are growing
---
The first part was handled by Kim Yu-jin, Korea's representative in New South Wales, Trade and Investment Representative Department of the Australian Embassy in Korea. First, there was an explanation of the opportunities in the Australian market. Australia is an integrated economy with a strong focus on high-growth technology and close to Asia, and is investing heavily in technology. As for Australia itself, it is a country with an average annual economic growth of 28 consecutive years, and it is also a country with a fairly high median wealth per adult standard.
Narrowing down to NSW, the most notable point is that about half of Australia's startups are located in the state, with the largest investment in ICT industry and digital infrastructure.
In particular, it was explained that Sydney is the best city to establish and grow a tech business. The key is 'Tech Central', which is supported by the state level. There is a long history of Central Station in Sydney, and the area is being redeveloped in earnest. It has been confirmed that the new business of the famous company Atlassian will be placed in Tech Central. A space for quite large tech companies and a space for start-ups and scale-up companies will be supported here.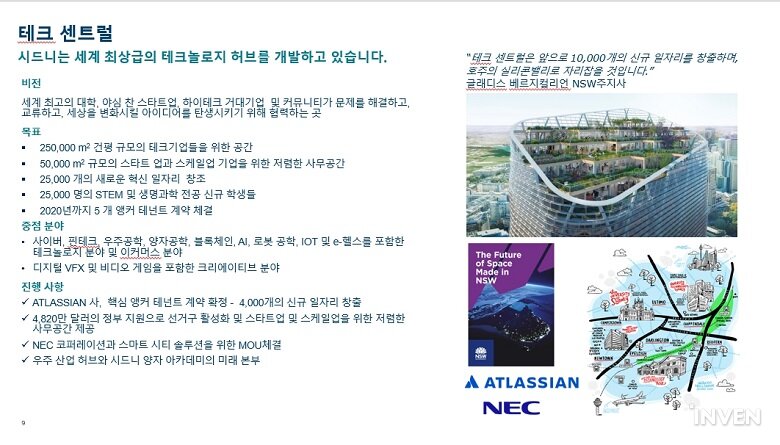 NSW provides various incentives and supports for the game sector. First, there is the 'Sydney Startup Hub'. Located on York Street, The Studio is supporting many startups in the digital content field. In fact, he reiterated that many of the Australian start-ups are located in NSW.
In addition, NSW has the best university research and development capabilities for innovative technologies and specializes in nurturing talent in a variety of game fields.
There was also an explanation of government support and incentives for the game sector. The first is the 'Job Plus Program'. The main contents include payroll tax reduction, infrastructure rebate support, and government-operated space and accommodation facilities. Along with PDV incentives and DET, support for customized vocational/skill training and workforce development programs, and visa support were also added. At the federal level, federal PDV, R&D tax credits, and visa assistance through the Global Talent Program are also available.
In particular, the Job Plus Program is a $250 million business support program. The purpose is to create a rapid job creation, and it has been put into operation since December 15, 2020 with a target of 25,000 new jobs over four years. The Jobs Plus program helps Australian and international companies start and expand their businesses in NSW by reducing set-up costs and reducing financial risk or speeding up market entry.
---
■ Victoria
– More international events, more cost benefits
---
The next part of the lecture was followed by Bae Jeong-hee, the Korean representative from Victoria. He explains why you should choose Melbourne. He said that Melbourne was the place where he started developing console characters and CG under the leadership of government agencies from the 1980s. Since then, there have been many collaborations with Europe.
Victoria, where Melbourne is located, has grown 120 of Australia's 200 game developers, including two of Australia's three international studios. A suitable level of support is being maintained. First, a supportive ecosystem was built. Several government agencies took the lead and gave strength to the creation of a strong structure. In addition, five professional game design academies and nine non-professional institutions in Victoria offer game design certification courses. Additionally, Victoria is one of the few providers of gaming-related financial aid through a total of four separate grants.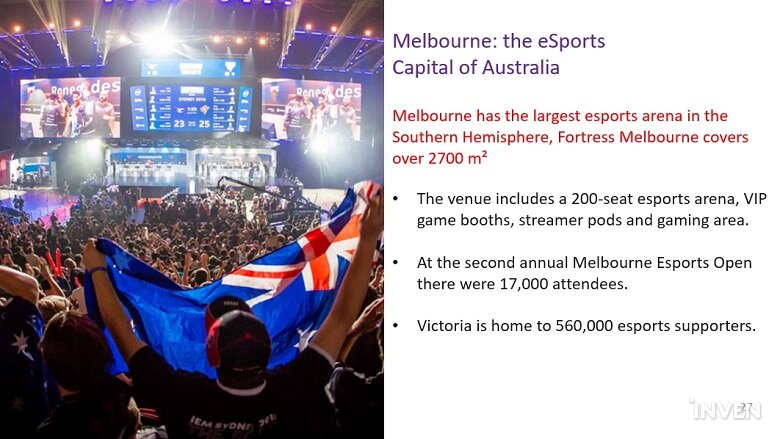 Melbourne will host 'Melbourne International Games Week', which includes events such as Game Connect Asia Pacific and PAX Australia. He is also paying attention to eSports, and the 'Melbourne eSports Open' is considered as one of the key elements of the Victoria Games schedule.
Australians love the game, too. Australians spend around $4.4 billion on gaming, and it is expected to reach $6 billion by 2022, a 9% increase. One peculiarity is that 47% of the Australian gaming population is female, and the average age of all players is 34. Older people, who seem far from gaming, continue to enjoy console games.
The digital game ecosystem in Melbourne is well established, explains Bae Jeong-hee, the Korean representative. From large game developers such as EA and Sledge Hammer to sales and marketing such as Nintendo and Epic Games, large-scale events such as the aforementioned Melbourne eSports Open and Melbourne International Games Week are also held regularly.
In particular, Melbourne is being called Australia's esports capital. Melbourne has 'Fortress Melbourne', the largest e-sports stadium in the Southern Hemisphere, and various e-sports events are held there.
Korea's representative Bae Jeong-hee emphasized that Melbourne and Victoria offer more financial benefits than Sydney. Human rights fees in Melbourne are 10% lower than in Sydney, and businesses are also available at 38% lower costs. Victoria also boasts the lowest tax burden of any state in Australia.
Under this environment and support, Australian developer House House developed 'Untitled Goose Game' and was selected as the Game of the Year by DICE. In addition, hipster Whale's 'Crossy Road' was also a global success with the support of Melbourne. Playside Studio also collaborated with Hollywood and entered VR through steady development. Sledge Hammer, a game developer famous for the 'Call of Duty' series, opened a new studio in Melbourne in 2019.
---
■ Resolving realistic barriers to entry into Australia
– Expedited visa processing for recognized game workers
---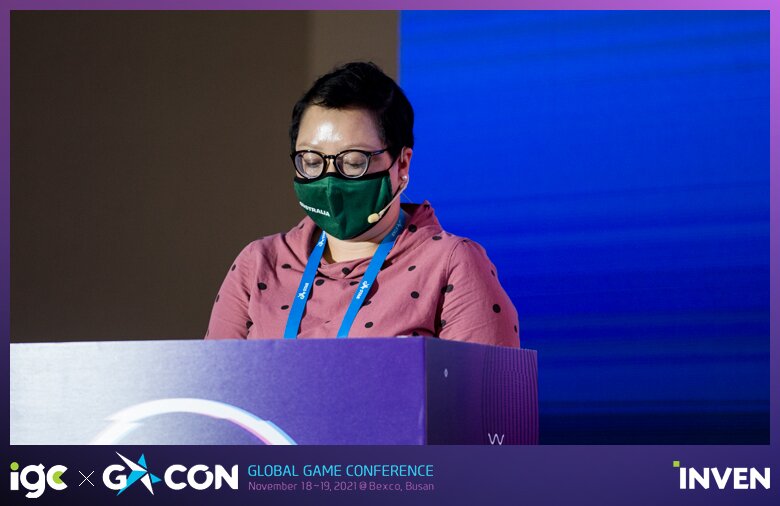 The final speaker was Philippa Butler of the Global Business & Talent Attractions Task Force.
Australia is looking for successful video game pioneers and founders, as well as executives and experts in their field. We also work with creators and industry-leading creators, animators, level and narrative designers, gameplay engineers, graphic artists, especially experienced in immersive and 3D technology, game engine technology, AR/VR/XR technicians, and software and platform innovators. Leaders are also being recruited. In particular, it includes specialists in C++ coders, UI and UX tagging, AI and machine learning experts, and big data experts.
The benefits offered to them are also diverse. Businesses have Bespoke, which is a package that helps support the establishment of a business in Australia. It also supports a 30% digital gaming tax credit and facilitates the issuance of a variety of temporary and permanent visa options. Individuals also have benefits. It provides a speedy process for obtaining permanent residency in Australia for highly skilled people.
In particular, there is the Global Talent Pizza Program. It is said that 90% of all visa applications are processed within about 4 months by applying the expedited approval process for the 'Global Talent Subclass 858' visa. It also includes immediate family visas, including the applicant's spouse and children under the age of 23. For the first five years, you can live in Australia without restrictions, work and study. It also provides credit guarantees to its employees.
There are eligibility criteria to apply here. Evidence that confirms outstanding and outstanding performance internationally recognized is required and must have high recognition. You must demonstrate the talent qualifications required for Australia.
The first step in the application process is the submission of a letter of intent to participate in the EOI. Applicants who have passed the standard requirements as a result of the first stage screening will be issued an invitation letter of application and will receive an e-mail containing an invitation code for an identifier.
The second step is to apply for a visa. Applicants who pass the screening can apply for the 'Global Talent Subclass 858' visa. Health and personality and security screening must be completed and there is no separate technical screening and examination. You can live in any part of Australia and there is no age limit. Practical English or a separate fee may be paid.
Reference-www.inven.co.kr