Data provided – Game Job
Eight out of ten game industry workers are investing in stocks. Many of them were found to own game stocks, which are stocks in the same industry.
Game Job (CEO Yoon Byung-jun), a game-specialized employment portal, conducted a survey on 'stock investment status' for 144 game industry workers. As a result, 79.2% of the total respondents answered 'investment in stocks'. When asked whether they own game stocks among investment stocks, 81.6% answered 'have game stocks'.
The reason for owning game stocks (*multiple responses) was 'expected to have a high return (60.2%)', which received the highest response rate and ranked first. 'Because it's the same industry, so it's easy to get information (44.1%)', 'because it's one of my interests (26.9%)', 'because it's paid as employee stock (21.5%)', and 'because I want to own a variety of stocks (7.5%) ' and so on.
It was found that 8 out of 10 game industry workers gave a positive evaluation to receiving performance compensation in stocks. When we asked all respondents whether they thought positively about receiving performance compensation in stock, 81.3% answered positively. The reason for the positive evaluation (*multiple responses) was 'because I was motivated to work hard for long-term performance (46.2%)' as the biggest reason, followed by 'I felt like I was growing with the company (35.9%)' and 'motivation to work' 'I think it will increase the price' (26.5%),' and 'I can enjoy a profit from market prices when the stock price rises (24.8%)' followed.
On the other hand, the minority group who thought negatively (18.8%) as the reason (*multiple responses) 'because it is complicated and long to turn into cash (55.6%)' and 'I want to receive visible rewards (44.4%)' , 'there is a risk that the value of the stock may fall' (37.0%).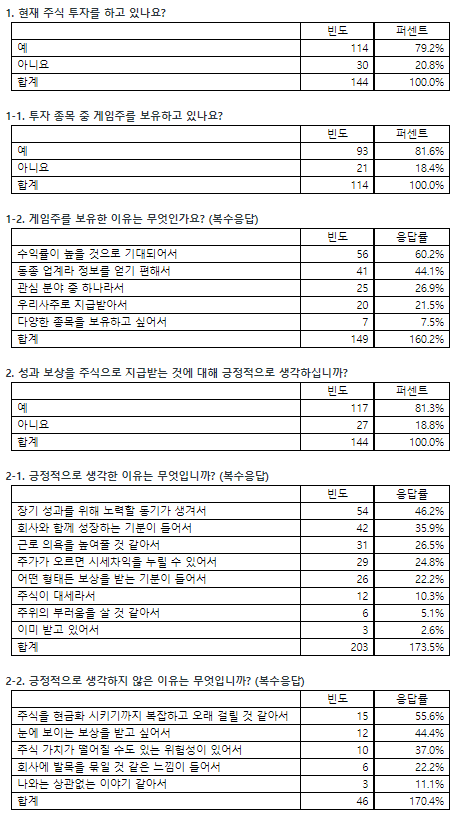 Reference-www.inven.co.kr