The international game exhibition 'G-Star 2021' ended its five-day long journey. 'G-Star 2021' hosted by the Korea Game Industry Association (K-GAMES) and co-hosted by the G-Star Organizing Committee and the Busan Information Industry Promotion Agency was held in Busan for 5 days from November 17 (Wednesday) to November 21 (Sunday). It was held at BEXCO.
As the top priority for this event was quarantine, all visitors, including exhibitors of participating companies, regardless of age, were allowed to enter after completing vaccination or confirming negative PCR. The inside of the exhibition hall was also operated under strict quarantine rules, so everyone could safely enjoy the offline event.
'G-Star 2021' sold 6,000 tickets per day to general visitors only through advance reservations for 4 days from November 18 (Thu) to 21 (Sun), which is a public day. In addition to the pre-booked tickets, the number of invited people from participating companies was added, and an average of more than 6,000 people visited the site every day, and about 28,000 general visitors over four days. Admission of general visitors was divided into 10:00 am and 1:00 pm, and the maximum number of simultaneous accommodating people (about 4,400 people) compared to the area of ​​the BTC exhibition hall was continuously managed to ensure safety.
'G-Star TV' online broadcasting, which was operated in the same time as the offline event, started with 137,024 unique viewers (UV) on November 17 (Wed), the opening day, 207,581 people on the 18th (Thu), 172,213 people on the 19th (Fri) , 213,976 people on the 20th (Sat), and 230,000 (estimated) on the 21st (Sun), the last day, and about 960,000 people online enjoyed G-Star for 5 days.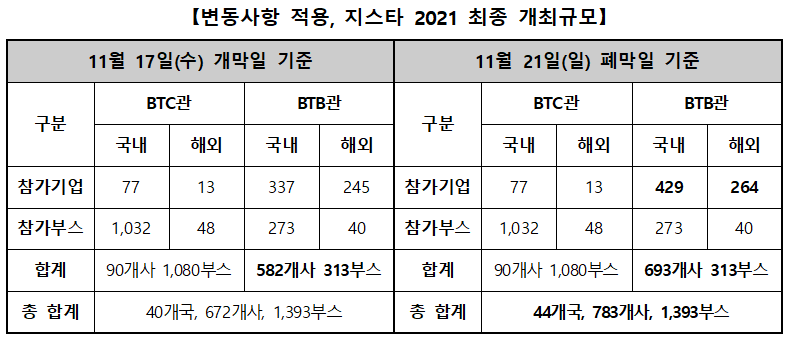 The BTB Pavilion at BEXCO Exhibition Hall 2 was held offline for 3 days from November 17th (Wednesday) to November 19th (Friday), and online was held for 4 days until November 20th (Sat). After the official announcement on November 17 (Wednesday) at 9:00 am, an additional 4 countries, 111 companies, and 153 people registered as paid buyers for three days. was counted as
Compared to 2020 (45 countries, 527 companies, 655 people), 166 exhibitors and buyers more than doubled. As offline meetings resumed, on-site paid buyer registration expanded, and it is interpreted that the BTB live biz matching (non-face-to-face video conference) introduced from last year created a synergistic effect.
In the first keynote session of the G-Star Conference (G-CON), which was held with 38 sessions (2 keynotes, 36 general, 3 tracks), the largest ever, CEO Hyungyang Kim of ShiftUp, the developer of projects 'Nike' and 'Eve' A keynote speech was held. In addition, Lee Ki-mop, the developer of 'Gungrave Gore', Kim Min-soo, general manager, Neowiz Choi Ji-won, the developer of 'P's Lies', which is arousing explosive interest from domestic and foreign users through the teaser video released in November, and 'Nimble Neuron, the developer of 'Eternal Return' Kim Nam-seok, CEO of ', gave a lecture.
In the keynote session on the 2nd day, a session was held by Jin-soo Jeon, CO, who oversees the metaverse at SKT, and the main sessions included Seung-ho "Soo Il-bae" Jin, director of Line Games, which has the highest level of recognition in Korea, and Pearl, which is currently receiving the most attention. Sessions were held with Abyss programmer Koh Gwang-hyeon and 'Blue Archive' PD Kim Yong-ha.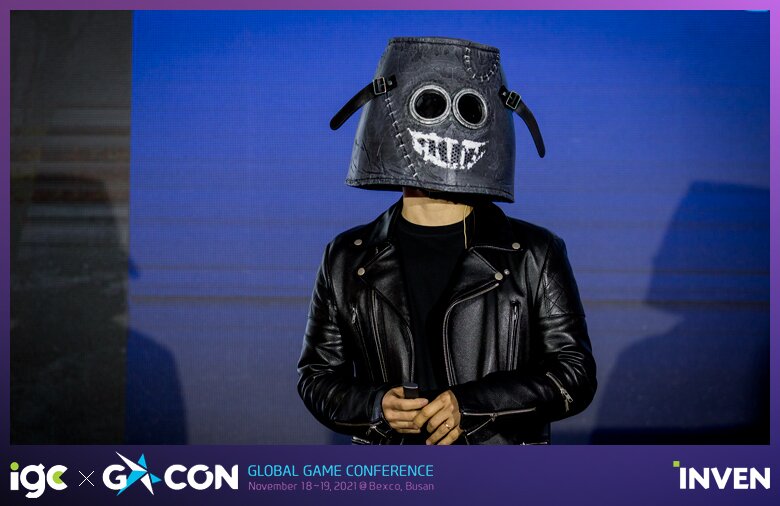 In addition, at this year's conference, 'Metaverse', one of the most important keywords of the present and future game industry, and 'NFT' thematic sessions were greatly expanded, and most of the related sessions were full, reflecting the high interest of the industry. .
The conference, which was held with great enthusiasm, was successfully concluded with a total of about 3,300 attendees per session for two days, raising expectations for the 2022 conference.
The 'G-Star Cup Esports Festival (G-FESTA)' held at the Busan E-Sports Stadium to spread the value of games as a culture and the 'G-Star 2021 Special Exhibition Fantasy Journey', which will be held at the Busan Museum of Art until December 12 (Sun) was held successfully.
Shin-cheol Kang, Chairman of the G-Star Organizing Committee, said, "I would like to thank all the participating companies and visitors for complying with the strict quarantine regulations. Therefore, we will not stop our efforts to develop into an international game exhibition that is one step ahead and a game culture festival for everyone."
Reference-www.inven.co.kr