subject: 'Anvil' console production challenge
Lecturer: Wonho Son – Action Square / PD
Presentation area: development, console
Lecture time: 2021.11.19 (Fri) 16:00 ~ 16:50
Lecture Summary: From the background of re-developing the mobile platform-based Gigantic X (hereinafter Gigantic X) for console/PC, we had time to learn more about the game of Action Square PD Son Won-ho, which will be released under the new name 'Anvil'.
---
■ The regret of Gigantic X
– Evaporated 3 years… Resurrected with anvil
---
Son Won-ho's anvil is based on Gigantic X. Gigantic X was developed for 3 years from 2017 to 2019 and was a project involving about 40 people. It was a shooting action game based on a mobile platform, and it was composed mainly of farming and growth because long-term play was required in the mobile game trend at the time.
Both internal and external reviews were good. At the time, the internal evaluation was that it was a game that announced the fun of playing directly among the uniform mobile games, and that it received interest from many users abroad. There were also regrets. Gigantic X was a perfect manual control game, so there were evaluations that it was very tiring. To the extent that I have heard that it is not suitable for mobile games, there are also opinions that the synergy with the platform is not good.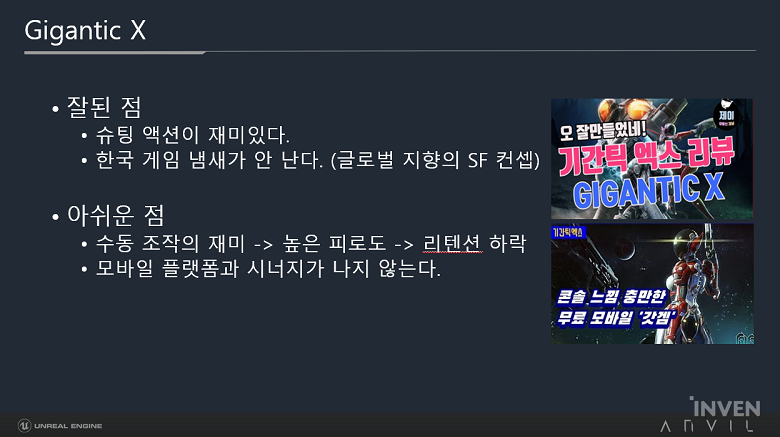 About three years passed by receiving feedback, highlighting the strengths, and complementing the weaknesses. However, Gigantic X never saw the light of day. I tasted the bad news that the development completion period and the management crisis period of Action Square interlocked. We had finished making the game, but we had to soft-launch it without finishing the preparation for the service, and the team was eventually disbanded. Some of the team members were working overtime until the previous day and suddenly received a notice to stop the project. It was a moment when three years of hard work went to waste.
What PD Son Won-ho felt at this time was not anger, but regret and regret. It was because the game that I worked hard on was not properly released to the market and received positive or negative reviews, and the future of the game was not determined by it. At that time, Gigantic X was stopped without receiving any indicator analysis.
After some time, PD Son heard the news that Action Square had been acquired. There was also news of a development leader replacement. Also, I heard from an acquaintance about the possibility of Gigantic X's resurrection. For PD Son and his teammates at the time, Gigantic X was a project that they put great passion into for three years, and it was a game that fully melted their time. After much deliberation, I decided to join the new Action Square.
'Project GR', which means Gigantic Reverse, was launched. As a result of the meeting, we decided that by bringing the key elements of Gigantic X well and moving to other platforms, new possibilities will be found. From a planning perspective, I thought it would be a good opportunity to dig deeper into the game characteristics of a project I did once.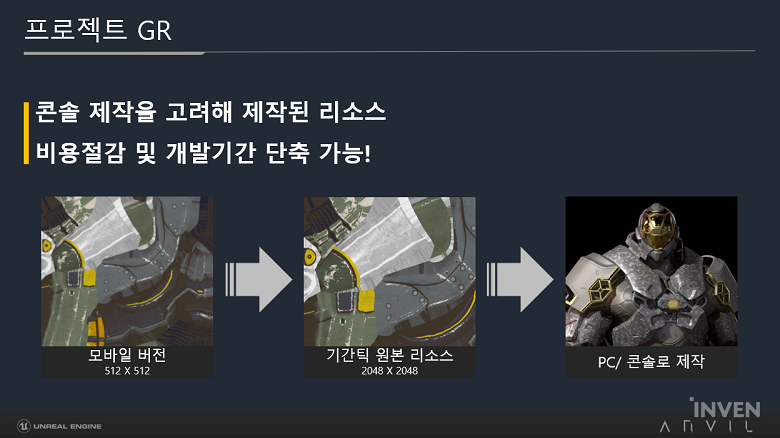 While developing Gigantic X, PD Son Won-ho already had the idea of ​​releasing it on PC/console if it goes well, rather than ending it on mobile. So, we made it with a decent quality so that there is no big problem even if we switch to another platform for the resources that were created previously. As a result, the time required to develop resources was reduced. In addition, the platform conversion allowed Gigantic X to take away all the systems it had forcibly because it was a mobile game. A rough picture of the transition to PC/console is complete.
I thought that the future of 'Project GR' would be smooth as it already possessed the core game characteristics and had a playable build. But in reality, that was not the case.
First, seeing what was made on mobile on the big screen gave me a whole new experience. Flaws in resources that were previously invisible or that could have been skipped began to become prominent. It was difficult to properly utilize the existing fields and stages.
There were problems not only in terms of resources but also in terms of development. Programmers usually don't like to keep the old code and improve it little by little. In the beginning, there were difficulties in the process of reviving the build. Since we started as a small team, it was about 8 months after the project started and the necessary departments were filled.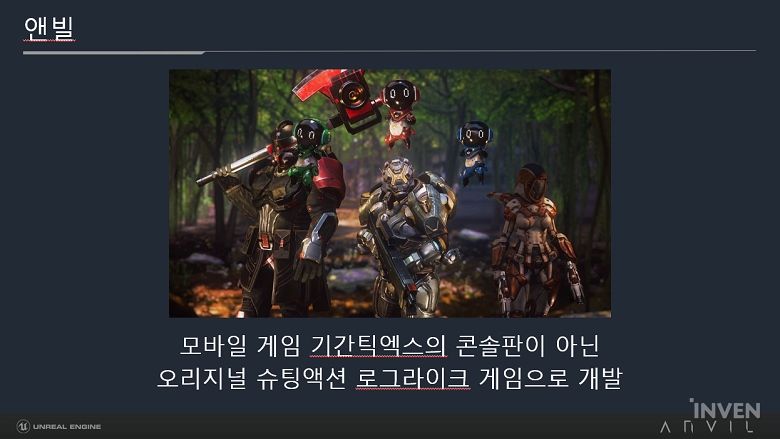 Through various difficulties, PD Son Won-ho and the 'Project GR' team began to distinguish what to leave and what to change. After a meeting, I decided to throw away or change everything else, just for genre fun and resources. In summary, it was decided to develop in a new direction rather than the PC/console version of Mobile Gigantic X.
---
■ to remake
– There are a lot more benefits than expected
---
The experience of making the same project once and then building it up again based on what had been previously made after it was messed up was the first experience even PD Son Won-ho experienced. But it wasn't that bad.
The biggest advantage was that the team members shared the same wounds. PD Son came up with the idiom of 'community sympathy'. A strong bond was formed because they were people who developed with passion once in the past, but then suddenly collapsed and gathered again after that. This has been a great help in overcoming the big and small difficulties that occur in the development of Project GR, that is, anvil, and moving forward one step further.
And there were many advantages to re-creating it than I thought. Being able to quickly create a visible prototype was great. PD Son said that this played a big role. It has become possible to develop a development process in which team members can gather opinions while playing the game. He also joined the team saying it looked fun to see a passerby playing the prototype. PD Son Won-ho explained that a visible vision is more persuasive than any other explanations and expressions.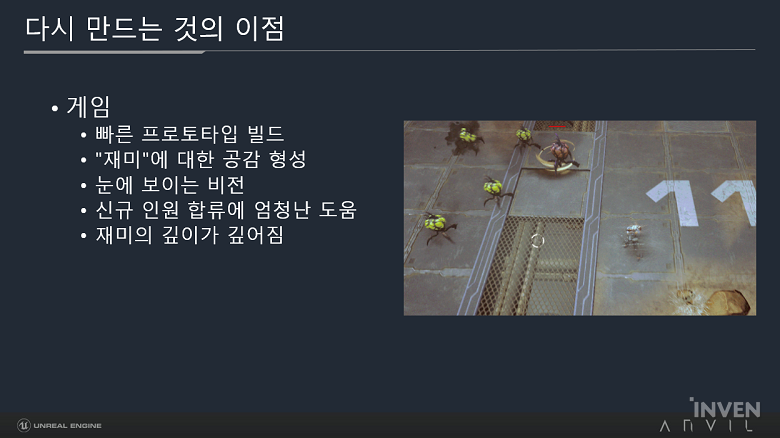 Naturally, all of the developers took on the role of testers. This also produced a lot of positive effects, and the development team not only verified the functions they made, but also verified the fun of the game. There was a unique process of upgrading by judging on its own when a part that felt necessary after playing directly occurred.
PD Son Won-ho wanted to spread this experience to users. The team atmosphere was also not afraid of user tests. The demo was conducted by packaging the build that the team members were playing together. Users also gave quick feedback. So PD Sohn recommended that he constantly look for how to provide demos to users and how to get feedback. In addition to this, we introduced the Steam Game Festival, Playtest, Demo, as well as Insider and Demo of Xbox.
Anvil took part in Steam playtests. 88% of user comments were positive. A positive atmosphere was formed within the team that the game they were developing was recognized. He explained that this was a good driving force for the development team as well.
After Project GR was launched in April 2020, a total of four demos were conducted for about a year and a half, and the game performance system that needs to be checked was constantly supplemented. As I often met users, the publicity effect was generated by itself. Anvil play video was uploaded to the broadcasts of famous domestic and foreign streamers. Not only that, but also the interest of Chinese and Taiwanese users came by chance. Through this, Anvil fully experienced the expansion of the game's low-variability from the development process.
---
■ Anvil's future, and…
– Attempt to convert a platform that is worth trying at least once
---
Although there were many positive aspects, PD Son Won-ho summarized Anvil as 'a project with a long way to go'. He said that he was trying to develop a good game against the evaluation that 'Korea was a wasteland for consoles' and put its roots down. He also explained that he is focusing on strengthening the gameplay for that purpose.
Anvil already has a stable multiplayer environment. In addition, in the genre of roguelike, content evaporates in an instant, and users can't find their goals after playing the game for a certain period of time. Anvil emphasized that they decided to adopt a season system to compensate for this. And when the big game frame is expanded and the volume of content or system is decided, we were considering entering into multi-platforms such as Nintendo Switch and PS.
For PD Son Won-ho, PC/console development was a more difficult area than expected. There were difficulties on the development side, but the market itself was not as easy as expected. There were already too many global AAA games, and Western users had a really high level of insight into the game quality. Among the games released in the past, those evaluated as masterpieces still remain, so in the case of a specific genre, it was already called Red Ocean. In addition, the promotional methods used in Korea often did not work abroad.
Nevertheless, PD Son said that it was a worthwhile attempt to transform a mobile game into a platform. It emphasized that rapid prototyping is possible by securing resources. Rather than transplanting the game characteristics of the previous work and ending it, it was an opportunity to further develop the game characteristics.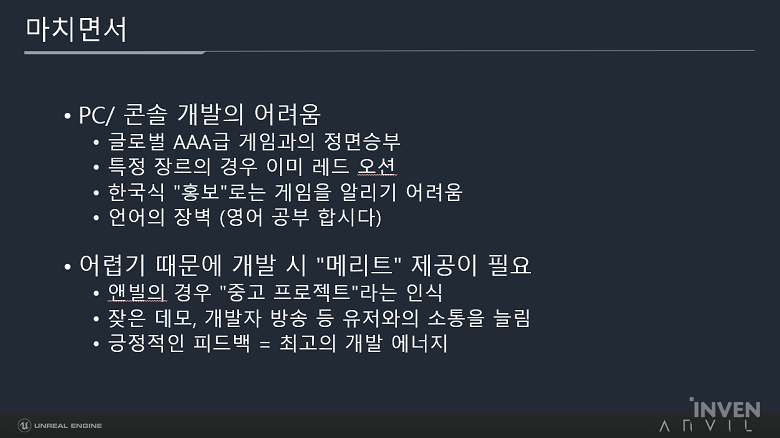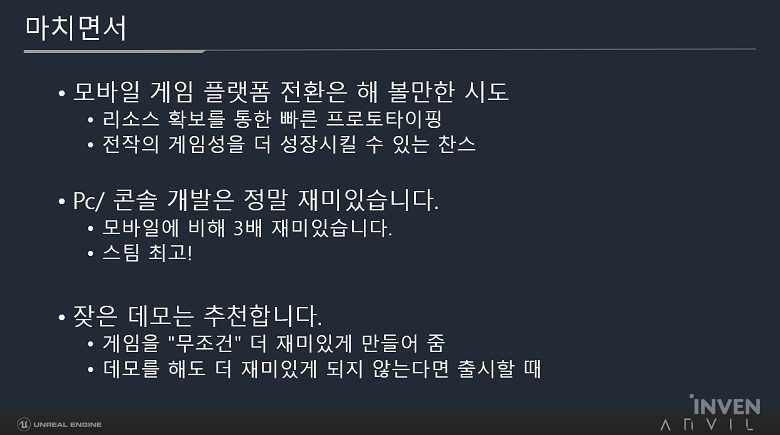 PD Son Won-ho raised his voice in frequent demonstrations until the end of the lecture. Frequent demos unconditionally make the game more fun and unconditionally move forward. He also added that most of the feedback from users obtained through the demo is highly nutritious. If you feel that the fun does not increase even if you continue the demo, the lecture on the development process of the anvil of PD Son Won-ho ended with the saying that it is the right time to release the Early Access.
Reference-www.inven.co.kr