subject : Create a match-3 puzzle game in Korea
Lecturer: Hyunwoo Lee – SundayToz / Director
Presentation area: Development
Lecture time: 2021.11.19 (Fri) 11:00 ~ 11:50
Lecture Summary: The background of the development of the Anipang 1-4 series, the development process, and the story after its release are included in chronological order.
Anipang was so successful that it once earned the title of a national game. The feature of being able to exchange hearts or compete with people around them based on a social platform in a casual genre that can be easily enjoyed by men and women of all ages led to great success.
From Anipang 1, which was released in 2012, to Anipang 4, which was released in 2020, Hyunwoo Lee, Director of SundayToz, spent all his time with Anipang. There were times when I struggled alone as a single planner, and there were times when I created innovative gimmicks by adding ideas from my colleagues.
Director Hyunwoo Lee introduced the development period of the Anipang series through this lecture, and had time to share what he has learned over the past 20 years.
---
■ Anipang 1
– Development period of only 4 months, and a big hit
---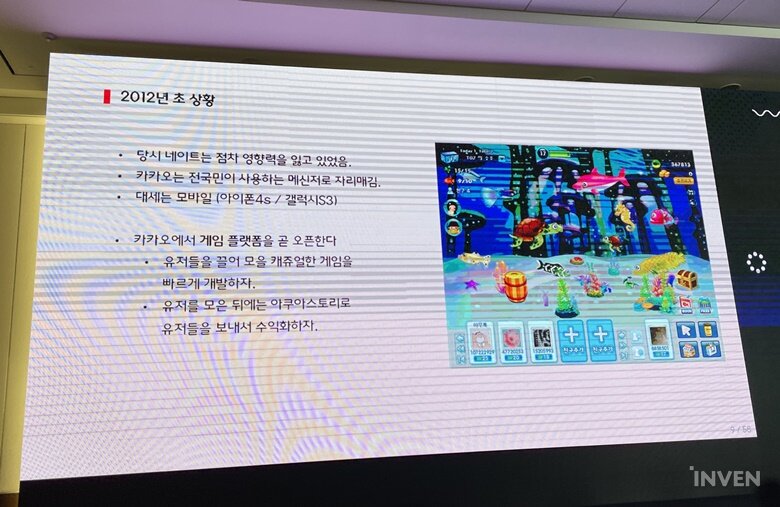 In fact, Anipang was not the first Anipang released through KakaoTalk. In 2009, Nate App Store was already servicing Anipang. Then, in 2011, things started to change. The platform lost its power as users' personal information was leaked in Nate and Cyworld. Of course, the apps attached to it were also damaged.
So SundayToz turned to KakaoTalk. At that time, KakaoTalk was established as a messenger used by the whole nation, and with the release of the iPhone 4S and Galaxy S3, mobile became the mainstream. Meanwhile, news broke that Kakao would soon be opening a game platform. SundayToz has developed a strategy to quickly develop casual games, gather users, and then send users to Aqua Story.
So, how do you rake in users? After much deliberation, three keywords emerged. Match 3, social graph, and viral. The goal was to induce competition and cooperation among users with the Kakatook social graph in addition to the match 3 game verified by the existing Anipang service, to give a viral effect.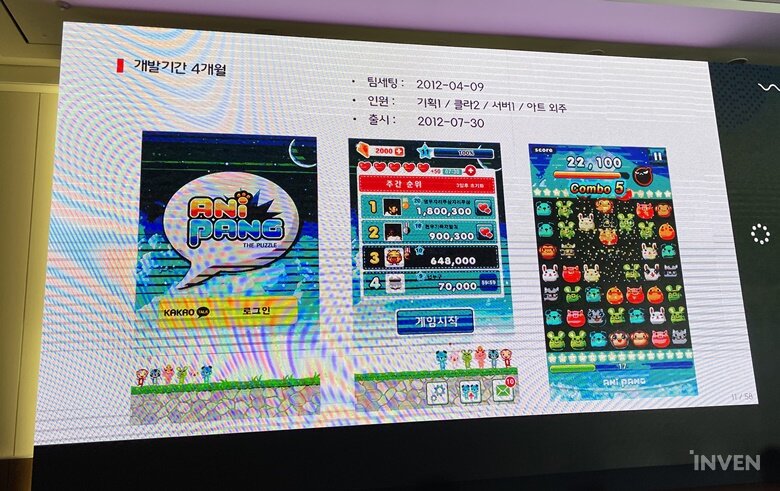 The development period of Anipang 1 was only 4 months. Art was outsourced to 1 planner, 2 client developers, and 1 server developer, and the number of staff was very small. Anipang 1, which was born in this way, was a so-called jackpot as the viral operation was carried out as Sunday Toz intended. The social-based match 3 competition required a lot of hearts, so users sent messages to each other.
As people flocked, issues naturally began to arise. Server failure was the most common. The server was checked several times a day. Because the Kakao platform was also in its infancy, server failure was unavoidable. Also, there were bugs in the game, and I couldn't afford to carefully fix and update them all. It was a time when we were making and updating games in a very poor environment.
Still, Anipang 1 has endured difficult situations and achieved remarkable results. The number of DAU (daily active users) exceeded 10 million, and the number of concurrent users reached 3 million. The highest daily sales were 2.8 billion won. Updates and events were carried out continuously. Nevertheless, the lack of experience and the short development period were, of course, disappointing. In terms of BM, there were no items at first, so there was no marketability, such as relying solely on hearts.
---
■ Anipang 2
– Introduction of the stage method, and another great success
---
Anipang 1, which ranked first in sales in August, September, and October 2012, showed a distinct downward trend as 2013 passed, and Sunday Toz reached the right time to prepare for the next new release.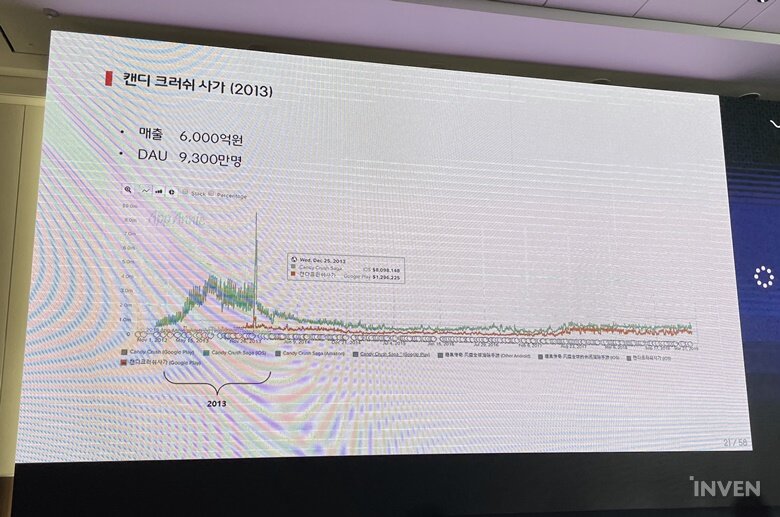 At the time, there was a very powerful match-3 game called Candy Crush Saga on the Facebook Canvas app. The method of clearing the stage includes a special block combination system and social linkage. It may seem obvious now, but at the time, it could be said that the paradigm of the puzzle genre was changed, so the Candy Crush saga gained tremendous popularity. So, naturally, I thought it would be okay if I made Anipang 2 in a stage way.
After that, animal blocks, special blocks, and world maps were supplemented through prototyping, and an Aviator Annie concept was born, traveling on a hot air balloon. Also, we changed the map size from 9*9 to 8*8 to prevent blocks from becoming too small. At that time, smartphones were not as big as they are today. It was the most important decision I made on this project. Instead, the number of matching cases decreased, so 4 and 5 colors were mainly used for blocks.
In the midst of development, it was reported that Candy Crush Saga would be released in Korea through Kakao Games. From the standpoint of Sunday Toz, I was worried about this and that. If it goes well, it will win the market, and if it doesn't, match 3 in the form of a saga might not be competitive in Korea.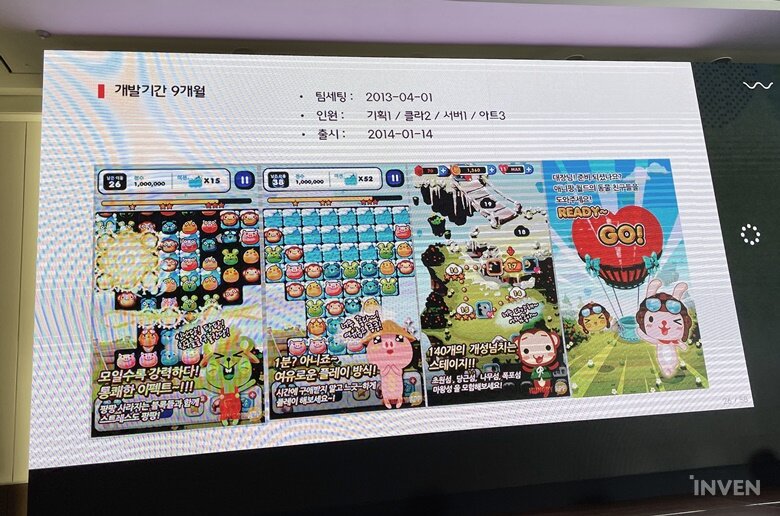 Under such circumstances, Anipang 2 was released after 9 months of development. I thought it would be difficult to beat Candy Crush Saga because it was the second in sales, but fortunately, there was no social-based competitive puzzle game, so the viral message worked well. In addition, the cross promotion worked well, which led to the box office success. Server, platform, and client were all well prepared and there were no issues.
Thanks to this, the results of Anipang 2 came out quickly. In less than a week, it succeeded in entering the Top 10, and shortly thereafter, it ranked first in sales. The method of clearing the stage has a greater sense of achievement, and the follow-up BM works strongly, so the billing occurred well. The maximum daily sales exceeded 800 million won, and it ranked first in sales in February, March, and April of 2013. From May, I was a bit pushed back by the strength of other genres, but I was consistently in the Top 5.
After opening, we worked hard to add maps and manage difficulty. We hired a level designer to regularly update new worlds and gimmicks. Unfortunately, I felt that there was a lack of management of defectors. The hurdles were high in the beginning, and the difficulty was too high towards the second half. It could also be seen as a disadvantage of one-person planning. As I was planning on my own, my field of vision became narrow and narrow without realizing it. So, from the beginning of development, there was feedback that it would be good to have more than one planner.
---
■ Anipang 3
– New work full of new ideas
---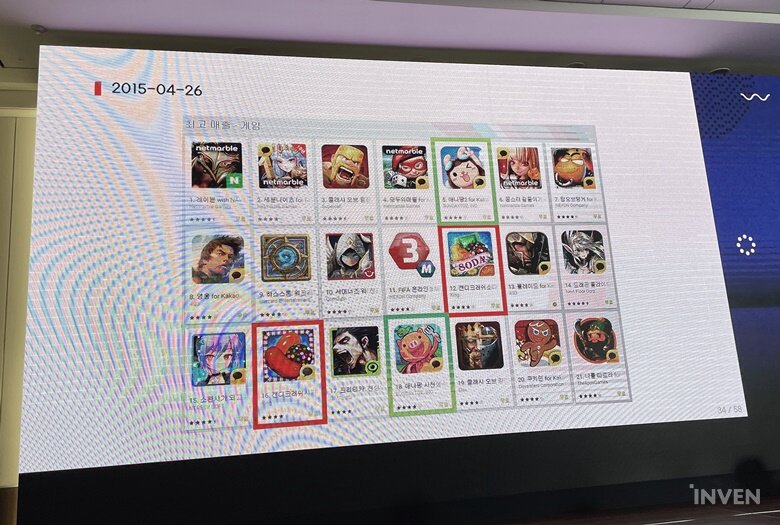 The situation when transitioning from Anipang 2 to Anipang 3 was slightly different from when transitioning from Anipang 1 to 2. Anipang 2 maintained its rankings well, and was able to afford it mentally. But Candy Crush Soda is a new stimulant. Soda has a new gimmick that uses liquid to reverse the gravity of the block. Seeing this, the desire to create a new match 3 using innovative gimmicks led to the development of Anipang 3.
Anipang 3 was based on three ideas in the early stages of development: a diagonal match, a new special block, and a changing map. First, the diagonal match was dropped from the prototype because it was difficult to manipulate and caused stress with too many cases. The new special block was a spinning stick that could destroy anywhere with a touch, and the response was good. In the map, we created a novel and new design by creating conditional tiles, adding a scroll function, or combining groundwater gimmicks.
In the middle of development, there was also a proposal to use the Kakao Friends IP. In the end, it failed, but a new idea was born. In order to better expose the good IP of Kakao Friends, the idea of ​​having a character move around in-game blocks came up. After the contract with Kakao Friends IP was canceled, it was applied as an Anipang character.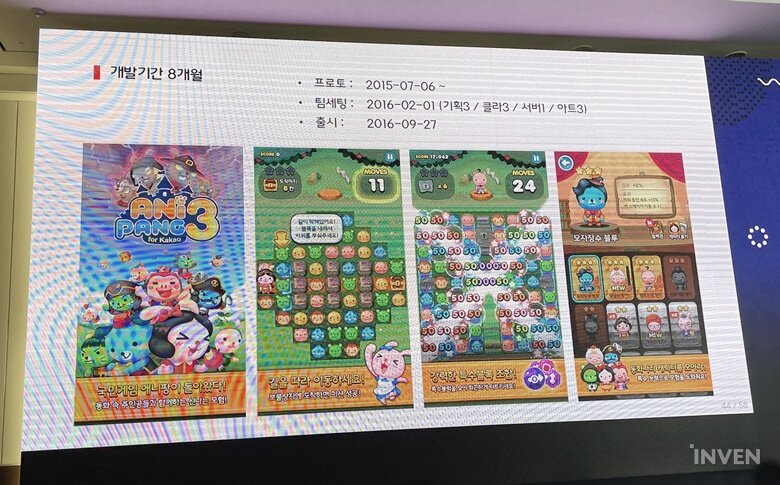 In this way, various ideas appeared during the eight months of development, and in-depth work was actively carried out to apply them. The method of going up the floor of a building and entering the door after breaking away from the world map method has many difficulties, so I returned to the world map in the end. Map scrolling was difficult to make naturally, so I did a lot of work, and I was very worried because I had never made a character system. The VIP system was ultimately eliminated as it was judged that it was not suitable for the game.
At the time of the release of Anipang 3, RPGs were so strong, and the demand for puzzle games was not as high as before, so Director Lee Hyun-woo had a personal thought that he would be lucky if he was ranked 20th in sales. And, fortunately, I hit a moderate beat. As a negative factor, there was definitely fatigue from the game message, and there were many competitors in the casual market, which weakened the box office relatively.
The sad thing is that there were too many new elements and it may have felt overdone. Feedback came out saying that if we applied only a few and invested in strengthening the game's stability, we could have made better results. The early departure management was not good either. Still, Anipang 3 was a fun project that I did without any effort from the developer's point of view.
---
■ Anipang 4
– Significant achievements in the Red Ocean
---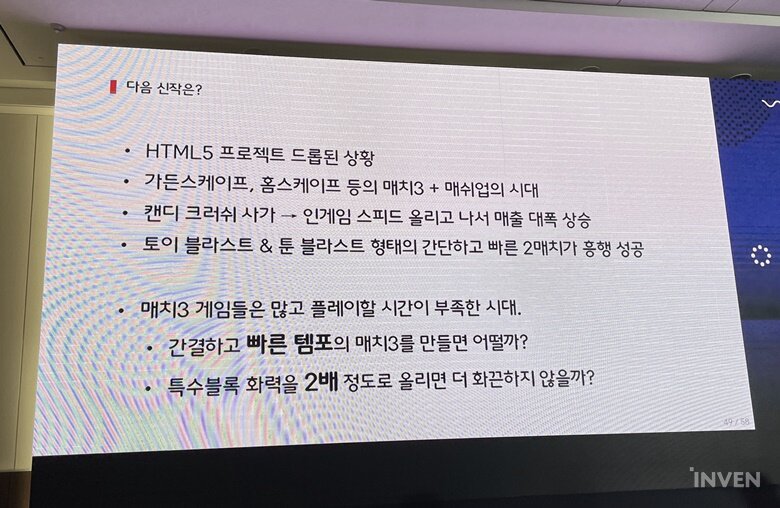 About two years after Anipang 3 was released, director Lee Hyun-woo started drawing a roadmap for Anipang 4 with the company's proposal. At that time, the trend was a match 3 mashup style such as Gardenscape or Homescape, and Sunday Toz was also running a mashup title. However, the match 3 mashup style requires a lot of development resources, so it was burdensome to start with a new one.
Another trend was the fast tempo. Candy Crush Saga increased its in-game speed by about two or three times in 2017, and then sales increased significantly, and simple and fast two-match genres in the form of Toy Blast and Toon Blast were popular in the market. Through this, I came to the conclusion that the era has come when there are many match 3 games and there is not enough time to play.
I also spent a lot of time thinking about social graphs. Sending game messages through KakaoTalk was recognized as spam, so it was difficult to expect the same virus as before. Still, giving and receiving hearts was a key factor, so I decided to introduce a clan after thinking about alternatives. It felt natural because many casual games already use clan.
After creating a clan and implementing chat, I came up with the idea that real-time content could also be developed using the chat system. That's how real-time battles appeared. We immediately developed a prototype and tested it in-house, and the response was good, so it was installed as an official function.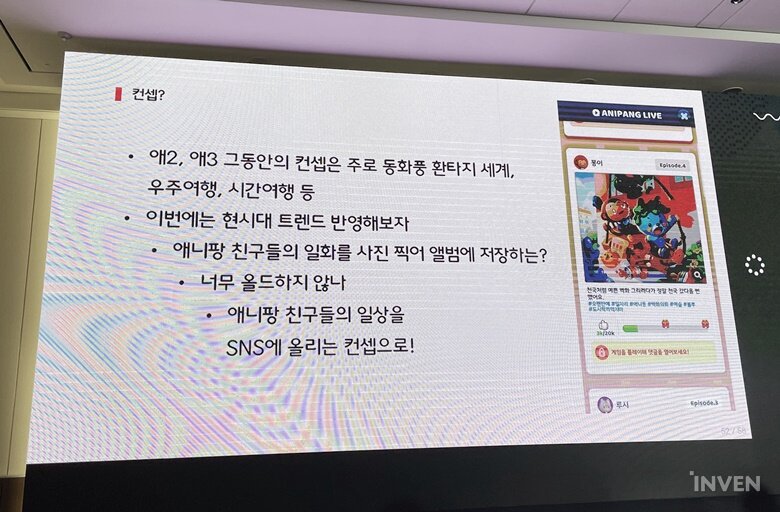 There was also a big change on the concept side. In the meantime, the Anipang series has mainly been used as a background for fairy tale-style fantasy, space travel, and time travel, and I thought that the novelty of the new work could be buried. So, reflecting the current trend, the concept of posting the daily life of Anipang friends on SNS was born. Actually, at first, the concept was to take a picture and save it in an album, but I got feedback that it was too old.
The last addition is image marketing. Unlike in the past, it was difficult to attract customers, so I thought that image marketing was necessary, and I hired singer IU to carry out the marketing. Thanks to this, the number of YouTube promotional video views came out well enough to reach 9 million, and the publicity for the target user group was well done.
As such, Anipang 4, which took more than a year to develop for the first time in the Anipang series, is released. There was a lot of content prepared, and it took a total of 1 year and 5 months to make it in high quality. As a result, the fast-paced gameplay and clan system worked well. Thanks to Anipang's recognition and marketing, the initial recruitment was successful.
Nevertheless, as the casual game market is a very red ocean, and the cost of attracting customers is high, its box office power has weakened compared to Anipang 2 and 3. However, it succeeded in securing loyal customers and stably maintaining the top 60~70th place in Google Play sales ranking as the in-game advertising revenue function worked well. Director Lee Hyun-woo concluded that Anipang 4 made significant achievements in a difficult market.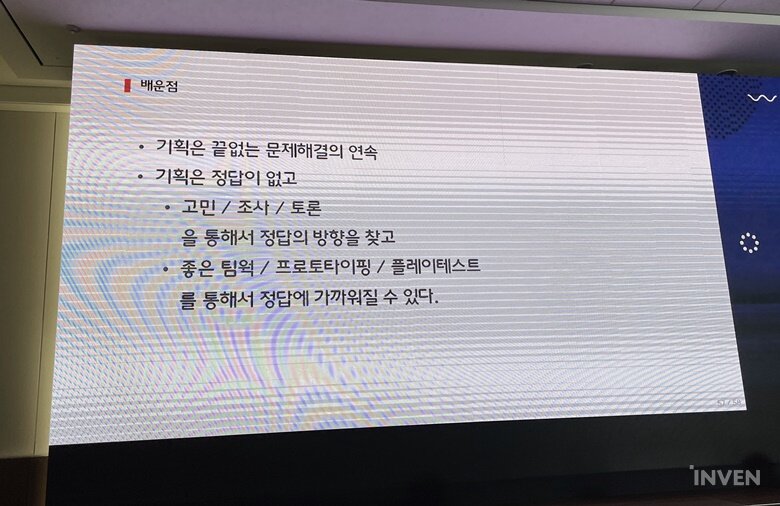 Lastly, Director Lee Hyun-woo finished the lecture by sharing what he learned while developing the Anipang series.
"I thought that planning is an endless series of problem-solving. When planning, you have to choose whether to go in this direction or that direction, and when you make a choice, a new problem arises. It seems that only the things that you think exist.
So the only way to get closer to the answer is to keep thinking, researching, and discussing. And, if you feel like you're heading in the right direction, prototyping and playtesting is essential. To do that, I felt that good colleagues should demonstrate good teamwork.
I don't know if this was helpful, but I hope it helps. thank you."
Reference-www.inven.co.kr