[기사 본문]
– Europe ENCE, overall 1st place in the rankings, 16 teams direct to Weekly Survival confirmed
– 4 Korean teams including Gen.G, who placed 2nd overall, settled in 16th place, joined Weekly Survival in the 1st week
– Weekly Survival Week 1 match from November 23rd
Crafton Co., Ltd. (CEO Chang-Han Kim) announced the results of the Ranking Decision of 'PUBG Global Championship (PGC) 2021', a PUBG: BATTLEGROUNDS global e-sports competition. did.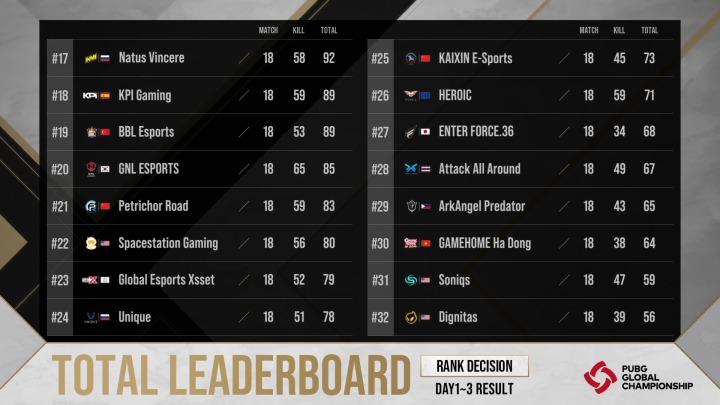 The PGC 2021 ranking match, which was held from the 19th to the 21st, was played in the SUPER (Standard and Universal PUBG Esports Ruleset) point method, where ranking points and kill points are applied. The 1st team was ENCE from Europe, which had a total of 182 points, followed by Gen.G of Korea with 165 points and NewHappy of China with 164 points.
For Korean teams, GHIBLI ESPORTS (Ghibli esports) ranked 8th, Danawa e-sports (Danawa esports) ranked 12th, and MaD Clan (Mad Clan) ranked 16th, 4 teams along with Gen.G for 1 week I went straight to the car Weekly Survival. GNL ESPORTS (GNL esports) unfortunately failed to go straight to Weekly Survival in 20th place.
On the other hand, the last PGI.S (PUBG Global Invitational.S) winner Soniqs finished in the bottom with 31st place, followed by the PCS5 Asian champion Petrichor Road also staying in 21st place, showing a high level of performance in PGC 2021.
Teams placed 1-16 in this ranking match will participate in Weekly Survival starting on the 23rd (Tuesday). Weekly Survival is held every Tuesday through Thursday, and Weekly Finals are held every Saturday and Sunday. From Weekly Survival, where the 'Winner Winner Chicken Dinner (WWCD) rule' is applied, the team that wins each match will go straight to the weekly finals for that week. After that, the teams ranked 17th to 31st will sequentially enter the remaining weekly survival matches.
The final 16 teams that failed to advance to the Weekly Finals because they failed to acquire chicken in Weekly Survival will play a ranking match called 'Bottom 16' on the next Monday and re-establish the rankings from 17th to 32nd.
The Weekly Series and Bottom Sixteen Match, which will be held from November 23, can be viewed on YouTube, Twitch, Afreeca TV, Naver TV, and TikTok official channels at 7 pm. Through the code released during the broadcast, you can get voting rights for the winner prediction event 'Pick'em Challenge', and you can get free EP (esports points) from Twitch Drops and Pick&Go events on the Twitch broadcast channel. Prediction of the winner and purchase of special in-game items are available until 6pm on December 18th, before the start of the last match of PGC 2021. 30% of the PGC 2021 item sales revenue will be added to the total prize pool.
For information on PUBG esports including PGC 2021, visit the official website (https://www.pubgesports.com) can be found in
[경기 진행]
▶ Ranking Match: 11/19 (Fri)~11/21 (Sun)
▶ Participating teams: 32 teams (5 teams from Korea)
[경기 결과: 위클리 서바이벌 출전 순서 확정]
▶ 1st place ENCE (Europe): 182 points
▶ 2nd place Gen.G (Korea): 165 points
▶ 3rd place NewHappy (China): 164 points
* Korean team standings
▶ 8th place GHIBLI ESPORTS: 128 points
▶ 12th Danawa e-sports: 115 points
▶ 16th MaD Clan: 93 points
▶ 20th GNL ESPORTS: 85 points
Reference-bbs.ruliweb.com