2022 is truly the year of gamers. Starting with Forza Horizon 5, Battlefield 2042, which will be released soon, followed by Horizon Forbidden West and Eldenring, the release of AAA-class games with no other line is approaching. The fact that previous games did not meet users' expectations also contributed to raising expectations for new titles.
New games are always welcome, but news of the release of AAA games comes with a big stumbling block called 'specifications'. Next-generation hardware and game engines appear, and in most cases they require huge hardware specifications, and even technologies that cannot be used without the latest hardware are applied. In addition, the graphics card issue that was mentioned to the point that it hurts the mouth does not seem to be resolved at all, so users who are still using the old graphics card are under a lot of stress.
As various hardware issues overlap, more and more users are turning their attention to gaming laptops. As with the desktop, the performance of the laptop hardware has also improved dramatically, and it can run most of the existing high-end games smoothly. .
The HP OMEN 16 gaming laptop we'll be reviewing today is also a perfect fit for users looking for a high-performance laptop replacement for their desktop. As described above, it has high specifications (i7-11800H/RTX3070) that can smoothly run various games, and the 16-inch wide display enables immersive gameplay anywhere, and because it has a full-size HDMI port, it can be used on external displays. It can be directly connected and used like a desktop. The key is whether high-end games that will be released in the future can be played comfortably.
◼︎ HP OMEN 16
---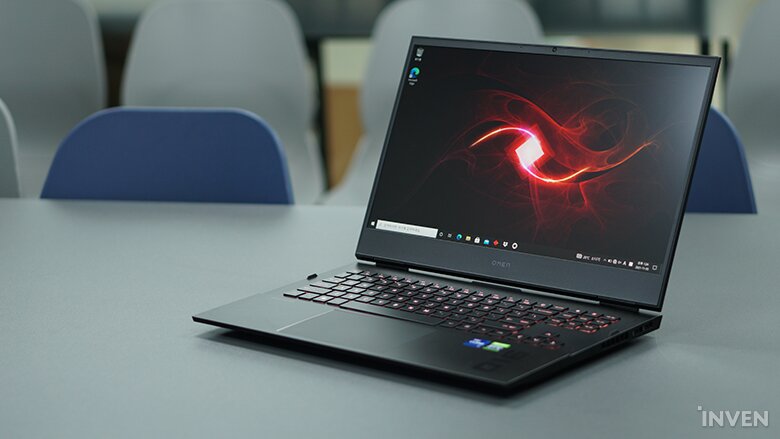 CPU : Intel® Core™ i7-11800H Processor (8 cores, 16 threads, up to 4.60 GHz)
Graphics card: NVIDIA GeForce RTX 3070 8GB
operating system : Windows 10 Home
Storage: 1TB PCIe® NVMe™ M.2 SSD
Memory : 32GB DDR4-3200MHz RAM(16GB 2개)
display : 16.1-inch/Full HD (1920×1080)/144Hz/IPS/Flicker-free/300nits/Low Blue Light/100% sRGB
port : Thuderbolt 4/USB Type-C/USB Type-A(HP Sleep and Charge)/USB Type-A*2/HDMI 2.1
RJ-45 LAN/AC Smart Pin/Headphone, Microphone Combo/Mini DisplayPort/Micro SD Media Card
size : 36.92 x 24.8 x 2.3cm
weight : Minimum 2.323 kg (depending on configuration)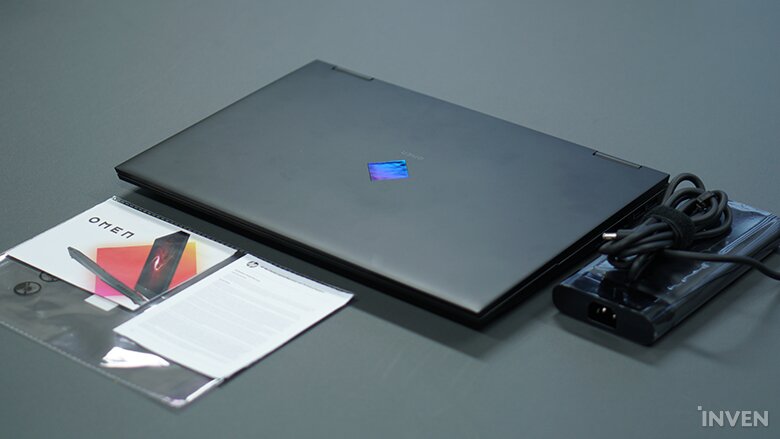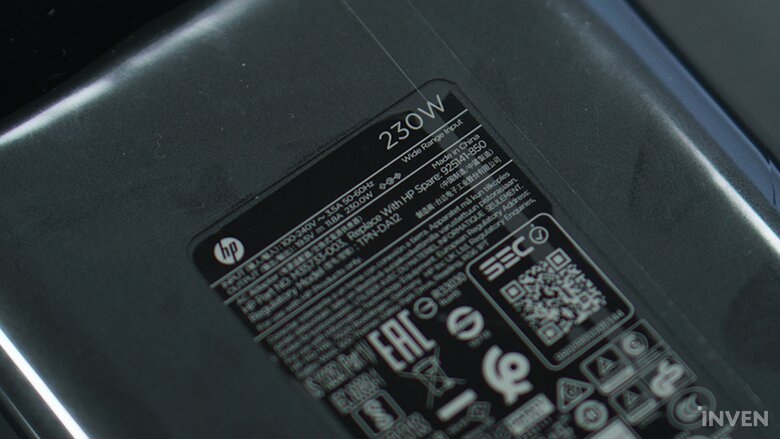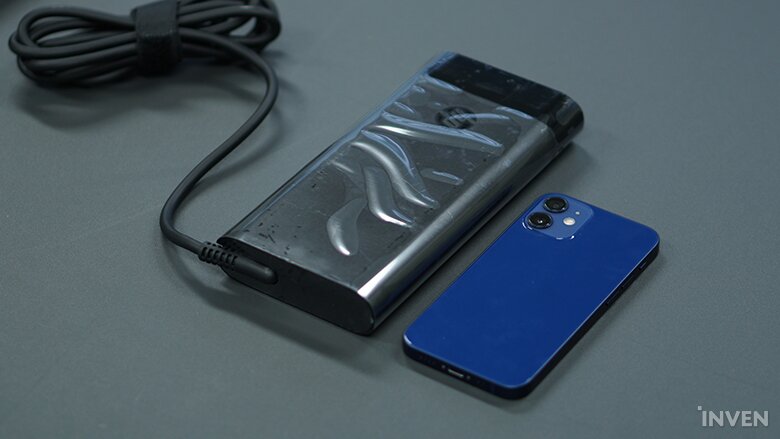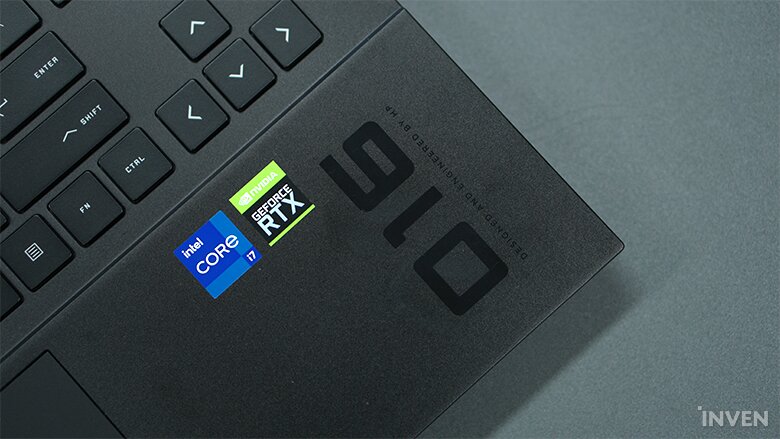 As a high-end gaming laptop, the HP OMEN 16 boasts excellent performance comparable to that of a desktop. It is equipped with an Intel i7-11800H CPU and RTX 3070 graphics card, so you can enjoy not only online games but also high-end package games comfortably. Compared to desktop hardware, the CPU is Intel i9-9900 and the graphics card is similar to the RTX 2070 SUPER, and it can be said that the RTX 30 series technology is added.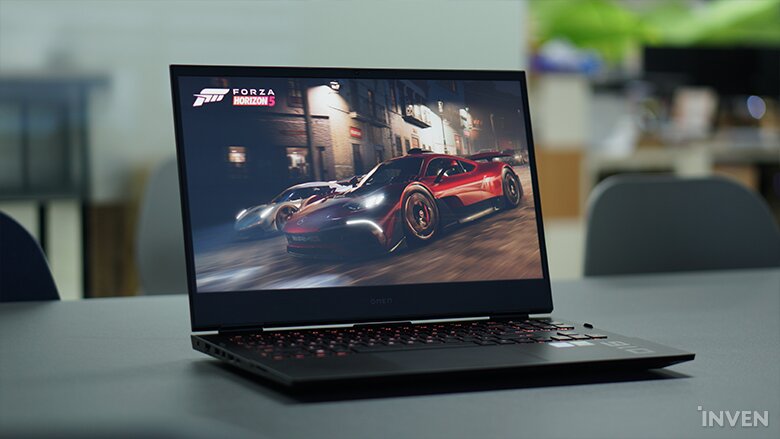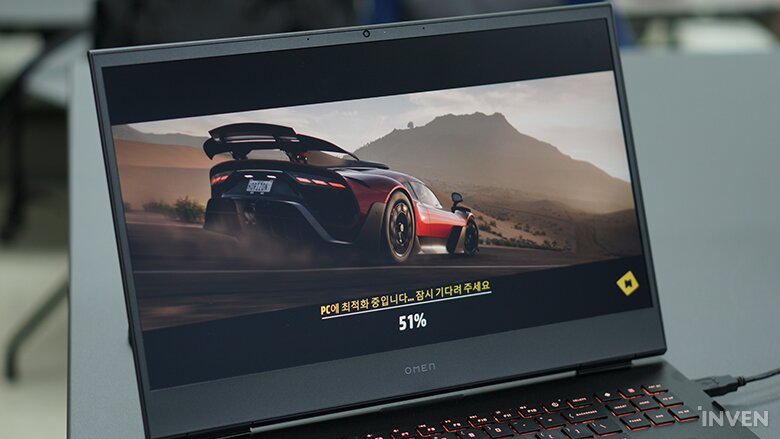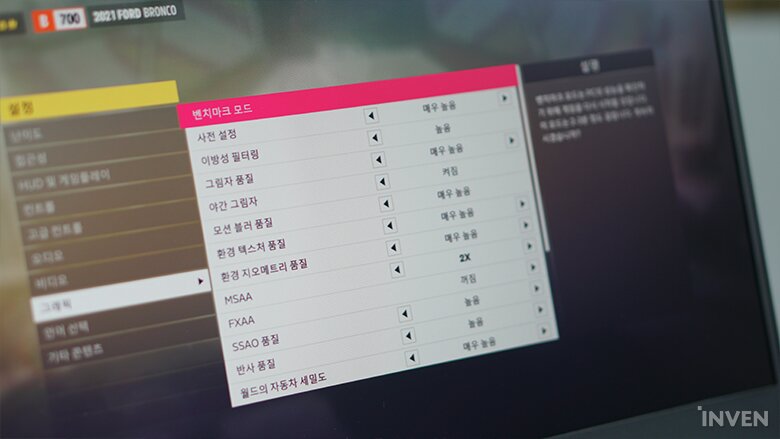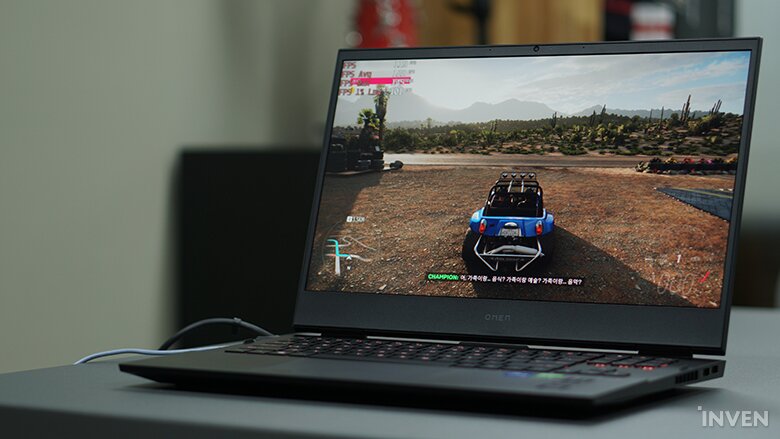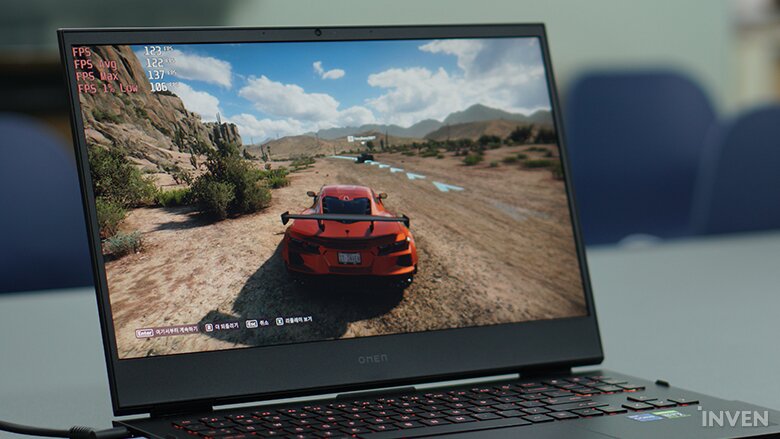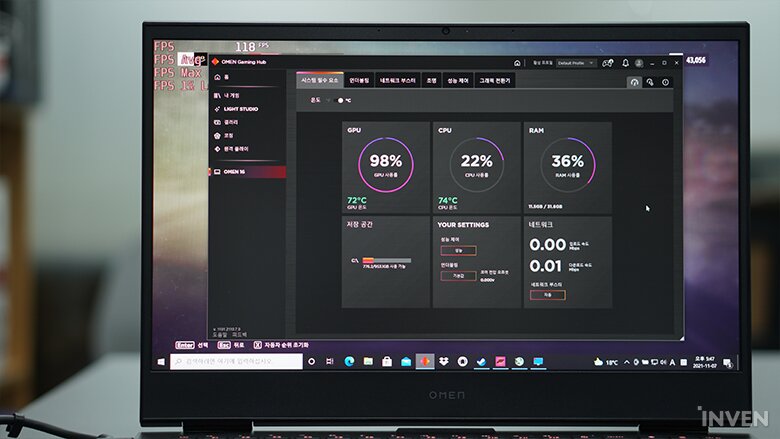 As soon as I opened the laptop, I installed Forza Horizon 5 and enjoyed it. As the specifications of the HP OMEN 16 are very high, I expected it to be accompanied by high heat and noise, but the heat is not as severe as I thought. No, it is safe to say that the heat and noise are the lowest among gaming laptops with this specification. It would be convenient to think of it as having performance, heat and noise levels comparable to mainstream desktops.
When the game is first launched, it automatically adjusts the graphics settings to match the hardware performance, and most of the graphics options are set to very high. Although it is almost the best option, it maintains an average of about 120 FPS even when dynamic situations such as crashing into objects or overturning are continuously produced.
The cooling performance was also excellent. Perhaps because of the significantly improved cooling performance compared to the previous model, the temperature is maintained below 80 degrees in most situations. The CPU maintains around 70 degrees without undervolting. If you undervolt through the Omen Gaming Hub, which will be described later, it is expected to maintain a better average temperature.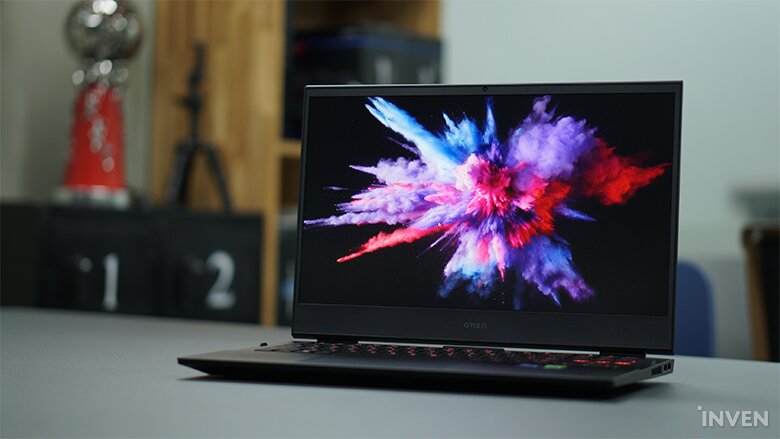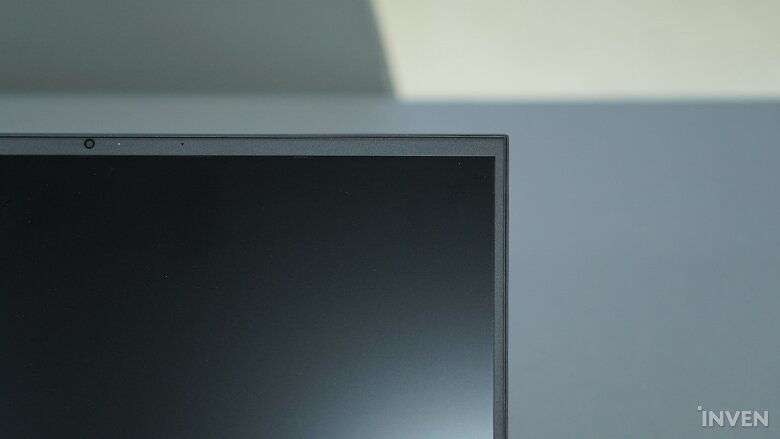 It has a 16.1-inch FHD resolution IPS panel display. The refresh rate is 144Hz, which is a specification that is not inferior for gaming purposes. The maximum screen brightness is 300 nits, which is rather low, but I don't think there will be much inconvenience because I don't often use my 16-inch laptop outdoors in bright sunlight.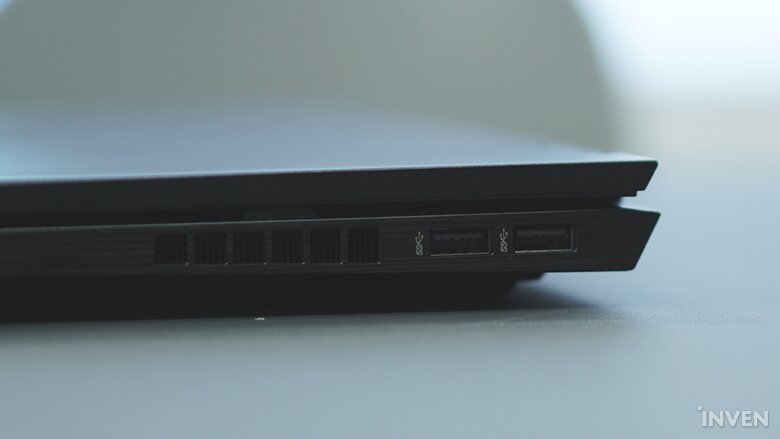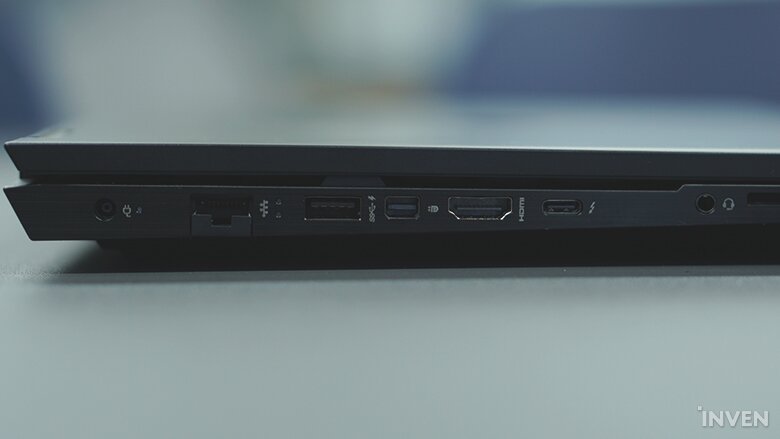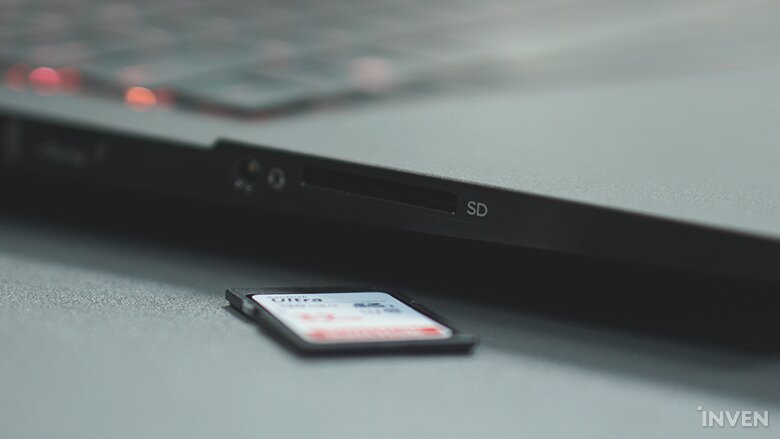 As a gaming laptop, it supports a variety of ports. With three USB-A ports, you can connect various peripheral devices such as a mouse and keyboard. Using the Thunderbolt 4 port, you can solve PD charging, display output, etc. with one port, and use a separate dock. possible.
In addition, LAN port, SD card slot, and full-size HDMI port are provided, so you can connect various peripherals without a separate dock or hub, and it is easy to load media such as photos and videos. It is a port configuration that can be felt not only for gaming but also for a variety of usage environments.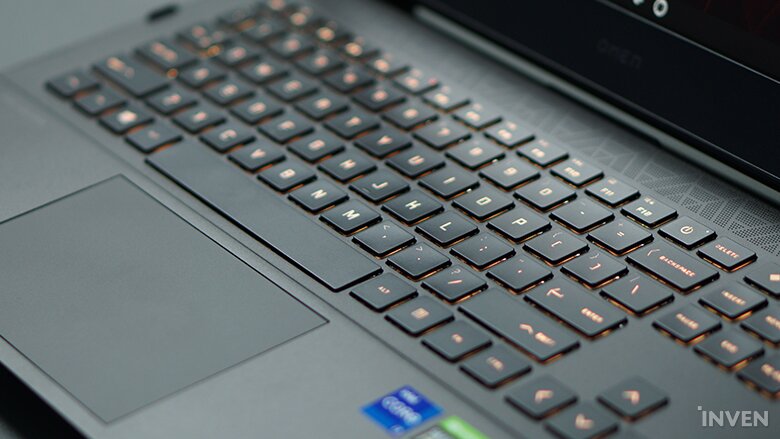 It has a full array of backlit keyboards that support 26-key simultaneous input anti-ghosting. Like a laptop keyboard, there is almost no noise, and it is not as good as a mechanical keyboard, but it shows a fairly tight key feel. In addition, it is easy to enjoy platformer games as it is equipped with full-size direction keys found on regular keyboards instead of the bizarre type of direction keys commonly found in other laptops.
Because it is so faithful to the original purpose of a gaming laptop, it is sometimes difficult to find a webcam in some of the recently released gaming laptops. HP OMEN 16 is equipped with a 720p 30FPS low-latency webcam, so it can be used for various purposes, such as video conferencing, video classes, and remote classes in addition to gaming.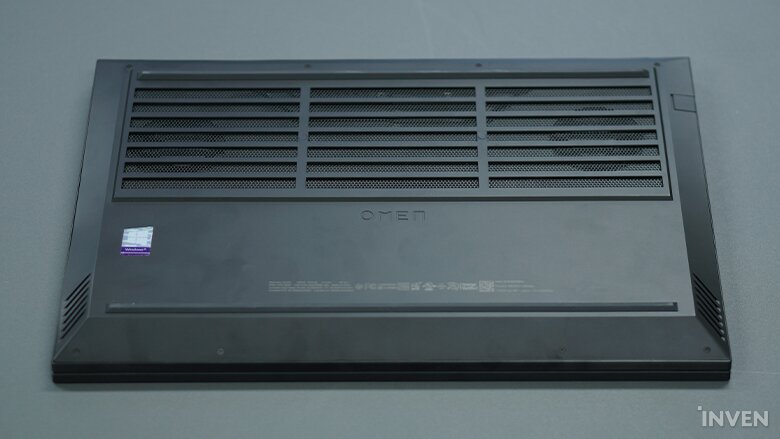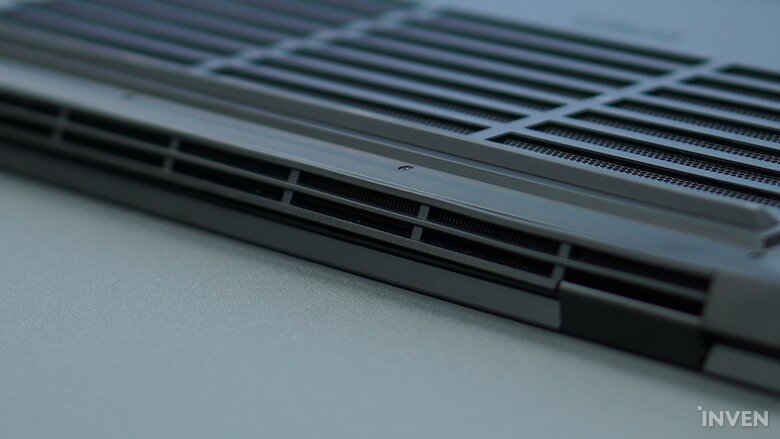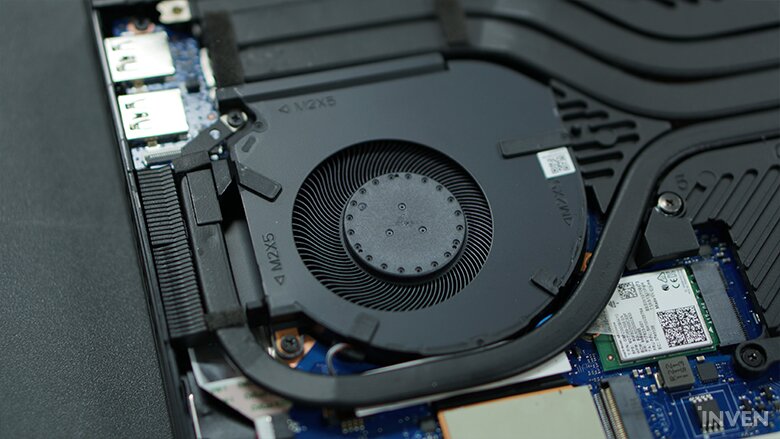 HP OMEN 16 is equipped with OMEN Tempest cooling technology to provide excellent cooling performance. The bottom and rear part of the product is boldly opened to adopt a structure that can dramatically dissipate heat. In addition, it is equipped with a cooling fan that is more powerful than its predecessor, the OMEN 15, and the cooling fan's own performance has also been improved regardless of the presence of air holes. The thickness of the blade is about 2.5 times thinner, and the number of blades is doubled.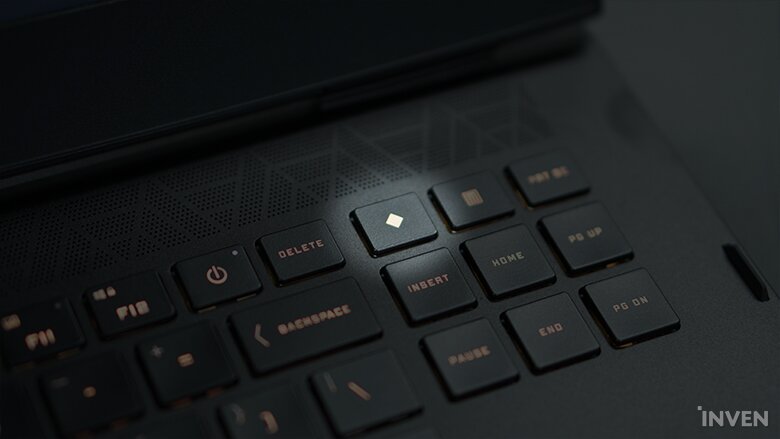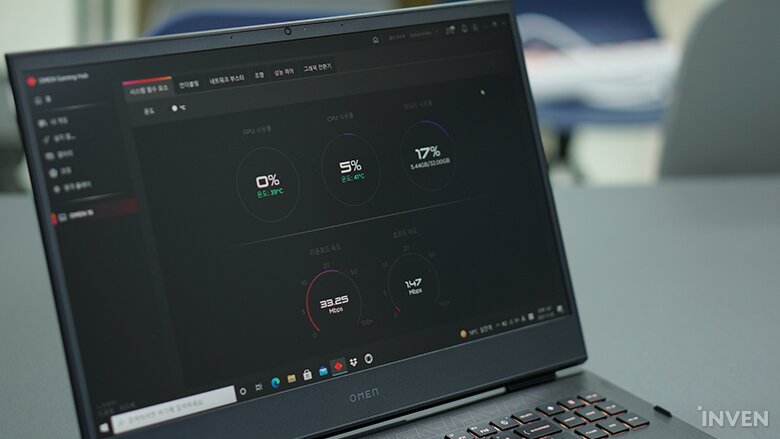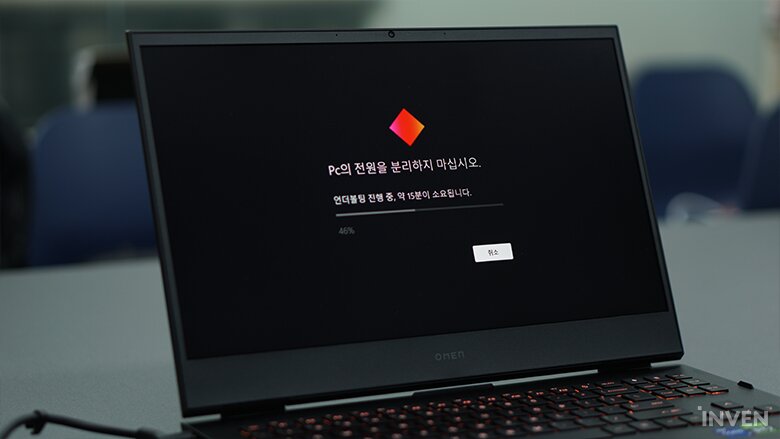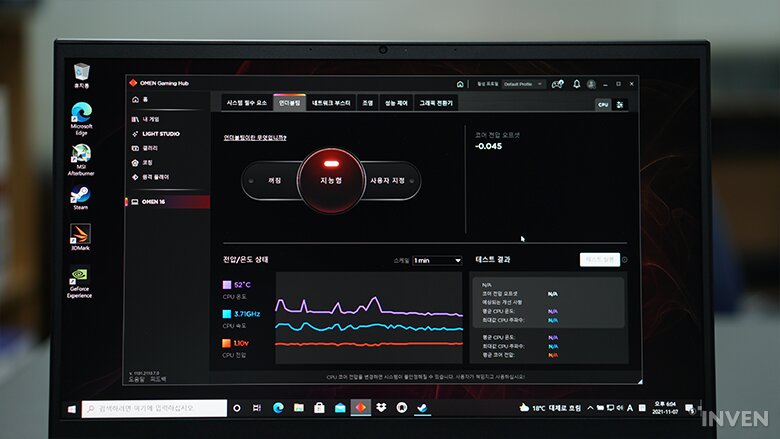 Users who have used laptops for various purposes will agree, but the cooling performance is not all. It doesn't matter if you only use it for gaming at home, but if you use it for multiple purposes, you need to be able to have complete control over the situation.
The HP OMEN 16 can monitor hardware status or control cooling performance in real time through the OMEN Gaming Hub app. The hotkey located at the top right of the keyboard allows you to quickly enter the app and intuitively control it, so you can quickly switch to quiet mode in places such as a library or conference room.
It also supports an undervolting function that adjusts the CPU voltage with one click. It automatically checks the state of the CPU to find the appropriate voltage value, and the user does not have to adjust the value separately, so it is easy to apply even the computer. Heat generation and battery consumption are reduced, and throttling that occurs in certain situations can be prevented in advance.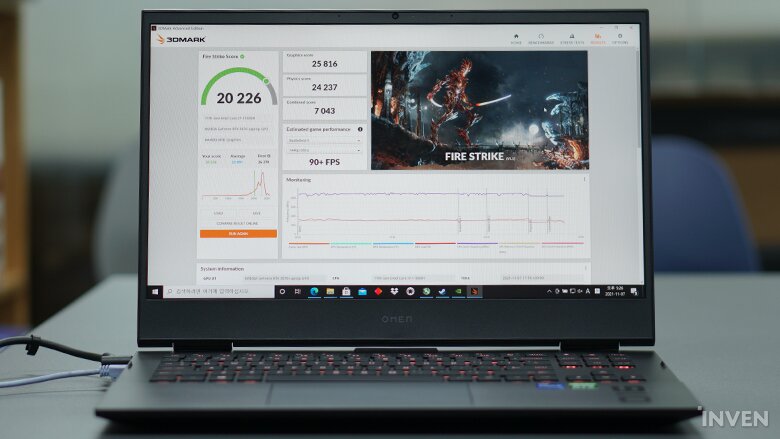 We conducted two benchmark tests of 3DMark that can roughly check gaming performance. As described above, in terms of desktop hardware, the CPU is Intel i9-9900 and the graphics card is almost similar to the RTX 2070 SUPER. With this level of performance, most existing games based on FHD resolution can be operated comfortably, and it is expected that there will be no difficulty in running major games to be released in the future.
Even if you use it instead of a desktop, there is no problem at all, and the temperature is also kept as low as that of the desktop, so it is not a burden even if you use it for a long time. The design is also quiet compared to other products, so you can use it comfortably for other purposes other than games. Also, various port configurations are a big advantage. It can be connected to an external display or SD card without a hub, so it is a pretty attractive product for content creators.
In addition, 'HP Korea' provides online/offline counseling services tailored to gamers for customers who are using their products, including HP OMEN gaming products. In accordance with the characteristics of gamers who enjoy playing games until late at night, we provide 24/7 phone and Kakao Talk consultations, as well as A/S support and product experience zones through HP Gaming Service Centers located in Songpa and Yongsan. .
Reference-www.inven.co.kr