Battlefield 2042 is struggling to win the hearts of gamers. Even after the final launch, not all problems have been resolved, the user reviews on Steam are still devastating. So it's no wonder that the developers are trying to find a timetable out of this mess.
A new roadmap presents plans and dates for the upcoming updates, after which the shooter should be in a better light. The critical feedback from fans is very valuable, writes EA im Blog:
We are listening carefully to your feedback as it helps us plan the upcoming updates. We couldn't burn more passionately for this game and will support and develop it for years. We've confirmed at least two major updates in the coming weeks, and we'll be constantly communicating what changes we're addressing and what new content is coming after Battlefield 2042. The teams around the world work 24/7 to deliver improvements to the game.
So you can expect that Battlefield 2042 will still be planed and screwed a lot. Such announcements sound rather vague without specific information – EA also knows that and therefore directly commits itself to a few secure measures.
All information about the roadmap after the launch
When will the next update be released? The new patch will be available for download on November 25, 2021, which is referred to as Update # 2 in the blog entry.
What's in the next update? We already know which major construction sites Update # 2 deals with – especially with particularly nasty bugs like the Revive bug. You can read more details here:
more on the subject
Battlefield 2042: What the next patch should improve significantly
What is planned after that? It was also known that a third update would appear in the foreseeable future. This has now been confirmed again, Patch # 3 will be released in early December 2021 and should be more "substantial" than Update # 2. A fourth update could follow in the Christmas season.
What about the seasons? Battlefield 2042 wants to rely on a season model, but so far there is little information about it. According to the roadmap, the 1st season should start sometime in early 2022, which usually means between January and March.
Are a lot of the features you want coming back?
EA says it is thinking about returning popular features from previous Battlefield games. The announcement cites voice chat, a scoreboard at the end of the match and a server browser as an example. But there is still no final confirmation, information should follow.
Not least because of such deleted features, Battlefield 2042 just feels unfinished. We talk about it here in our conclusion video: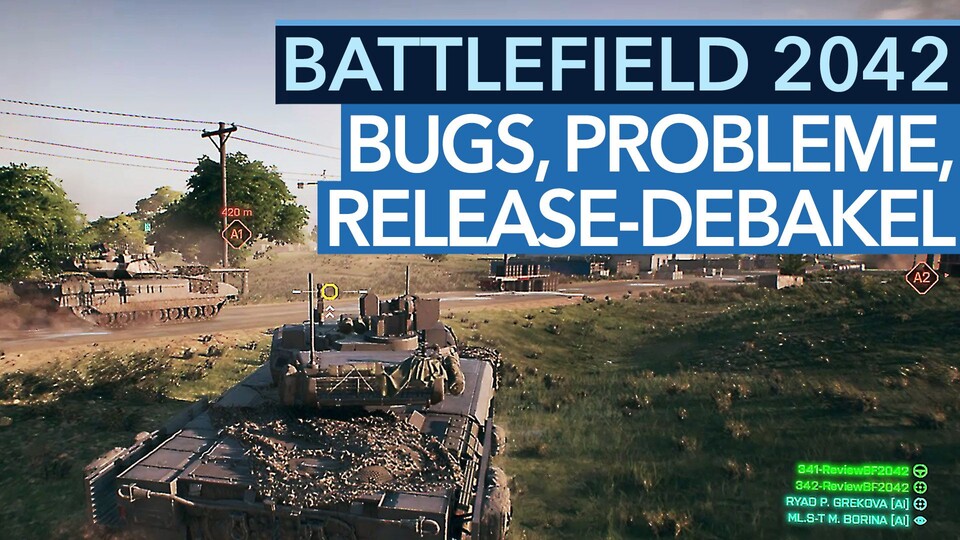 17:29



Battlefield 2042 – release conclusion: unfinished and out with it!
Will Bloom be out of the game?
In this article, we explain to you why the bloom feature – which EA calls spread – causes a lot of frustration among players:
more on the subject
Battlefield 2042: Controversial feature prevents precise hits
EA confirms that some weapons are too randomly dispersed, especially assault rifles like the AK-24. As a result, you hit significantly worse with these weapons than you should. The good news: The handling should improve in Update # 2 on November 25th. This makes single shots or short bursts more precise.
In addition, EA promises many more improvements to balancing, maps, the XP system (you remember the drama about portal farms?) And so on. Here you can read the well-known patch notes for Update # 2, on the next page you will find the far-reaching changes that Update # 3 should bring.
Patch Notes for Update # 2
Improved Soldier Revives, addressing 'unable to revive when a Soldier dies close to an object, or wall'.
A respawn protection system that will help to prevent any extraneous issues that can leave a player in a downed state for too long, and force a manual respawn when required.
Re-enabling our UAV-1 Interaction in Battlefield Portal, available on our Battlefield Bad Company 2 maps. It was overpowered, and we've made adjustments to account for that.
Vehicle Balancing for the LCAA Hovercraft and MD540 Nightbird mentioned above.
Dispersion has been reduced for all weapons except Shotguns, which results in more consistent bullet spread during gameplay.
Reference-www.gamestar.de