[기사 본문]
– Recruitment of 'Season 3' investment following 'Marriage Lyricist, Divorce Composer Season 2', which was the first domestic drama to raise 500 million won
– Investment return linked to TV ratings for 'Season 3' scheduled to air in the first half of 2022
– Investment in the drama 'Marriage Lyricist, Divorce Composer Season 2', with a final rating of 16.5% and a profit of 8% in 5 months
Following the successful online investment of 500 million won for the first time in a Korean drama in May, pre-recruitment for online investment for the general public is underway, which is scheduled to air in the first half of 2022.
In the past two weeks of pre-registration and recruitment of more than 1,000 people, the drama investment successfully raised 500 million won from ordinary investors.
In addition, the investment condition linked to TV Chosun's highest viewership ratings recorded 16.5% in the final 16 episodes, making early repayment in 5 months with the target highest return of 8%.
Investment in dramas scheduled to air in the first half of 2022
The investment project, which started pre-recruitment in November, is expected to provide profits in conjunction with the highest viewer ratings of TV channels scheduled to be aired in the first half of 2022, and is attracting attention by recording more than 500 notification requests within two weeks of opening.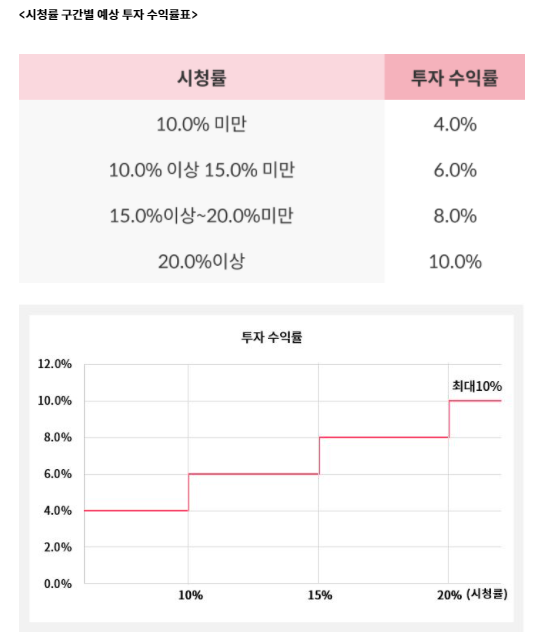 Following the second season of last season, the drama was followed by 'Apgujeong White Night', 'Princess Aurora', 'Jewel Bibimbap', 'Madam Ahyeon-dong', 'God' and Writer Seong-Han Lim, who recorded high ratings for each work such as 'Doctor Prisoner' and 'The Strongest Deliveryman'. ', 'Mrs. Cop 2', 'My daughter, Geum Sa-wol', 'Come! Jidam Media Co., Ltd., led by CEO Ahn Hyeong-jo, who produced various dramas such as 'Jang Bo-ri', is scheduled to produce it, and investment is scheduled to begin in December 2021.
Seongwook Yoon, CEO of K-contents investment platform Funderpool, said, "It is a drama that has been recognized by various content distribution channels at home and abroad.
Reference-bbs.ruliweb.com