Data provided – MSI Korea
MSI Korea (MSI Korea, CEO Gongbeon-seo) announced that it will hold an event to sell MSI gaming monitors and PlayStation 5 packages at Gmarket and Auction, which are famous domestic open markets.
The promotion will be held at Gmarket and Auction from November 23 to 30, 2021, and will be limited to 50 units. The gaming monitors for the event are MSI Optics MPG321UR-QD and MSI Optics MPG321QRF-QD.
'MSI Optics MPG321UR-QD' is a high-end gaming monitor with 4K UHD (3840*2160) ultra-high resolution, 144Hz refresh rate, HDR 600 certified by VESA, and quantum dot display technology. 'MSI Optics MPG321QRF-QD', which boasts a 1ms GTG response speed and a high refresh rate of 175Hz, is also equipped with HDR 600 and quantum dot display technology certified by VESA to provide a pleasant gaming environment.
In addition to supporting HDR graphics and 120Hz refresh rate available on the PlayStation 5, both products support the MSI Optics MPG321QRF-QD. 4K downscalingThrough this, you can enjoy the game clearly even in WQHD resolution without degrading the picture quality.
The PlayStation 5, a component of the promotion, has sold 13.4 million units worldwide since its launch on November 12, 2020, and approximately 38,000 units in Korea alone, making it the fastest console device in the history of the PlayStation series to achieve cumulative sales of 10 million units. has gone Amid the surge in demand for game consoles due to the COVID-19 virus pandemic, the shortage of supply is added, and even now, a year after its release, the shortage continues.
In addition, MSI is conducting a user event to present a Steam wallet gift certificate of KRW 20,000 to customers who purchased the MSI Optics MPG321UR-QD and MSI Optics MPG321QRF-QD. Additional information about the promotion and MSI Monitor can be found in the official cafe, website, and official SNS.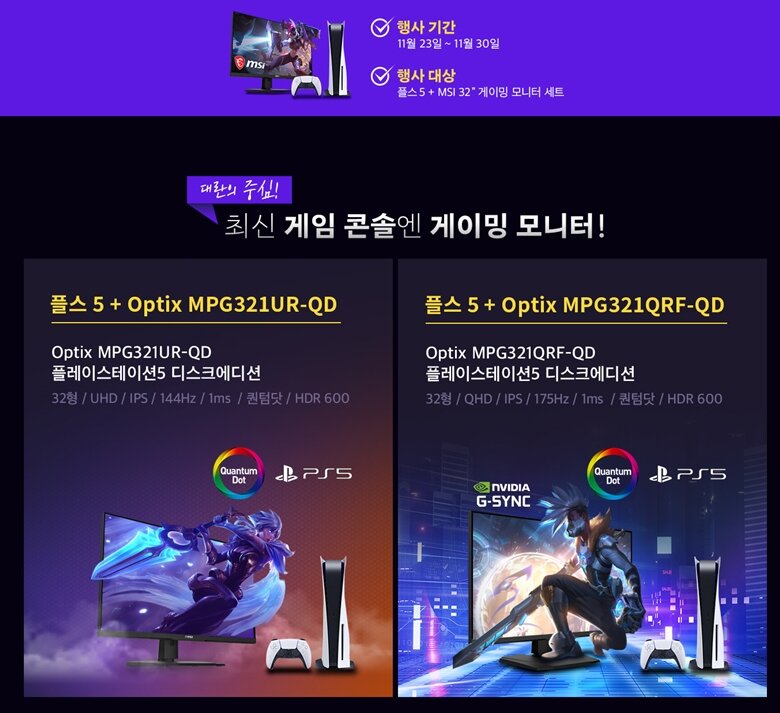 Reference-www.inven.co.kr