Data provided – Devsisters
Devsisters (co-representatives Ji-hoon Lee, Jong-heon Kim) is a mobile running game developed and serviced by development studio Cookie Run (CEO Hyung-wook Bae), in 'Hurry Up! It was announced on the 26th that an update was carried out for 'Christmas Gift Campaign'.
On the evening of Christmas Eve, cookies are delivered in pairs on the gift delivery train. The tiramisu-flavored cookie, which was excited by the first train operation, is inevitably paired with the eggnog-flavored cookie, which everyone is reluctant to work with because of their overzealous enthusiasm. The story of two cookies who face a crisis in an unexpected train accident while they are busy delivering gifts with their upset behind them is unfolded in the new chapter 'A Very Special Christmas!' in the main story mode.
This chapter is automatically opened when you complete the 15th stage of Chapter 3 of the main story 'The Adventures of Brave Cookie'. 'A very special Christmas!' The chapter runs for 30 days from the opening date, and depending on the mission score, you can receive various rewards such as crystals, soul potions, and a special 10+1 Treasure Certificate.
Also, the main story mode system has been partially reorganized. You can freely choose the difficulty level divided into Calm, Normal, Hard, and Master, and you can acquire a magic box full of coins through story mode play to receive a large amount of coins as well as S rank or legend. You can also collect the ingredients needed to make cookie candy.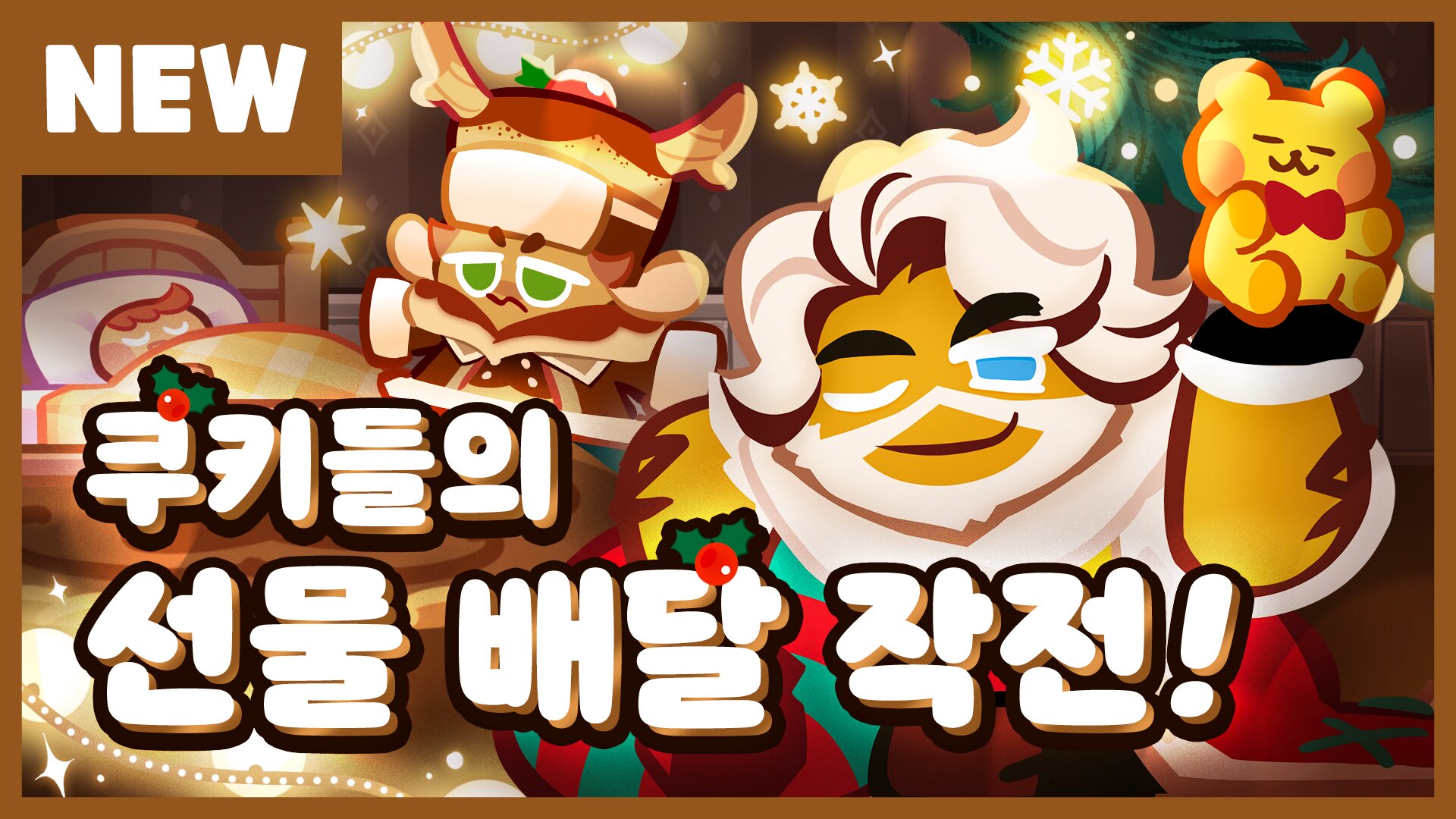 In this update, a new eggnog-flavored cookie made with plenty of eggnog cream, stirred passionately with a whisk, has appeared. Eggnog-flavored Cookies, full of rich beards and generous hearts, are ferocious characters who pour out their passion to deliver Christmas gifts. He has a special ability to get points when he climbs the chimney at regular intervals and enters the house without being detected by putting a gift in Santa's socks.
Along with this, a companion of eggnog-flavored cookies, a Santa hat, was also added. Santa Hat is a pet that happened to follow the Santa Cookies' meeting and found an eggnog cookie without a hat, and decided to become a warm hat. When an obstacle appears in the middle of play, the Santa Hat shows off the skill to wrap it up nicely and make it into a gift box jelly. In addition, you can meet the Treasure Rudolph Riess, a treasure that appears and drops tree decoration jelly.
Tiramisu-flavored cookies and lantern cup tiramisu pets, which were paired with eggnog-flavored cookies and delivered as gifts, are scheduled to be released in mid-December.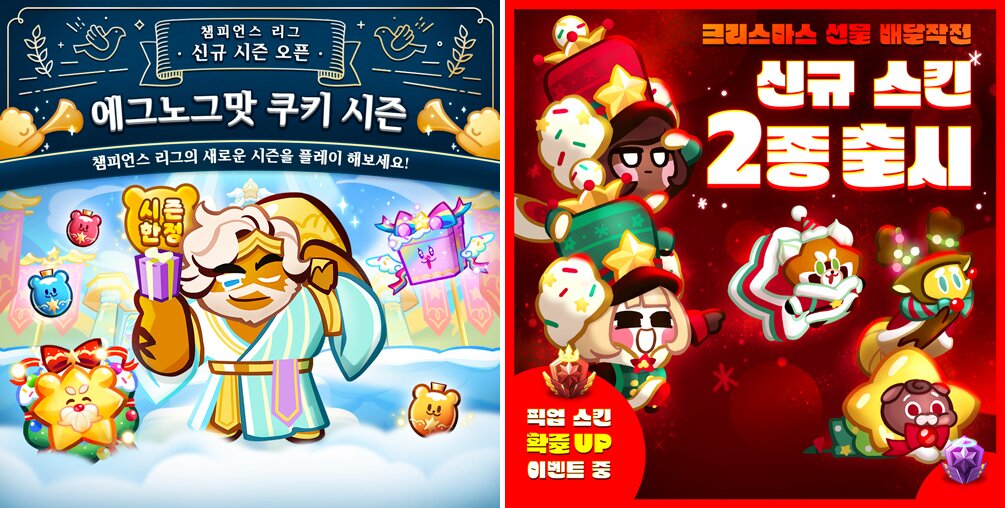 In addition, to commemorate the new season of the Champions League, new skins ▲Gift Pack General Egg Nog Flavor Cookie ▲Daily Snowman Santa Hat, Jelly Skin ▲Cozy Christmas Set ▲Twinkle Christmas Set were unveiled. In addition, Christmas-themed Chess Choco Cookies and two new skins and jelly skins for Cookie Merls can be found through shops and packages.
In addition, a winter-themed 'Survival Run' and a new year-end sensibility 'Friendship Run' will be opened, along with a wealth of events.
More information about Cookie Run: Oven Break can be found on the official Cookie Run YouTube and Naver Cafe.
Reference-www.inven.co.kr