[기사 본문]
– Gyeonggi Content Agency, 'Gyeonggi START Pangyo Demo Day', a program to discover and foster promising start-ups in public-private cooperation, successfully ended
– Operate a program to discover and nurture promising start-ups in the ICT convergence content field in the province for 6 months in cooperation with a private professional start-up planner (accelerator)
The Gyeonggi Content Agency (President Min Se-hee, hereinafter referred to as Kyung Konjin) announced that the 'Gyeonggi START Pangyo Demo Day (hereinafter referred to as Demo Day)', which was held on November 18 and 25, was successfully completed.
'Gyeonggi START Pangyo' is a public-private partnership content startup nurturing program that provides programs necessary for corporate growth, such as financial support, mentoring, and investment attraction support.
Together with Kyungconjin, professional start-up planners (accelerators), The Next Lab × Startup Research, and Gold Ark × Spark Lab, conducted as partners.
This year, a total of 24 promising companies in the ICT convergence content field were selected and operated for the past six months, and this demo day was held as part of the promotion of investment attraction from supporting companies.
On the 18th Demo Day, 11 content companies selected and nurtured by GoldArc x SparkLab ▲En.Light Co., Ltd. ▲Villio Co., Ltd. ▲SOC Co., ▲Foreground, ▲Mongmong.com, ▲White Taek Co., Ltd., ▲ Image Mining Co., Ltd., ▲ Auto How Much, ▲ The Batong Co., Ltd., ▲ Tagran Roll Co., Ltd., and ▲ Pandora Project Co., Ltd. made presentations.
On the 25th, 11 content companies selected and nurtured by The Next Strap × Startup Research pitched investment (announced investment attraction).
Announced companies are ▲Operus One Co., Ltd. ▲Yeoshim Seoul Co., Ltd. ▲Seven Meerkat Co., Ltd. ▲Hills Engineering Co., Ltd. ▲Odis Co., Ltd. ▲Gobox Co., Ltd., ▲Pit Co., Ltd., ▲ Callum Partners, ▲Tomorrow Sun, ▲Space Bank, ▲SelectP.
In this announcement, officials from professional investment companies such as Duzon Holdings and Eugene Investment & Securities participated as evaluation committee members.
After the presentation, networking time was set up between professional investors and participating companies, providing opportunities for follow-up investment and commercialization review.
The event was held in separate sessions for each partner company, and was held at Gyeonggi Contents Korea Lab by minimizing the offline scale to prevent the spread of COVID-19.
In 'Gyeonggi START Pangyo', as of the end of October 21st, 6 out of 24 supported companies achieved a total investment of 3.4 billion won, and some companies are currently discussing additional follow-up investment and mergers and acquisitions.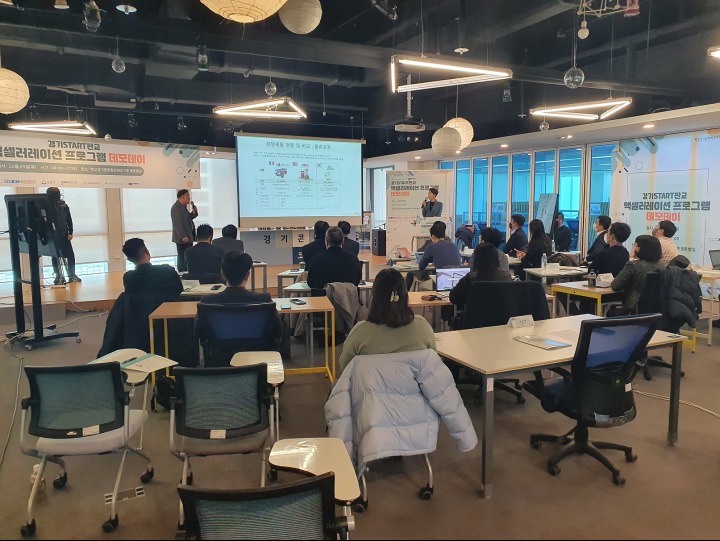 Reference-bbs.ruliweb.com