According to the 2021 e-sports survey, more than 40% of the size of the e-sports industry in 2021 is the budget of the game team. The size also increased by 14.1% compared to last year. Industry experts say that the salaries of LoL pro gamers took up a significant part.
The size of the e-sports industry in 2020 was about 120 billion won. Among them, the budget of the game team is a whopping 43.9%, or 52.86 billion won.
Next, the streaming sector rose to 12.3% with 26.1% and 31.47 billion won. Interestingly, sales in the broadcasting sector, which accounted for a large portion, fell 49% from 46.3 billion won to 22.85 billion won in 2019.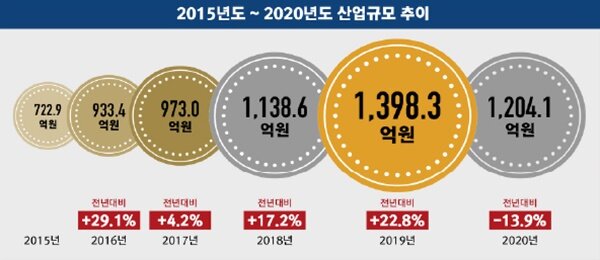 If we check the overall size of the e-sports industry, the growth that had been showing a steady upward curve was stopped. As of 2019, it was 139.83 billion won, up 22.8% from 2018, but in 2020, it fell slightly to 120.4 billion won with -13.9%.
As can be seen from the previous indicators, the game team's budget and streaming accounted for most of the increase in size. In fact, the size of the game team is growing significantly compared to last year. Looking at the budget of game teams in 2021, KRW 2.1-5 billion accounted for the largest share with 33.3%, followed by teams with KRW 100-500 million and 26.7%, and KRW 5-10 billion with a whopping 20%. Since the figure of 20% of the total includes game teams other than LoL, in the case of an actual LCK franchise team, it seems that three or more teams out of ten are included.

In addition, the budgets of supporting organizations related to e-sports have increased significantly. The relevant field, which consists of the Korea Creative Content Agency, Korea e-sports association, international e-sports federation, and regional promotion agencies, refers to the budget for the e-sports ecosystem construction project for revitalizing the presidential e-sports competition and regional e-sports. It was found that the budget of e-sports support organizations is increasing from 11.37 billion won in 2019 to 17.82 billion won in 2021. It increased by 53.6% compared to 11.6 billion won in 2020.
Reference: 2021 e-sports survey
Reference-www.inven.co.kr