[기사 본문]
RX Japan Ltd. (formerly Reed Exhibitions Japan Ltd.) will hold the first Smart Logistics Expo at Big Sight in Tokyo, Japan for three days from January 19 (Wed) to 21 (Fri), 2022.
Smart Logistics Expo is an exhibition that gathers all solutions for logistics innovation. In the five simultaneous exhibitions during the exhibition period, △Smart Factory Solution △Robot-related technology △Electrical and Electronic Technology △Automobile-related technology △Wearable-related technology will be exhibited.
◇ Covers all solutions related to logistics innovation such as Internet of Things (IoT), artificial intelligence (AI), automated warehouses, and carbon neutrality
In this exhibition, △IoT Solution △AI Solution △Warehouse Management System △Transportation Management System △Traceability System △Digital Picking △AGV △AMR/Collaborative Robot △Transfer Device, Material Handling △Truck Operation Support △Logistics Material △3PL/ Products such as 4PL participate.
Simultaneous holding of 180 seminars related to logistics DX cases, decarbonization, etc.
In the concurrent seminar, △Logistics Policy Office of the Ministry of Land, Infrastructure, Transport and Tourism, △Transportation companies such as Yamato Transport, Sagawa Express, and Seino Holdings, and famous companies such as Johnson & Johnson and Mazda will participate, and a total of 180 lectures on logistics DX and decarbonization will be held.
Services are also provided for Korean visitors who are unable to visit the exhibition due to entry restrictions.
A service that allows visitors to visit the exhibition hall remotely has been prepared for domestic visitors who are unable to visit the exhibition due to restrictions on entry into Japan.
1)Remote Matching Service (Korean)
It is a remote matching service in which the staff of the secretariat helps individual business consultations when a participating company is selected from among 1050 companies. It connects with real-time visitors through video chat solutions such as Zoom, Webex, and KakaoTalk to conduct business consultations with participating companies. It is also possible for the secretariat staff to conduct consultations as interpreters.
2) Live broadcast at the exhibition hall (Korean)
The secretariat staff relays the inside of the exhibition hall in real time, and introduces participating companies and participating products. The chat function allows viewers to ask questions to exhibitors in real time.
Event Overview
The 1st SMART LOGISTICS Expo – Innovative Logistics Solution Exhibition
Date: January 19 (Wed) – 21 (Fri), 2022
Simultaneous exhibition
The 36th NEPCON JAPAN – Electrical and Electronic Design R&D, Manufacturing and Packaging Technology Exhibition
The 14th AUTOMOTIVE WORLD – State-of-the-art automotive technology exhibition
The 8th WEARABLE EXPO – Wearable Devices and Technology Exhibition
The 6th RoboDEX – Robot Development and Application Exhibition
The 6th SMART FACTORY Expo – Manufacturing innovation exhibition according to IoT/AI/FA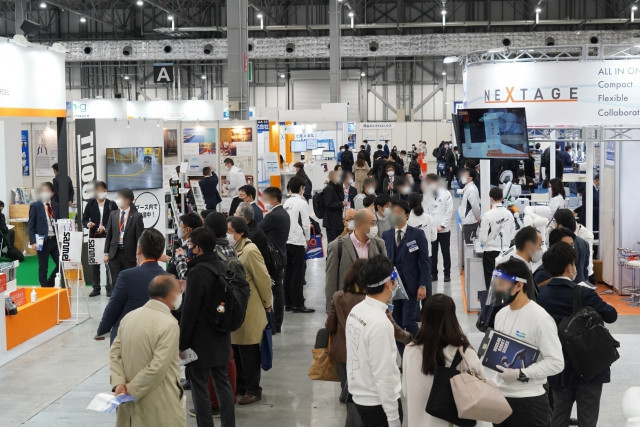 Reference-bbs.ruliweb.com