[기사 본문]
EM-Tech INC Co., Ltd. (CEO: Lee Deok-soo), the No. 1 PC graphics card market share in Korea and Korea's native graphics card brand, is the No. 1 graphics card brand in North America and is a REDBIT SUPER composed only of parts from EVGA, which is recognized by consumers for its performance and value. HERO PC – I901 Series EVGA Edition (hereinafter referred to as Redbit EVGA Edition) was released on October 22, 2021 at ibycom (https://www.ibuycom.com) was released through
About three months later, on December 31, 2021, Redbit will publicly launch EVGA SPECIAL EDITION, the second PC. The R9LB1 Series, which is added to the superhero lineup, is a product made using AMD Ryzen 9-4th generation 5900X (Vermeer), which is the best CPU model based on AMD's AM4 socket. see.
If you check the actual specifications, it is confirmed that the motherboard is also EVGA's product, and the EVGA X570 FTW WIFI motherboard is used. EVGA X570 FTW WIFI product is a product recently released by EVGA and has not yet been launched in Korea. The product features include 15-phase power supply design for stable power supply, WI-Fi 6 support, and recognition of memory up to 128GB at 4600MHz. Support, PCIe 4.0×16 and PCIe 4.0 M.2 dual-slot support to support NVMe RAID, etc.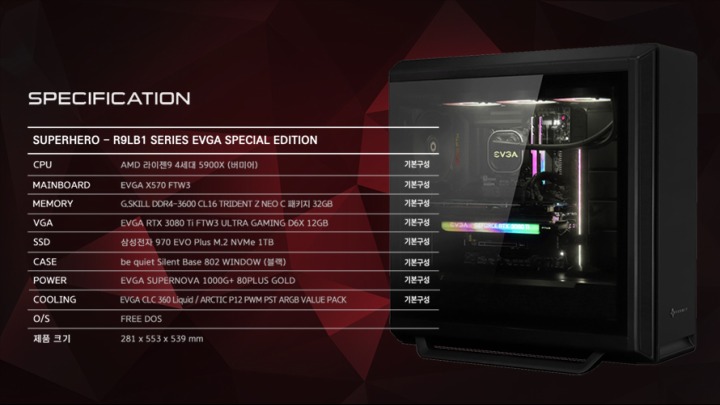 The graphics card is an EVGA RTX 3080 Ti FTW3 ULTRA GAMING D6X 12GB graphics card equipped with a boost clock of 1800 HMz, a factory overclocked GPU and 12GB of GDDR6X memory reaching 912GB/s of bandwidth as a top-end high-end gaming PC. In particular, for the graphics card, the custom-designed PCB board for stable performance under high loads as well as performance is covered with a heat sink meticulously designed to control heat generated as much as the strong performance. increased air circulation. It is a product that captures both high performance and low noise by mounting a second-generation HDB (Hydraulic Dynamic Bearing) fan with improved performance and reduced noise.
In addition, EVGA CLC 360 Liquid, located in the upper position, is strong in cooling performance in various overseas and domestic communities in preparation for fast cooling to support high performance in various environments as well as performance-focused parts, and the stability of the overall parts It is classified as a small tower for this purpose, but the be quiet Silent Base 802 WINDOW case, which is a semi-big tower, and 1000W gold grade power in consideration of stable power supply and efficiency were used.
Redbit's SUPER HERO PC – R9LB1 SERIES, EVGA SPECIAL EDITION will be available on EM-Tech's own shopping mall, iBycomm, on December 31, 2021, and will be discontinued when all systems are exhausted without additional supply as only 15 units are produced. . RedBit's Super Hero EVGA Edition is said to provide the same free gaming set including EVGA gaming mechanical keyboard EVGA Z15 RGB product, EVGA X17 gaming mouse, and EVGA gaming pad to all purchasers of existing Intel systems and current AMD systems.
Reference-bbs.ruliweb.com