[기사 본문]
– Introduced green ICT service to help reduce carbon in daily life along with eco-friendly ICT technology
Exhibiting next-generation technologies that significantly reduce power consumption compared to existing ones, such as ▲AI semiconductor ▲Single LAN
· ▲Metaverse ▲AI-based multi-use cup return machine ▲T-map and other carbon reduction solutions introduced
SK Telecom (CEO and President Youngsang Yoo, www.sktelecom.com) will present green ICT technology of the Net-zero era at 'CES 2022', the world's largest IT and home appliance exhibition held in Las Vegas, USA for four days from the 5th (local time) to the 8th.
ESG management, represented by Environment, Social Responsibility, and Governance, is emerging as a matter of survival, not a choice. SK Group has set a goal to reduce carbon by 200 million tons, which is 1% of the global carbon reduction target (21 billion tons) by 2030, and SKT plans to actively contribute to carbon reduction by using innovative green ICT technology.
SKT, together with SK holdings, SK innovation, SK hynix, SKE&S, and SK Ecoplant, will set up a 920㎡ joint exhibition booth in the Central hall under the theme of '2030 SK Net-Zero Promise Declaration'. We will introduce SKT's green ICT technology.
■ Introduced low-power AI semiconductors and green ICT technologies that significantly reduced power consumption compared to existing ones, such as single LAN
SKT will introduce the world's best AI semiconductor 'SAPEON', which it developed in-house for the first time in Korea. AI semiconductor is a non-memory semiconductor that executes large-scale calculations necessary for realizing artificial intelligence services at high speed and low power, and corresponds to the core brain of artificial intelligence.
As artificial intelligence services are rapidly expanding throughout life and industries, the scale of AI data centers is also increasing day by day. Existing AI data centers use GPUs developed for graphic information processing, but due to the large amount of power used, environmental pollution is also emerging.
SKT will introduce 'Sapion', a high-speed, low-power AI semiconductor with a design specialized for simultaneous data processing required for the realization of artificial intelligence services. 'Sapion' is environmentally friendly as it uses only 80% of power compared to the existing GPU. At the same time, the deep learning operation speed is 1.5 times faster than the existing GPU and the price is only half the price.
SKT will also introduce 'Single Radio Access Network' technology, which reduces power consumption by about 53% compared to the previous one by integrating and upgrading 3G and LTE network equipment.
SKT is the first in Korea to reduce greenhouse gas emissions through 'Singlan' technology. *Securing carbon credits. SKT completed its application to base stations and repeaters located in 78 cities across the country, including Seoul, in 2020, and through this, about 10,000 tons of carbon credits can be secured per year.
* Greenhouse gas emission rights that are allocated when a company is officially certified for greenhouse gas reduction through technological development and change of electric power operation method
10,000 tons corresponds to the amount of electricity that can be used by about 7,600 households in Seoul for one year based on the 2019 Seoul electricity consumption statistics.
■ Metaverse introduces 'how to practice in daily life' that can reduce carbon emissions through AI-based multi-use cup return machines
SKT introduces ICT services that can reduce carbon emissions in daily life, such as ▲Metaverse ▲Multi-use cup circulation system ▲Optimal route navigation, and provides an experience moving toward a low-carbon society.
SKT introduces the metaverse service 'ifland' as one of the measures to move toward a low-carbon society. 'Ifland' is a metaverse service that anyone can use easily and conveniently. It helps to easily replace carbon-generating offline activities such as meetings, presentations, and business trips in the virtual world.
'Ifland' provides various virtual spaces such as conference halls, outdoor stages, and rooftops, and has built an efficient communication environment such as sharing documents (PDF) and videos (MP4) within the virtual space. 130 people can connect at the same time, so there is no problem with large-scale events.
In fact, 'Ifland' moves various offline activities from conferences such as the D-100 commemoration event of the Ministry of Foreign Affairs' Seoul UN Peacekeeping Ministerial Meeting to entertainment featuring performances of K-pop stars to the virtual world, providing users with an eco-friendly and unique experience. are doing
SKT will also introduce the 'Happy Habit' program to spread the culture of using disposable cups to reduce plastic waste caused by the use of disposable cups. 'Happy Habit' operates by returning the cups to an ICT-based unmanned return machine that collects designated multi-use cups with vision AI technology when coffee shops provide drinks through multi-use cups. Returned cups are recycled through a process such as disinfection, washing, and sterilization through a specialized company.
SKT is conducting a 'Happy Habit' pilot project at about 20 coffee shops in Jung-gu and Jongno-gu, Seoul, where there are many floating populations. Through this, it is expected to reduce the use of more than 1.2 million disposable cups in three months. SKT is also implementing a full-scale business such as applying multi-use cups to all Starbucks stores in Jeju, and it is expected to reduce the use of about 630,000 disposable plastic cups per year.
As one of the carbon reduction measures, the driving habits of the comprehensive mobility platform 'Tmap' will also be exhibited. The driving habits service is provided by converting the safety driving level of drivers into points by analyzing driving data such as speeding, rapid acceleration, and rapid deceleration. By linking the converted score with economic benefits such as insurance premium discounts, it induces safe and eco-friendly driving.
Greenhouse gas emissions reduced by TMAP's real-time traffic information-based minimum time route guidance and reduced fuel consumption due to driving habits are to be increased to 1.22 million tons in 2020, 1.56 million tons in 2025, and 2.62 million tons in 2030. goal
SKT said, "At this CES, we plan to introduce innovative services that can reduce carbon emissions in our daily lives along with cutting-edge technologies that can lead the green ICT revolution. said.
SK Telecom 'CES 2022' Exhibition Item List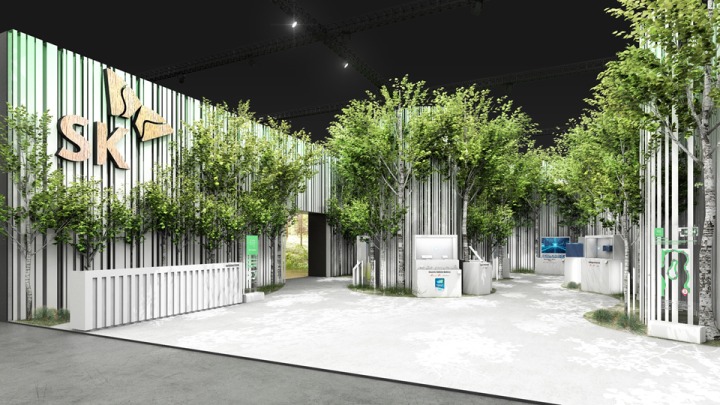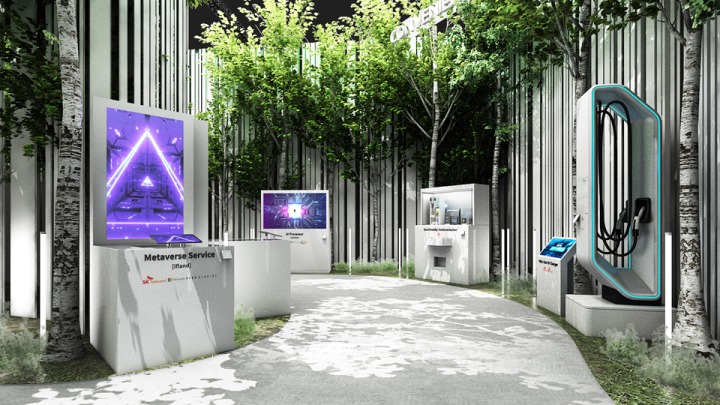 Bird's eye view of SK Group's exhibition booth at 'CES 2022'
Reference-bbs.ruliweb.com