[기사 본문]
The new year 2022 has dawned. It seems like yesterday that I had vague hopes that the Corona 19 situation would end around 2022, but it seems like it was only yesterday that Corona 19 is still on the rise. The fortunate thing is that many game developers are providing deep comfort to gamers by showing how they have adapted to the post-coronavirus by recovering the tempo, actively developing games, and planning and conducting online events.
According to the 2021 Republic of Korea Game White Paper, the overall game usage rate in 2019, before the corona crisis, was 65.7%, but in 2021, when the pandemic reached its peak, it rose by 4.6% to 71.3%. 47.1% of the respondents answered that there was a change in game use time after Corona 19, while only 7.2% answered that it decreased. As for the usage rate of game users by game field, mobile games were 90.9%, PC games were 57.6%, console games were 21%, and arcade games were 9.8%, confirming that mobile platforms still dominate.
2021 Republic of Korea Game White Paper
Considering this situation, if you look at the expected online and mobile games scheduled to be released in 2022, you can see that a new wind is blowing in the domestic game market. Unlike last year, when mobile game development was dominant, this year there are many games released on PC and consoles such as DNF Duel, Project D, Kart Rider Drift, Goblin, and Distera. increase is noticeable. Below is the year to be released The on-mobile games are arranged in alphabetical order.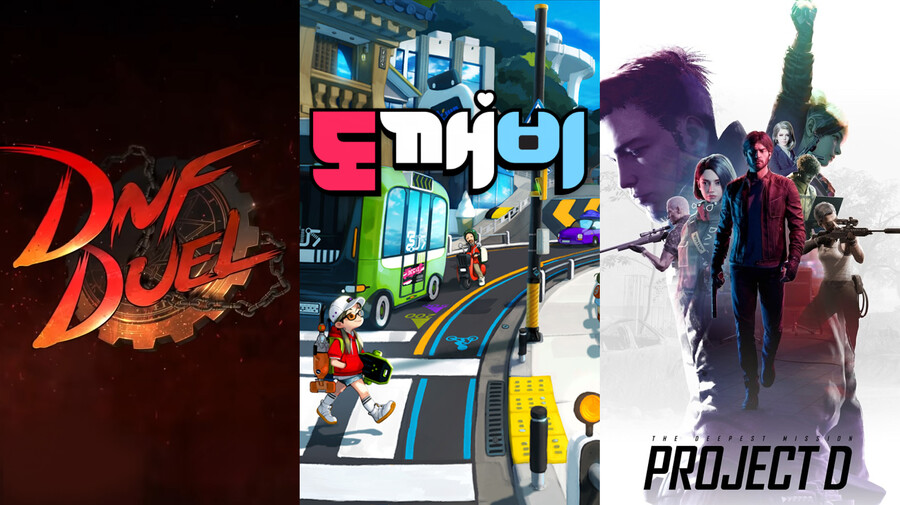 This year, the challenge for PC and console platforms, not mobile, stands out.
god's order [모바일]
Scheduled to be released within the year
A new mobile side-scrolling action RPG from Road Complete, famous for its mobile game Crusader Quest. It depicts the adventures of a group of protagonists who set out in search of prophecies sent from the future to save the world, and features the developer's unique 2D dot graphics and action based on manual operation.
Nike: goddess of victory [모바일]
Scheduled to be released within the year
A new mobile TPS game from Shift Up, famous for Destiny Child. It is based on a post-apocalyptic worldview in which mankind, who was driven underground by an alien invasion in the distant future, fights with the combat android 'Nike' to regain the earth. You can enjoy cool gun action with 6 types of weapons, including submachine gun, machine gun, sniper rifle, shotgun, assault rifle, and rocket launcher. It is a rare vertical screen game, and it features natural and colorful character movements using Live2D development technology to the fullest.
Origin of the Age of Discovery [PC, 모바일]
Scheduled to be released within the year
An MMORPG based on the classic classic trading game 'The Age of Sailing'. It is a remake of 'Age of Discovery 2', which is considered to be the best work in the series. The original protagonist for each culture in the world, which is not in the original, will be added.
DNF Dual [PC, 콘솔]
Released within this year (3rd quarter)
A fighting action game developed by Neople of 'Dunpa', Arc System Works of 'Guilty Gear', and Eighting of 'Bloody Lore'. Dunpa characters such as fighter, swordsman, and gunner have been reborn with attractive 3D graphics and cool directing, and a system that reinterprets the original battlefield is added to show a new type of fighting action.
Dunpa Mobile [모바일]
Released within the year (1st quarter)
Mobile MORPG focused on porting the original 'Dungeon & Fighter'. Since it implemented a relatively early build, it is characterized by being able to enjoy the friendly graphics and BGM of that time. It faithfully embodies the feeling of the original by consuming fatigue and challenging dungeons and performing real-time PvP in the arena.
Goblin [PC, 콘솔, 모바일]
Scheduled to be released within the year
An open world action adventure featuring unique visuals and animations that reflect Korean culture. Set in the near future where AI has developed, it deals with the journey to find a goblin to fulfill dreams and wishes. You can enjoy real-time action-based battles by exploring the open world in search of goblins, collecting and nurturing goblins. Based on Korean folk tales, you can meet various Korean-style goblin, such as starfish and Dokkaebi.
dystera [PC]
Released within the year (first half)
Humanity, which has developed dazzlingly with the discovery of the revolutionary energy mineral, terracite, will be destroyed by a sudden disaster. A post-apocalyptic survival game in which you must secure survival resources and survive in a lawless world in order to survive. Find food to satisfy hunger, build bases to secure safety, and craft weapons. In order to survive, the survival competition unfolds between the survivors. What is unusual is that fatal natural disasters occur periodically.
Diablo Immortal [모바일]
Released within the year (first half)
A mobile game of 'Diablo', the essence of hack and slash action RPG. It provides PvE that explores dungeons by difficulty and farms items to grow characters, as well as PvP and RvR content where competition between users is the key. While reinterpreting the battle system and charging policy to suit the characteristics of the mobile platform, we tried to preserve the unique feeling of farming and action in the series, such as avoiding automatic battles.
Mabinogi Mobile [모바일]
Scheduled to be released within the year
MMORPG Mabinogi is coming to mobile. Since the release has been quietly delayed at the end of 2019, there has been no news, and fans have been mourning. It features various fantasy contents such as dialogue, life, and battle under the theme of 'Fantasy Life'.
Seven Knights Revolution [모바일]
Scheduled to be released within the year
An open world mobile MMORPG that deals with the story of a Knights Templar established to save the world of chaos after the Seven Knights' heroes disappeared. Players can directly transform into a Seven Knights hero with a card containing the power of the Seven Knights hero, or enjoy various actions through the transformation system that allows only partial transformation of weapons.
outer plane [모바일]
Scheduled to be released within the year
A turn-based RPG mobile game in the subculture genre set in another world fantasy world. Characters expressed through 3D cartoon rendering and animation style stories appeal to subculture users. It is also a new work by Hyun Moon-soo PD, who is known to have created Closers.
undecember [PC, 모바일]
January 13
Hack and Slash Quarter View Action RPG. A game where you can feel the fun of raising a character through battle and farming, centering on the story of a rune hunter who tries to stop the resurrection of the thirteenth existence, Serfence. It is characterized by being able to develop characters without class restrictions by combining the collected equipment and runes.
Ever Soul [모바일]
Released within the year (second half)
A mobile collectible RPG that emphasizes the fun of interacting with characters by adding romance simulation to the basic elements of a collectible game. Players go on adventures by collecting and nurturing spirits with different charms, and they can enjoy various contents such as story dungeons and estate management systems using cute SD characters.
Uma Musume Pretty Derby [모바일]
Scheduled to be released within the year
A collection-type RPG based on fostering simulation that features a beautiful girl character who inherited the name of a racehorse that was actually active in Japan and runs a race. It catches the attention of subculture maniacs with its outstanding 3D graphic beautiful girl character, thrilling race, and highly immersive nurturing.
Wanderers: The Arena [PC, 모바일]
Scheduled to be released within the year
An action-adventure game set in a fairy tale world. You will explore a rogue-like dungeon where various elements such as weapons and puzzles are mixed and combined in tens of thousands of ways, and you can enjoy multiplayer content such as boss battles and 4v4 battle royale battles.
kart rider drift [PC, 콘솔]
Scheduled to be released within the year
A sequel to the casual racing 'Kart Rider' that implements the original system as closely as possible while improving graphics and convenience. It supports multi-platform such as PC and console, and provides an environment where users around the world can enjoy together with global one-build.
Kurtzpel [PC]
Scheduled to be released within the year
A 3D fighting action game developed and serviced by KOG, famous for its Grand Chase. The domestic service is handled by Nexon. Charming characters that share the world view with Grand Chase to some extent, spectacular action that crosses the ground and air, and a free combo system are characteristic. The key is how far the global build will be refined for domestic service.
Tales Weaver: Second Run [모바일]
Scheduled to be released within the year
A mobile MMORPG in development based on Tales Weaver. It is characterized by restoring the missing episodes 1 and 2 and maintaining the original storytelling method. The graphics have been improved so as to introduce 3D effects but not interfere with the 2D feel of the original, and BGM, one of the strengths of the series, is also revived so that you can enjoy a variety of famous songs in the game.
final fantasy 7 ever crysis [모바일]
Scheduled to be released within the year
A mobile action RPG with a remake of Final Fantasy 7 and a system change for mobile. Players can select and play a chapter themselves, and the battle method is reminiscent of the original ATB system, and it is characterized by being able to enjoy it in a form close to the original version of Final Fantasy 7. The availability of Korean language support has not been decided.
project D [PC]
Scheduled to be released within the year
A 5-on-5 team battle-based TPS game presented by Nexon. It is a team shooter based on the agent's characteristics and team combination. Various elements familiar to gun shooter game enthusiasts such as character building with different abilities for each agent and a strategic purchase system in which guns and parts upgrades must be purchased with money given every round are gathered in one place. It is an attractive game in that it can be played with a high level of strategy that can solve the game in a variety of ways.
Project ER [PC, 모바일]
Scheduled to be released within the year
Little is known about the game from Project ER. It is an MMORPG that focuses on large-scale, real-time, 24-hour battles based on siege warfare, and is scheduled to be serviced on PC and mobile platforms. It is being developed under the keywords of siege warfare, popularization of siege warfare, that more players can enjoy as end content.
white day 2 [PC, 콘솔, 모바일]
Scheduled to be released within the year
White Day 2 is also very little known about the game. Let's look forward to developing a game that will provide new experiences and surprises to users who have been waiting for the official sequel to White Day.
hit 2 [PC, 모바일]
Scheduled to be released within the year
Hit 2 is also very little known about the game. As a new MMORPG using HIT, it supports cross-platform optimized for PC and mobile, and has announced that it will provide large-scale battles and interaction between users that can be enjoyed in the fantasy world.
Reference-bbs.ruliweb.com