A leading brand in the global consumer notebook and gaming notebook market ASUS(asus, https://www.asus.com/kr)A high-performance laptop for creators 5official release of the species, We hold an event that provides discount coupons to customers who have purchased from the open market..
New laptops released today ▲ Bi-vo book 13 slate YOU ARE, ▲Pro Art Studio Book Pro 16 OLED, ▲Zenbook Flip 14 OLED, ▲Zenbook Pro Duo 15 OLED, ▲Zenbook Pro 15 OLED gun 5it is paper.
ASUSof YOU ARE the laptop 100% DCI-P3of vivid color expression and high color reproducibility.. harmful blue light 70% Reduces eye protection, 1,000,000big 1express vivid black color with the contrast ratio of. LCD Average versus display 50twice as fast 0.2msprovides a response speed of, It is characterized by enhanced fine details without delay or blur.. especially adobe photoshop, In addition to photo and video editing work such as premiere, cad, 3D Optimized for high-end creative work such as modeling. Also, YOU ARE burn-in on the screen(burn-in) to prevent the phenomenon 5The default screen dims when not in use for more than a minute YOU ARE screen protection system 200neat(nits) in brightness 7000time guarantee, etc..
Bibo book 13 slate YOU AREis about 785glight weight and 8.2mmExcellent portability due to the thin thickness of 13inch 2-in-1 laptop. 13.3inch wide YOU ARE Dolby Vision touch screen, 16:9 It is suitable for creators who mainly edit photos and videos because it is possible to work with multimedia in a wide screen ratio.. YOU ARE the display 100% DCI-P3and high contrast ratio to realize vivid colors 0.2msOf course, the fast reaction speed of, LCD Display Contrast Max 70% Low blue light provides eye protection. 4,096 Digital writing with a pen pressure level stylus as a standard component, Various creative works such as digital drawing are possible. The official price offered is 599,000start with circle.
pro art studio book pro 16 OLEDIs 16inch wide working screen YOU ARE It is an ultra-high-end laptop optimized for creators with a built-in display.. Latest Intel Xeon(Xeon) W-Series processors and up to Nvidia RTX A5000 Enterprise GPU and 16GB GDDR6 VRAMEquipped with high performance. Thunderbolt4, USB Type-C, HDMI, SD Express Expanded connectivity with various ports such as cards. ASUS dial (ASUS Dial)is a function that increases work productivity through user-customized settings., adobe photoshop, Premier, It can be used in conjunction with various creative software such as Lightroom., Zoom via rotary dial, brightness, Contrast can be easily adjusted. Designed with a stylus pen as a standard component, Increases productivity when editing photos and videos. the official price 5,299,000start with circle.
zenbook flip 14 OLEDIs 360Tablet in a rotatable convertible form factorPC, Can be used for various purposes such as laptops 14inch laptop. approximately 1.4kglight weight and 15.9mmExcellent portability due to the thin thickness of. latest intel 11generation core i7 processor and max 16GB Memory, 1TB PCIe 4.0×4 NVMe SSDto mount, Thunderbolt4, USB Type-C, HDMI supports ports, etc.. 4,096 Digital writing with a pen pressure level stylus as a standard component, Various creative works such as digital drawing are possible. the official price 1,499,000start with circle.
zenbook pro duo 15 OLEDis equipped with ScreenPad Plus for efficient workflow and multitasking performance. 15inch laptop. Approx. compared to the previous model 100g lightened 2.4kgenhanced portability with a smaller thickness and weight of. ScreenPad Plus has an ergonomic design for greater convenience and, approximately 400neat(nits)Brightness prevents screen reflections and enhances the touchscreen experience. the main display 4K OLEDto 3840×2160 resolution and 0.2mssupport fast response speed of. Max Intel Cores i9 10980HK Processor and Nvidia GeForce RTX 30 Equipped with series graphics chipset, it boasts high performance. the official price 4,499,000start with circle.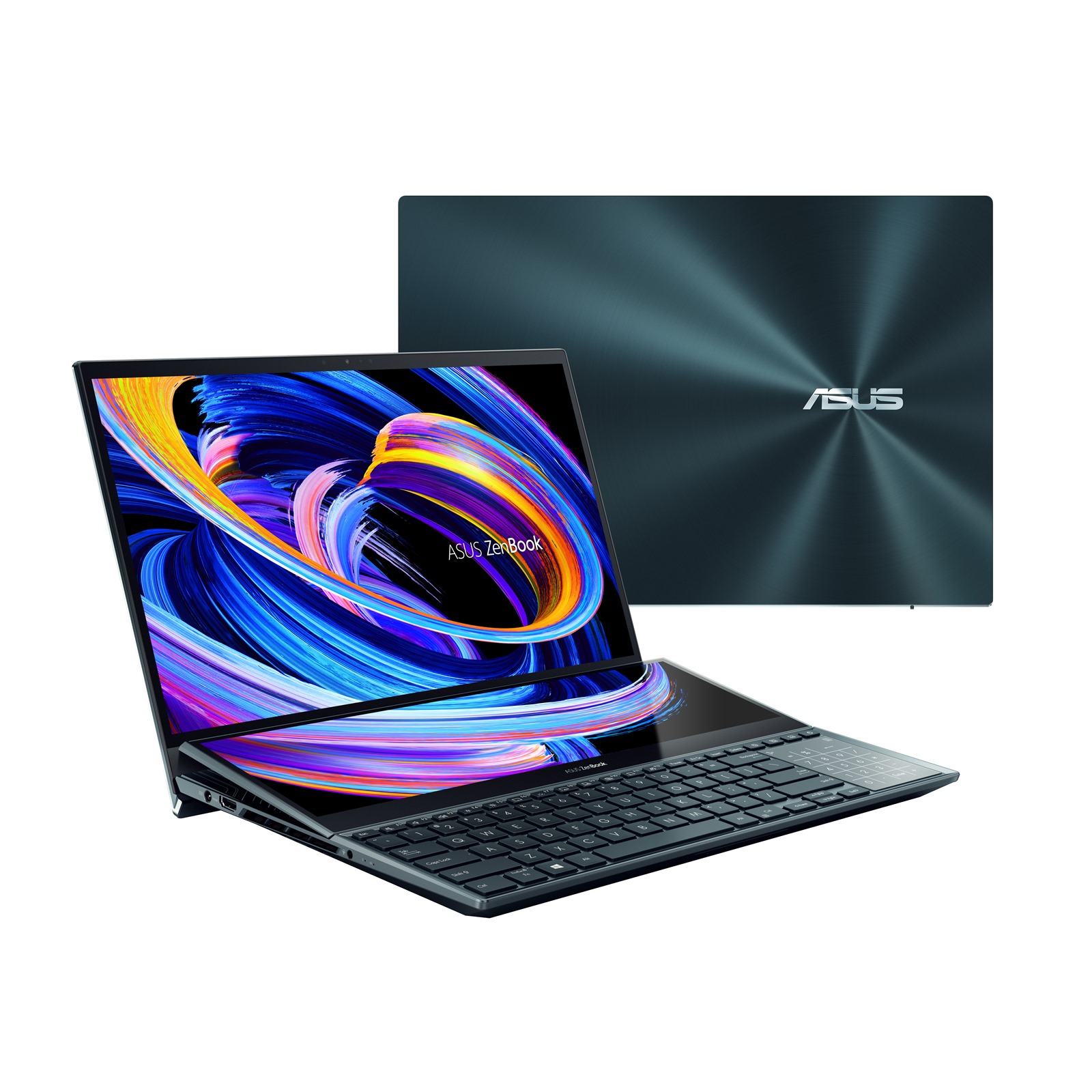 zenbook pro 15 OLEDIs 15.6On the wide screen of the inch about 1.8kgIt combines the light weight and high performance of. the display 100% DCI-P3 color gamut 178wide viewing angle panel OLED 4K UHD Realize vivid picture quality with nano-edge touch screen. recent AMD Ryzen 5000 H-series processors and up to 32GB Memory, 1TB Pcle 3.0 NVMe SSDEquipped with high performance. USB Type-C, HDMI, SD Various ports such as cards are installed to enhance connectivity., An efficient cooling system provides a comfortable environment for long hours of work.. the official price 1,199,000start with circle.
ASUSis a new product YOU ARE To commemorate the official launch of the laptop, an event will be held for customers who purchase it.. Gmarket, Auction, 11avenue, Bivobook in Coupang 13 slate YOU ARE new products including models 5To all customers who have purchased the bell 5% Offer discount coupons. More details about the event can be found on the promotion page.. Also, When purchasing an event target model Adobe Creative Cloud free subscription(1months or 3month)can receive, for desktop and mobile platforms 20More than one creative application is available.
Meanwhile, For more information about the new laptop ASUS official home pagecan be found in.
Article report and press release: [email protected]
Reference-ongam.tistory.com