[기사 본문]
– 2022 WCK Preseason Invitational Winner
– 3-0 victory over Rolster Y, who had a winning streak of 20 sets
– Reach the top through strategic reinforcement, such as recruiting 'BDG' Dong-Young Kim
T1 defeated Rolster Y 3-0 and ascended to the 2022 Wild Rift Champions Korea Pre-Season Invitational throne.
Riot Games, which hosted the 2022 Wild Rift Champions Korea (WCK) Preseason Invitational, an e-sports competition for the mobile game 'League of Legends: Wild Rift' using League of Legends IP, T1 defeated Rolster Y 3 in the final. Defeated 0-0 and became the new winner.
The 2022 WCK Pre-Season Invitational, which started on December 27, 2021, held the final at V Space located in Dongdaemun, Seoul on January 2, and, contrary to everyone's expectations, T1 defeated Rolster Y 3-0 to win the championship. .
As Rolster Y, who won the 2021 WCK regular season without losing a single set, advanced to the finals, most officials expected Rolster Y to win the championship twice in a row. This is because Rolster Y was evaluated as having no competitor in Korea without giving up a single set in the quarterfinals and quarterfinals of this tournament.
T1, who reached the finals, proved with their skills that the predictions of experts and officials were completely wrong. In the first set, T1, who won as the jungler 'JY' Jun's Graves showed destructive power to dominate the battlefield, took a 2-0 lead in the second set with meticulous management ability to take most of the Dragon and Baron Nashor. .
T1, which continued a breathtaking confrontation to the point of not getting a kill for 10 minutes in the 3rd set, won the battle in the Elder Dragon area in the 20th minute, defeating Rolster Y 3-0 and was named the new winner. raised
Rolster Y, who had maintained a record of winning 20 sets in a row, broke the record in the first set of the final, and ultimately lost in the final, stopping their winning streak of 10 games.
T1 was shrouded in the shadows of Rolster Y at this pre-season Invitational, but was emerging as a hidden power. After completing WCK in 2021, T1, which recruited long-distance dealer Dong-Young 'BDG' Kim, reorganized itself, defeated both Professional and Reeve Sandbox 2-0 in Group B of the quarterfinals, taking first place in the semi-final playoffs. entered into T1, which raised momentum by winning the playoff 3-1 against Afreeca Freecs on January 1st, has emerged as an emerging powerhouse by catching Rolster Y, which has been evaluated as having no rival in Korea.
As T1 put the brakes on Rolster Y's undefeated streak, a rivalry was formed in Korea's Wild Rift esports. T1 is a professional game team created jointly by SK Telecom and Comcast, and Rolster Y is a wild lift team run by KT, so the matchup between mobile carriers was naturally created. Both teams have been rivals since the early days of e-sports, and they shared championships in League of Legends and Wild Rift, raising expectations for the next tournament.
T1, who won the championship, was given 15 million won in prize money, 2nd place Rolster Y was given 10 million won, 3rd place Afreeca Freecs was given 8 million won, and 4th place Liv Sandbox was given 5 million won each.
T1, who won the 2022 WCK Preseason Invitational.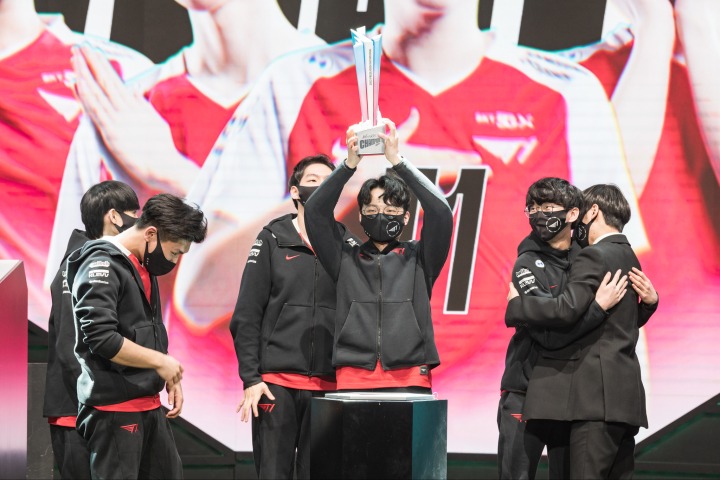 Winning the 2022 WCK Preseason Invitational
T1's mid laner 'Core' Yong-Hoon Jung lifts the trophy.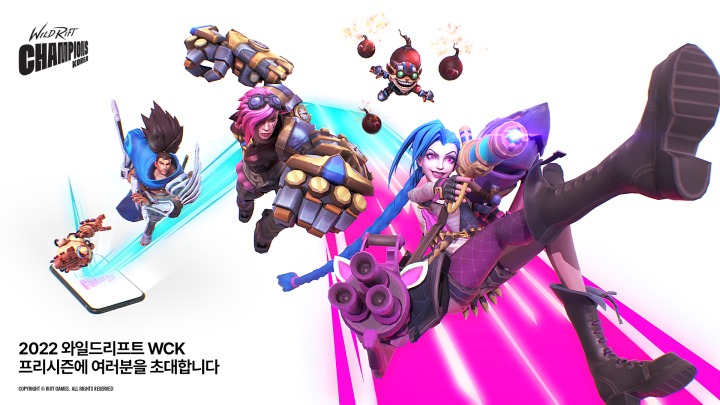 Representative image of the 2022 WCK Preseason Invitational.
Reference-bbs.ruliweb.com