[기사 본문]
– Innovative in-ear monitor earphones that deliver sustainability, versatility and a unique experience
– 20% discount event to commemorate the launch from December 31st to January 9th
▲ [Effect Audio] Premium in-ear monitor earphone 'AXIOM' (Photo Credit=Scheherazad)
Sorishop (CEO Choi Kwan-sik, schezade.co.kr), which specializes in importing premium earphones/headphones and audio, launched Effect Audio's premium in-ear monitor earphone 'AXIOM' on the 31st. released. Effect Audio is a cable manufacturer in Singapore that produces cables using various materials with expertise and technology. Through collaboration with various CIEM manufacturers such as Vision Ears and Empire Ears, It has been receiving favorable reviews for its high-quality and sound-quality cables made through precise tuning and inspection, such as announcing new models.
Effect Audio's first premium in-ear monitor earphone 'AXIOM' is a hybrid model consisting of one 12mm magnesium alloy dynamic driver for bass and midrange and two balanced armature drivers for treble. It delivers a neutral sound. In addition, 'Axium' is equipped with a module replacement system, so it can respond to both mmcx and 2pin terminal cables, so you can enjoy a different sound depending on the cable you use through various table matching.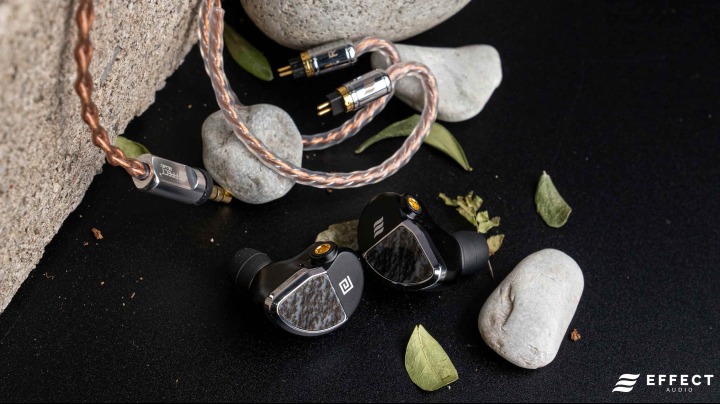 ▲ [Effect Audio] Premium in-ear monitor earphone 'AXIOM' (Photo Credit=Scheherazad)
'Axium' is a product made with sustainability in mind so as to focus on reducing the burden on the environment, such as making a shell out of aluminum to make the product long-lasting, composing a package with eco-friendly elements, and minimizing components. The oriental design package of 'Axiom', inspired by ink paintings, is reminiscent of sound waves and offers a differentiated sensual experience that satisfies the listeners' five senses as you can feel the subtle fragrance when the product is opened. In addition, the package was created with attention to detail enough to include a beautiful design story card created in collaboration with famous Singaporean artists Soph O and SKLo.
'Axium' is designed based on extensive ergonomic research and is designed to provide a comfortable fit for a long period of time so that you can fully immerse yourself in music. We provide our own custom cable 'Maestro' with A Sorishop official said, "It's the first time I've felt many philosophies, possibilities, and emotions in one product."
To commemorate the launch of 'Axiom', Sori Shop is holding a 20% discount event for customers who purchase from December 31 (Fri) to January 9 (Sun). The launch price of the product is 2.28 million won, and after the launch promotion ends, you can purchase it at a 10% discount through the Sheerazad membership benefits. Product-related inquiries are made through the official source of income, Sorishop, and purchases and hearings are possible at Sheerazad, a premium listening shop located in Cheongdam, Seoul.
Reference-bbs.ruliweb.com