Is Escape from Tarkov going to be any rounder soon? The performance, along with netcode, is still one of the biggest points of criticism among gamers. Fluctuating frame rates despite powerful PCs are not uncommon in an early access game, but hardly anyone would complain about more FPS.
Battlestate Games developer and graphics card maker Nvidia now announced the imminent implementation of DLSS on, the RTX-exclusive upscaling technology, which brings significantly increased FPS rates in a number of current games – with image quality that is often constant or almost indistinguishable from native rendering.
So the hope of gamers is revived that the successful hardcore shooter will soon run really smoothly. When exactly the DLSS feature will appear has not yet been communicated. But it is supposed to, according to Battlestate Games bald be ready. Here you can see the new trailer for the DLSS announcement for Escape from Tarkov: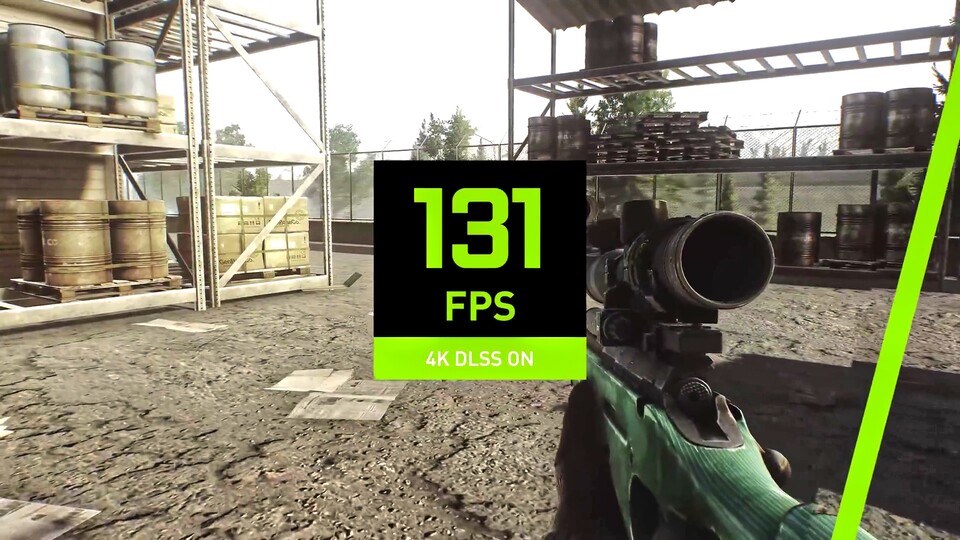 0:51



Escape From Tarkov promises a big performance boost in the trailer with DLSS
Why this is good news
The AI-supported upscaling technology DLSS uses the tensor cores of Nvidia's RTX graphics cards. Owners of Nvidia graphics cards from the 2000 or 3000 series will soon be able to activate DLSS in Escape from Tarkov and benefit from increased frame rates.
And many players have been longing for this for a long time: The Unity game with its huge maps, numerous dynamic interactions and a high level of detail has been struggling with changeable frame rates since the early access release. Developer Battlestate Games works and communicates tirelessly, but they couldn't quite get the technical problems under control.
A powerful FPS boost thanks to DLSS could be just the thing. Social media gamers are hopeful that the nerve-racking performance factor in the not-so-calming Escape from Tarkov could soon be a thing of the past.
The game has been steadily nearing completion for years. Most recently, Lighthouse was the eighth of the planned twelve maps, which caused a huge influx of players:
Escape from Tarkov
New player records – with consequences
What is still missing technically
Escape from Tarkov is growing and growing in popularity, which was shown again with the release of the new map. Shortly thereafter, Battlestate Games had to set up server queues to control player influx. So improvements to the server infrastructure are urgently needed in Tarkov.
In addition, the first-person shooter has been struggling with netcode problems since its early access release, which can sometimes manifest itself in lags and rubber banding, sometimes in inaccurate hit detection. Here, too, there is still a lack of technical rework. Some of this can probably only be completed when the game is complete one day and version 1.0 appears. In our last interview with the Tarkov developers you can read our forecast.
What do you think of the upcoming innovation in Tarkov? Are you looking forward to DLSS? Then what do you think is still missing? Write to us in the comments!


Reference-www.gamestar.de