[기사 본문]
Nexon on the 6th, At the MapleStory Destiny Showcase held in December, we held an event called 'Destiny Live Talk' to tell the stories that were not covered yet, and to communicate with users in real time by collecting the stories mentioned after the showcase. Caster Sung Seung-heon took charge of the host, and general director Kang Won-ki and planning team leader Kim Chang-seop explained the main contents.
Destiny Live Talk was held on December 23rd. MapleStory Destiny Showcaseevent to supplement past MapleStory Destiny Showcase is the theme of future game updates and improvement directions. It was a recorded broadcast of about an hour, but it was pointed out that the event time was short, so the update explanation was insufficient, and communication with users was not properly due to the nature of the recorded broadcast. Part 2 was prepared to add additional explanations and communicate with users in real time.
Below is a compilation of key questions and answers from the event. For more information, visit MapleStory's official YouTube channel.MapleStory Destiny Live Talk' You can see it in the video.
● The announcement of the Destiny Showcase held on December 23rd was short. Why?
Gangwon-do: In fact, the recording itself took about 15 hours. I made it into a one hour, 57 minute video to be exact. I thought it would be too boring if it went over an hour, so I put an order in the development room to edit it within an hour to make an interesting and immersive video within an hour.
Gangwon-do: Looking back, it seems that I was greedy. There were many parts that were omitted, so it seems that there were many parts that the warriors couldn't understand. This time, I will try my best to be able to tell the story I want to tell until the end.
● Adventurer remaster and balance patch are quite late. And it's very unfortunate that the timing doesn't match with Tera Burning.
Changseop Kim: The update of MapleStory is usually carried out by adding events as the primary update, and as a secondary update with new content. I thought the adventurer remaster and balance patch were new content and assigned it to the second update, but it seems like I made a mistake. In particular, I don't think you would have been convinced that we would get better like this and that we could meet in a month instead of right away. I would like to take this opportunity to apologize once again.
Gangwon-do: Although it was not planned, we will provide one terra burning boost that can be used by all professions during the adventurer remaster. We will prepare additional events such as training support events for new adventurers as well as cosmetic rewards for all adventurers so that you can enjoy the game.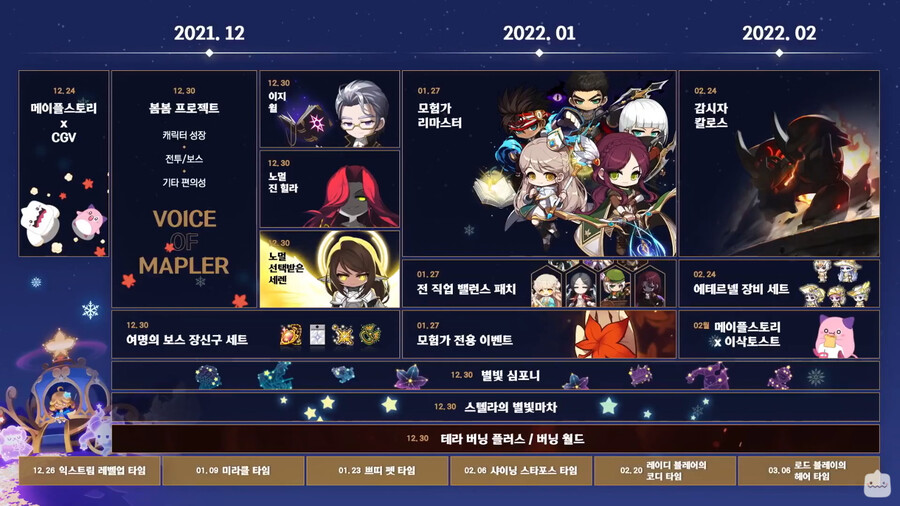 ● I thought it was new content, but since the adventurer remaster is literally an update for the adventurer group, there are many users who do not care about it as new content. What was the intention, wouldn't it be better to add a new job?
Changseop Kim: This adventurer remaster is an update to improve the job structure that does not match the recent combat experience. In terms of a new job, it is a job that takes about 5 resources, but rather, paying about 2 new jobs is the right choice in terms of resources.
Changseop Kim: However, we heard a question about whether people who are already enjoying the game are having a pleasant experience as we intended. I know the old job experience is not good, but is it really the right choice to keep building up new jobs? Rather, I felt it was essential to improve the current experience. So, as a starting point, I chose the adventurer's remaster, the most iconic and oldest profession in MapleStory. Work to improve the play experience of existing jobs will continue in the future.
Gangwon-do: After the adventurer, we are preparing to proceed with the Cygnus Knights remaster.
● Balance patch standards?
Changseop Kim: MapleStory's characters are largely divided into three experiences: hunting, boss, and utility. There are currently 45 playable characters, with each of them providing their own unique experience as an important criterion. Although MapleStory is not a PvP game, I don't think there should be a big difference in performance versus cost for each class. I think that the standard of a character is to be able to provide the same enjoyment while differentiated in the experiential part.
Changseop Kim: The balance patch proceeds by looking at the numerical part. For example, the average number of hunts per minute over 260 Lv in the last month, boss solo clear time, etc. I didn't write the job title in the data, but if you're a warrior who's been playing the game for a long time, you might be able to recognize it.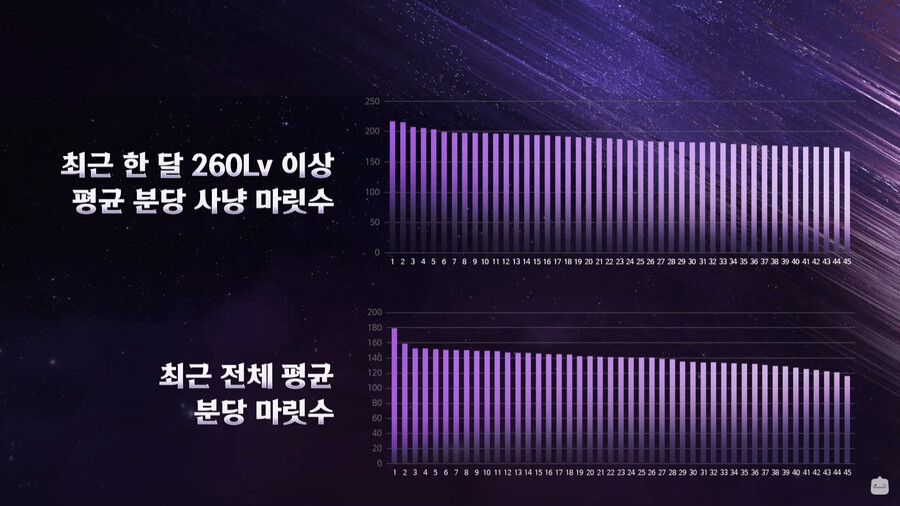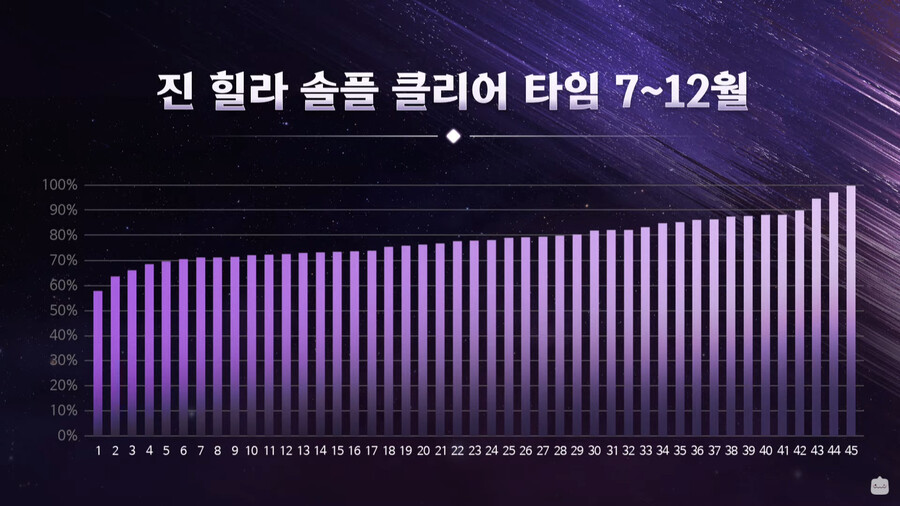 ● Please share the direction of the balance patch.
Changseop Kim: If there is a direction that is likely to be maintained for a while at this point, it is to improve the area of ​​discomfort. We plan to avoid patches that worsen the existing play experience as much as possible and proceed with an upward leveling update that preserves the characteristics of each job. After the remaster, I hope to be able to confidently say to the warriors, "This is the characteristic of this job." I'm trying to do well, so I'd appreciate it if you could watch it.
Changseop Kim: Especially now, there are a lot of inconvenient utility features that are hard to argue with as a characteristic of each character. Typical examples are bind, stance, and upper point. I think we need some leveling of these things so that all jobs can have them. Characters who already have skills will be replaced with other good skills (such as Mikhail's Stance Link skill effect). In addition We are also considering an improvement plan to change the on-off method for buff skills that need to be used frequently enough to be always on.
Changseop Kim: The balance patch will be applied along with the Adventurer Remastered to this server on January 27th. The adventurer remastered on January 6th and the balance patch on January 18th will be applied to the test server. If you give feedback during the test period, we will reflect it well.
● I am curious about the improvement plan or direction related to the story.
Gangwon-do: After the last meeting, we had a large-scale recruitment of story-related, and a lot of very talented people, including the writer, who had played MapleStory for a long time and knew all the details that no one would know, gathered together. We are in the process of reconciling, and I think we can promise to speed things up even more with the balance patch.
Changseop Kim: As there are many people who like MapleStory's story, I thought a lot about writing a better quality story. The most important thing seems to be speed and direction of development. Three years have passed since the end of the story of the Black Mage, and among the 12 new apostles and 365 Old Gods, 2 apostles and 1 old god have been revealed. At this rate, I thought that 20 years would not pass.
Changseop Kim: It's late, but from now on, I plan to write the story vertically instead of horizontally. Who are the apostles and who are the Old Gods? I plan to write the story so that the story moves quickly so you can expect something to come out next.
Changseop Kim: A narrative in a game is an experience that is complexly completed. It doesn't just mean that the writing is good, nor does it mean that the visuals are good. I think that everything, such as dialogue, situation, manipulation, sound, and illustration, is comprehensively completed. It is not over just because it has passed once, but we will continue to improve the areas that have passed. We will proceed in parallel with the aforementioned speeding up deployment.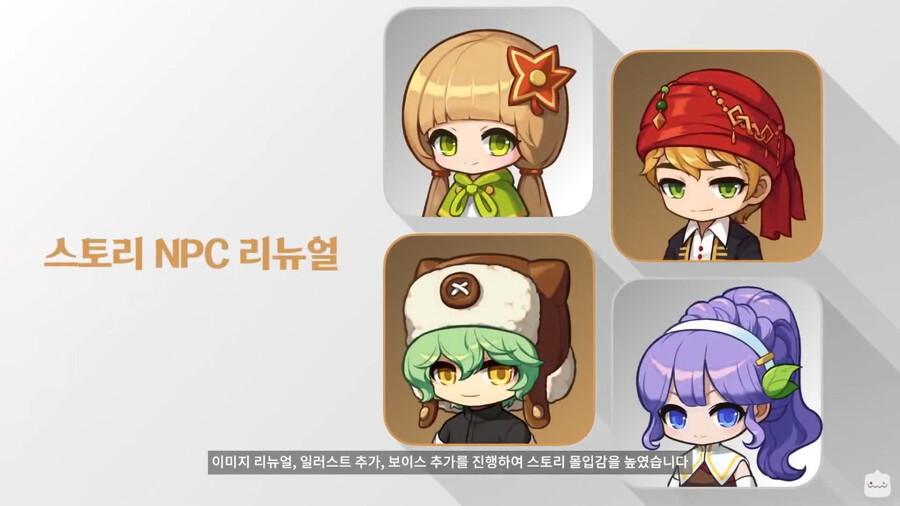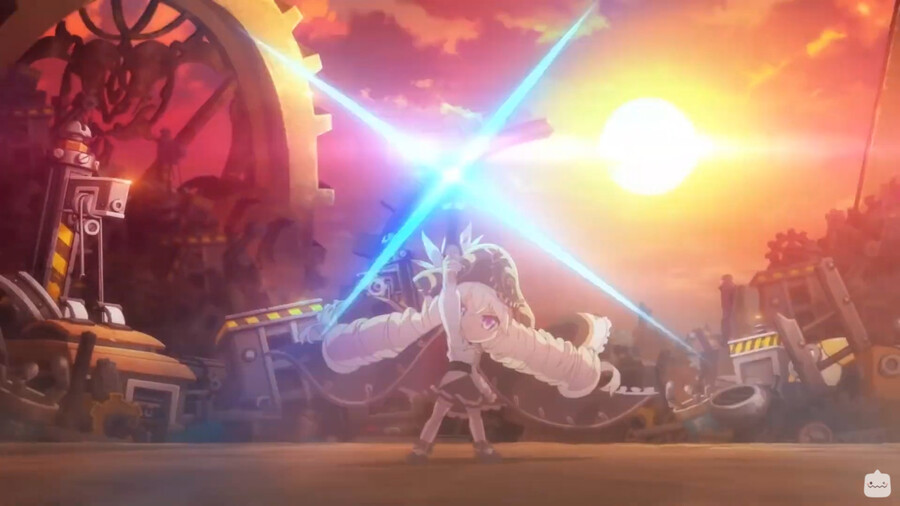 ● Leveling up is difficult, but it is not difficult to follow the story one by one during the growth process. Can't you organize it separately and make it easier to see?
Changseop Kim: In MapleStory, many things are bound to the growth section. The story is a kind of feedback for level growth, and I think it should be progressed in connection with the character's growth. I think this is a characteristic of a game called MapleStory. It seems difficult to make a story above level 270 so that everyone can enjoy it right now. Instead, I will try to provide a proper replay of the story I saw.
● The current Seren Clear is 0.02%, but isn't it too far-fetched to see a boss higher than that? What is the intention of this new boss addition?
Gangwon-do: It can be said that it is an investment for the future. From the moment Seren is cleared, I decided to add Carlos because I thought it would be necessary to add the final goal of the next stage. If you try to add a lot of users (to the final content), it will be late. We are drawing the big picture by expanding the content in advance and accelerating the existing content a little so that the latecomers can enter after the advance team enters.
● On what basis is the boss difficulty segmentation done? There seems to be insufficient explanation as to why this boss is added to this section at this time.
Changseop Kim: In this regard, it is necessary to explain the decrease rate of the number of boss kills. For example, for one month from September to October, 21, Normal Lucid was caught 64.7% less than Easy Lucid in Scania Server. So, I added Easy Will in the interval. Since Lucid and Will are bosses together, I thought that the order was to catch Easy Lucid, then Easy Will, then Normal Lucid, and then Normal Will. Normal Jean Hilla and Normal Serenity are for the same reason.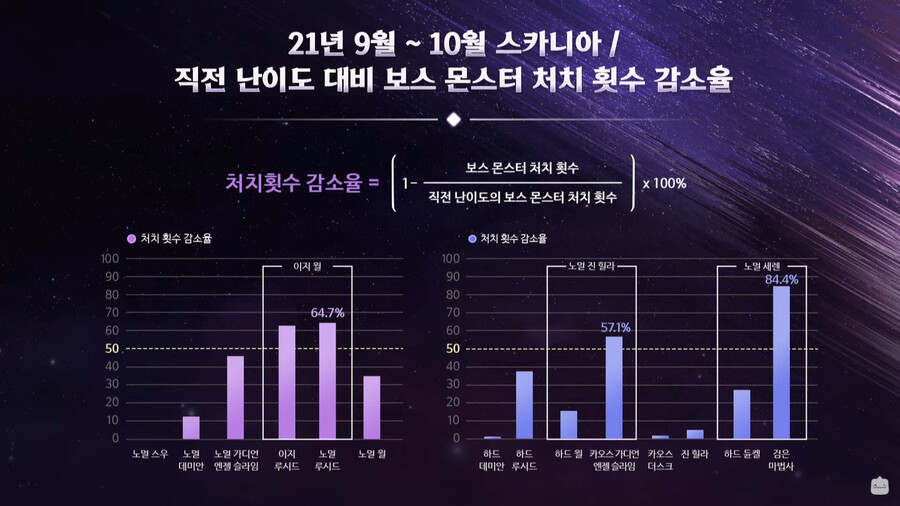 ● I wonder if the boss compensation price adjustment patch such as 'Determination of Intense Power' had any practical effect.
Changseop Kim: In order to provide a reward experience that matches the difficulty, a system in which rewards are adjusted in proportion to the number of times users defeat bosses has been applied since August of this year. It can be seen that meso production is gradually decreasing from the time the crystallite patch was applied in August. As intended, it takes the tapering form well.
● How long will the Karuta boss reward decline continue? I can't even pay the symbol tax.
Gangwon-do: The decision price seems to be looking for a price that is proportional to the difficulty. In the case of Karuta, we expect the decline to begin to decrease as the peak season enters. It is expected that the decline will decrease within this month at the earliest, and that the decline will stop within the first quarter. This is an estimate and is subject to change. I think the upward trend will stop in the first half of the year. In the first half of the year, it is expected that all rewards will find their place.
Gangwon-do: I agree with the opinion that the cost of enhancing the symbol will be borne as the reward goes down. Since this part is not intended to cause difficulties, we plan to significantly lower the cost of strengthening arcane symbols in the Path of Extinction, Chuchu Island, and Leheln. It will be applied at the time of the adventurer remaster.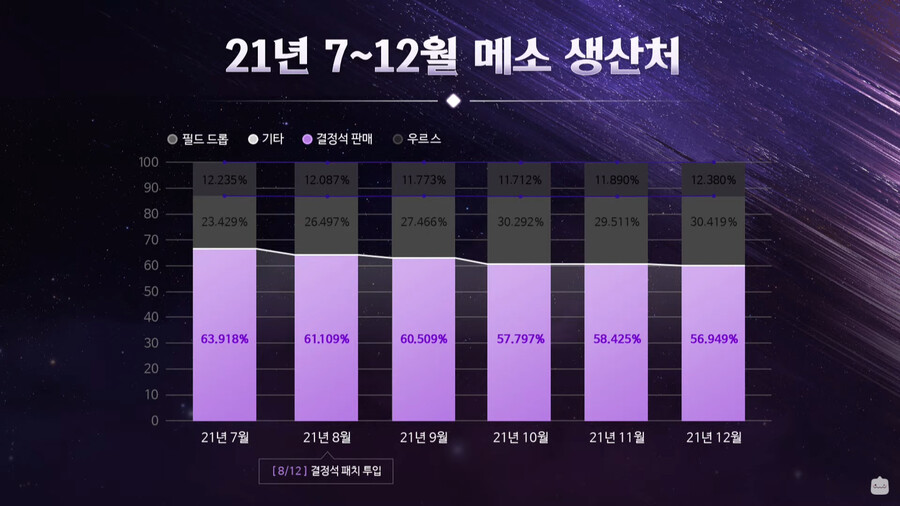 ● In the last showcase, it seems that the explanation of the guide reorganization was insufficient. Please provide detailed explanation.
Changseop Kim: We have added a lot of new areas that can be moved this time. Not only do you not have to use the teleport world map, it is also easier to find hunting grounds. Quest clear experience also increased a lot. Thanks to this, reaching level 200 became very easy.
Changseop Kim: A reward for new warriors has also been added. Although there are performance aspects, sprout items, nameplate rings, and speech bubble rings are also attractive elements that can indicate that you are a beginner. Should I say, "I'm a newb, please help me!" There are so many friendly people who like newbies, so I think beginners might be able to get help more easily.
Changseop Kim: The guide will continue to improve. Even those who are new to MapleStory can easily reach level 200 just by following the tutorial, and the goal is to make it easier to enjoy beyond that.
● Without a separate growth event, there are many factors that beginners find difficult to adapt to. A typical example is the Mastery Book. Are there any plans for improvement in this regard?
Gangwon-do: We will prepare for improvement in the direction of eliminating the Mastery Book. There was an irrational part because it was an element that a specific job was used and a specific job was not.
Changseop Kim: Now, I think Mega Burning should be a universal experience for character growth rather than an eventful benefit experience. It is provided as a regular system rather than an event format, so I think it should be easier for beginners to develop it.
Gangwon-do: Tera Burning is still too early, but it would be good to try the regular acquisition route, such as applying the Mega Burning level to a daily gift.
● As the Burning World reward was transferred to the Stellar Pass, the form of the reward changed and there was a controversy. What do you think about it?
Changseop Kim: What I initially thought is that MapleStory is basically a time-consuming game, and rather than the experience of raising a character for one reward in Burning World, it is acquired with the Stellar Pass, which can be purchased with Maple Points, which can also be obtained as an in-game reward. The intention was to make it possible to give you a better experience.
Changseop Kim: (Even though it was initially 39,800 won due to a misjudgment and changed to 19,800 won) I thought it was competitive in terms of price as well. I thought this was better than raising them in Burning World, but that was my own opinion and misjudgment. In the past, it was possible to choose, but now there seems to be a problem that has been narrowed down to one Stellar Pass. I think I made a lot of mistakes and I want to apologize once again.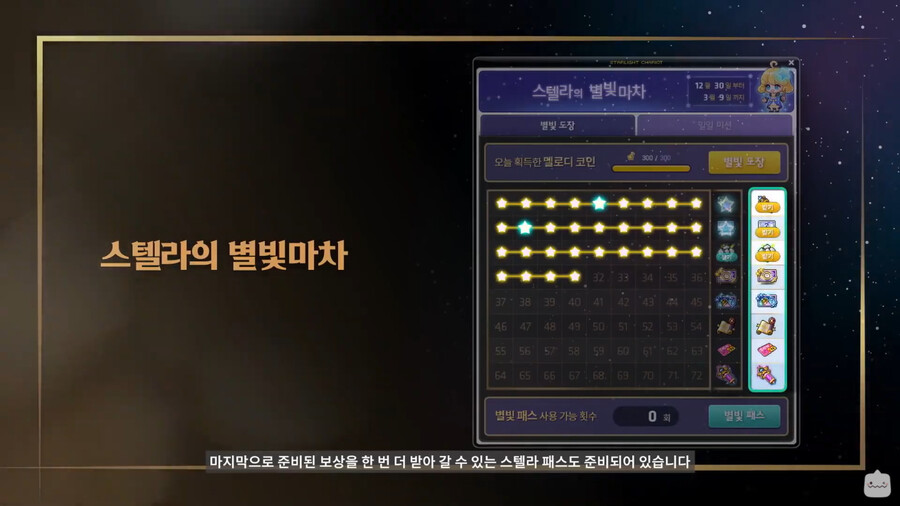 ● The event ring exclusive Legendary Potential Grant Spellbook has been added as non-exchangeable, not exchangeable. I explained that it was an error, but what happened?
Changseop Kim: It's totally my fault. I'm really sorry. I mentioned that we increased the number of manpower a lot, but it was a 'mistake' due to the lack of communication that occurred in the process. I discovered that part only after I moved it to the test server. As the number of people increases, the internal verification system should be better equipped, but there is a big mistake. I'm really sorry. We will build a system as much as possible so that such an issue does not occur again.
● What is it like to say that you are preparing a new attempt for communication and improvement?
Gangwon-do: I plan to open a MapleStory blog next week. On the blog, secret development stories and developer stories that have not been talked about in the past will be posted, and MapleStory's exclusive simple recruitment site will also be opened along with technical stories. Through this, we plan to proceed with a more aggressive large-scale recruitment.
● The probability monitoring system 'Nexon Now' is dissatisfied because there is less data available than expected. What is the improvement plan?
Gangwon-do: As it is still in the early stages, there are few features, but it seems that there are a lot of parts that did not live up to expectations. We will continue to improve. We are preparing a page for inquiring individual items used, and we are also making a separate system for inquiring stochastic item usage logs such as cube usage history. It is likely that we will be able to provide it in the first half of the year at the earliest. We will respond quickly as soon as we are ready.
● When will the boss matching system be completed? Please share your progress.
Changseop Kim: Sorry for the wait, but thank you. It seems to be getting delayed because we are preparing with a smart matching system that does not simply match, but matches people who have a high probability of clearing. To this end, we want to preferentially provide a matching system in the form of a bulletin board that allows the leader to set a target boss and set the specification standards of the desired party members to form a party. We will try our best to show it in the first half of the year as much as possible. It does not mean that it will replace the smart matching system, and even if it is delayed, the smart matching will be developed separately.
● Please improve the motion of both hands!
Gangwon-do: Two-handed motion requires a new design for all movements, so it is a massive task, and I thought that the estimate was large and there were many difficulties in development. However, it seems that what the warriors want is not to cover the character's face in the same place, etc., rather than such a massive improvement. We will quickly find and provide a way to satisfy that part by any means. For the two-handed motion, we will increase the speed so that the coordinators can do it more freely, we will support it.
● Please reveal in advance the upcoming special Sunday Maple event.
Changseop Kim: Miracle Time is the well-known Miracle Time. Petit Pet Time provides everyone with a magnetic pet called 'Sherbet' as a basic reward, and in the form of Sugar Time, you receive one box at a certain time, 200 coins each time you use the box, and probabilistically replace the existing magnetic pet. It is structured so that it can be received in the form of a winning reward.
Changseop Kim: In the case of Shining Star Force Time, the enhancement probability becomes 100% at 5-star, 10-star, and 15-star, and the Star Force enhancement cost is 30% discounted. Lady Blair's coordination time is in the form of sugar time, and the basic compensation is provided by attaching limited-time stats to the Chu-Chu Island set. The winning reward is one of the 1st to 12th master labels. Road Blay's hair time is also sugar time, and the basic reward is a custom mix dye coupon, and the winning reward is one of the 1st to 12th master label hair coupons.
● Users are still hungry. Are there any more special rewards?
Gangwon-do: This Friday, we prepared an item that you can receive through the operator NPC. First of all, it consists of one growth leap option, one symbol exchange ticket, 1,000 Melody Coins, and 10 Ikbi. So, I will add a mannequin here, and I'm sorry for delaying the Beauty Awards, so I'll give you a Beauty Awards hair coupon and a cosmetic surgery coupon. Oh, there are many chats asking for a polarity ratio. The planning team leader wouldn't like it because it worked out too much… If you say it's okay, I'll give it to you.
Changseop Kim: Although the polarity ratio has been resolved a lot this time, I think it is right to give it anyway. I'll give it to you.
Gangwon-do: There are many stories about the need for Kyungko Gem and P-App. I'll add more.
Total Reward: 1 Elixir of Growth option, 1 symbol exchange voucher, 1,000 Melody Coins, 10 Ikbee (Elixir of Extreme Growth), 1 Mannequin, 1 Beauty Awards Hair Coupon, 1 Beauty Awards Cosmetic Coupon, Polarity Rain (Elixir of Extreme Growth), Kyungko Gem (Experience Core Gemstone), PApp (PCBang Absolute Weapon)
● Lastly, would you like to share your impressions?
Changseop Kim: It's my first time doing a live broadcast, so it seems like I said a lot and made a lot of mistakes that didn't suit the broadcast. I will do better next time. It would be nice if we could communicate more like this in the future. The fact that MapleStory was able to serve for 19 years is thanks to the heroes who have played our game for a long time. I think it was possible because there are people who love MapleStory so much, believe in it and encourage it, that it will get better even though there have been many incidents.
Changseop Kim: I always said I would do well, but it's true that I'm still lacking. Let's do an update that is not embarrassing when introduced to users. We are developing with the policy of not to do patches that cannot be explained to users. We will continue to improve the areas that are lacking in skills. We will continue to communicate. If you watch and play, we will make a game that can be enjoyed for 20 or 21 years longer.
Gangwon-do: In February, we will announce the roadmap for the first half of the year together with the Update Information Communication Center. This live talk is by no means a substitute for a meeting. The meeting will be held in April or May, when the 19th anniversary is approaching. In the future, it is likely that you will be able to find them more often in live form. Thank you so much for staying with us until late.
Reference-bbs.ruliweb.com