[기사 본문]
– Introduced innovation that satisfies various needs of customers such as smart work, smart home, and gaming
At CES 2022, the world's largest electronics and information technology exhibition, Lenovo announced products and solutions designed to empower individuals and businesses to keep pace with the hybrid lifestyle.
Lenovo's vision of 'smart technology for all' in consideration of sustainability is included in a variety of newly unveiled products and solutions. Lenovo is leading the way in innovation by redefining the user experience for remote and hybrid work, learning and entertainment.
ThinkPad series with advanced business technology
▲ (From left) ThinkPad Z13, ThinkPad Z16
To commemorate the 30th anniversary of ThinkPad, Lenovo unveiled the ThinkPad Z series, including the ThinkPad Z13 and ThinkPad Z16. The ThinkPad Z series is equipped with the AMD Ryzen Pro 6000 series equipped with a Microsoft Pluton security chip, providing competitive performance and security in addition to ThinkPad's unique advanced design and excellent collaboration experience. It also uses 100% recycled plastic, 75% recycled aluminum, and 100% compostable bamboo and sugarcane in both its products and packaging to enhance durability while protecting the environment.

▲ (From left) ThinkPad X1 Carbon 10th Generation, ThinkPad X1 Yoga 7th Generation, ThinkPad X1 Nano 2nd Generation
In the ThinkPad X1 series, which is considered a representative ThinkPad portfolio lineup, ▲ThinkPad X1 Carbon Gen 10 ▲ThinkPad X1 Yoga Gen 7 ▲ThinkPad X1 Nano 2 Generation (ThinkPad X1 Nano Gen 2) was announced. The newly announced ThinkPad X1 series is equipped with a 12th generation Intel Core processor with Intel vPro to realize a higher level of performance and has improved camera and audio functions for immersive collaboration. Security has also been strengthened to ensure safety even when working remotely.
A powerful solution for SMEs, Thinkbook and ThinkCenter Neo

▲ (From left) ThinkBook Plus 3rd Generation, ThinkCentre Neo 50s, ThinkCentre Neo 30a 24
Lenovo's new ThinkBook and ThinkCentre neo are designed for small businesses, with sophisticated and sustainable designs for the next generation of business.
The ThinkBook Plus Gen 3 is a product for multitasking in a hybrid work environment. In addition to the industry's first 21:10 ratio 17.3-inch display, an 8-inch secondary display was installed to enhance productivity and efficiency.
ThinkPad Neo is a product for companies that need high-performance computing solutions, and consists of ThinkCenter Neo 50s and ThinkCenter Neo 30a 24.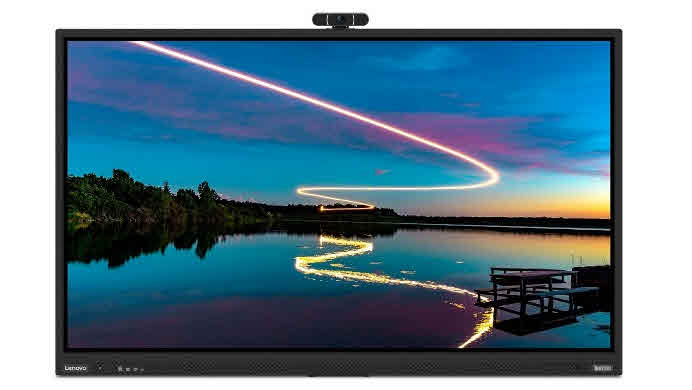 ▲ Think Vision Large Display
ThinkVision large display for smart work and smart education
Lenovo announced a new lineup of ThinkVision large-format displays suitable for conference rooms and educational spaces. The ThinkVision T86, T75 and T65 are equipped with 86-inch, 75-inch and 65-inch displays, respectively, with a bright 4K display, Lenovo's Smart Whiteboard software for a comfortable writing experience, excellent built-in speaker and microphone, and modular It provides an effective collaboration experience with a webcam.
Best choice for entertainment Yoga 7th generation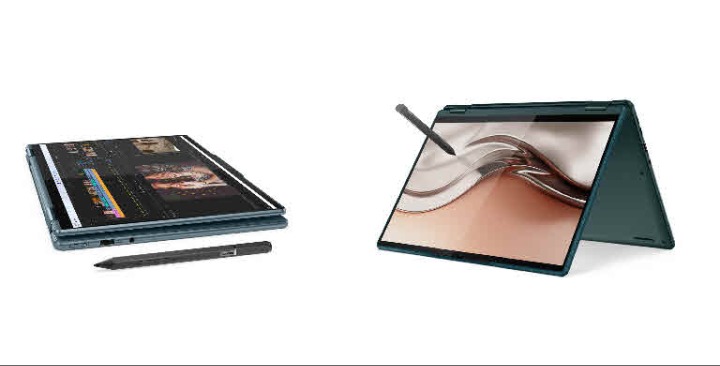 ▲ (From left) Yoga 7i 14 inch, Yoga 6
To celebrate the 10th anniversary of yoga, Lenovo introduced the 7th generation lineup of yoga 2-in-1 laptops. The Yoga 7i, which boasts the best portability, is available in 14-inch and 16-inch versions, and it maximizes the user's entertainment experience with Dolby Vision certification and a touch screen. The 14-inch Yoga 7i realizes an optimal content creation environment with up to 2.8K OLED display and 100% DCI-P3 color gamut. The 16-inch Yoga 7i is the best choice for users who want to watch videos on a larger screen.
Yoga 6 is a product that realizes sustainability by using eco-friendly materials such as recycled aluminum and fabric material cover options. With a 13-inch size, 18.25mm thickness and 1.38kg weight, it has excellent portability.
Regional lineup for the ultimate gaming experience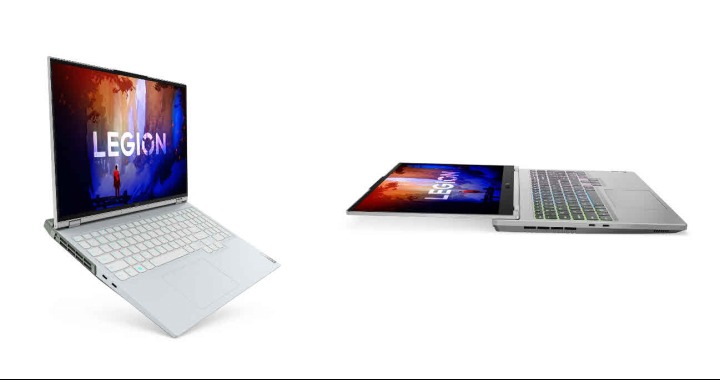 ▲ (From left) Region 5/5i Pro, Region 5/5i
Lenovo Regions provide extreme play experience and productivity for users who want a premium entertainment and gaming experience, no matter where they are.
For its 2022 gaming PC lineup, Lenovo is introducing a 16-inch size ▲Legion 5i Pro ▲Legion 5 Pro and a 15-inch ▲Legion 5i ▲Legion 5 (Legion 5). disclosed. All of these products are based on Windows 11, boasting excellent gaming performance and portability, and are equipped with the latest NVIDIA GeForce RTX notebook graphics chipset. Region 5i and Region 5i Pro are equipped with the latest Intel 12th Generation Core i7-12700H processor, and Region 5 and Region 5 Pro are equipped with the next-generation AMD Ryzen processor.
In addition, Lenovo unveiled a new monitor product boasting low-latency (high response speed). Lenovo Legion Y25-39 monitor is the best product for gamers. Lenovo G27qe-20 and Lenovo G24qe-20 have obtained Eye-Safe certification, and blue light reduction technology is applied to reduce eye strain even after long gaming sessions.
Lenovo also unveiled a new mouse product, a must-have item for gamers. The ergonomically designed Region M600s Wireless Gaming Mouse and the Region M300s RBG Gaming Mouse are built for superior grip and extremely light weight, weighing less than 75g.
In addition, by linking popular platforms and online stores, they announced Legion Arena, a centralized gaming hub that consolidates all previously purchased PC games into one platform.
Expand customer service
Lenovo has introduced the CO2 Offset Service as part of its broader ESG initiative. All Lenovo Legion and Yoga PC products, including those unveiled at CES 2022, will be covered by the CO2 offset service. Lenovo plans to offer consumers a simple and transparent way to offset carbon emissions and preserve the environment by expanding the carbon dioxide offset service applied to the existing Think PC product line for business.
In addition, Lenovo introduced Premium Care Plus, a consumer support service upgraded to meet diversified consumer demand. In addition to the existing Premium Care service, it offers advanced service benefits such as Accidental Damage Protection (ADP), Lenovo Smart Performance, Migration Assistant and battery warranty.
Reference-bbs.ruliweb.com