[기사 본문]
– 2022 season rank begins… A new integrated rank is given based on the existing accumulated experience.
– 'Zero' characters and weapons, new sniper rifle 'MSR-200', etc. are provided as 'Sudden Pass' rewards
– 'Rank Battle 2022 Season 1' Partnership with My Data asset management platform 'Livemate'
Nexon (CEO Lee Jung-heon) updated '2022 Season 1: Zero Hour' to the online FPS game 'Sudden Attack' on the 6th.
First, the 2022 season rank will start based on the 2021 season rank and general rank that was finally achieved before the regular inspection. At this time, the starting point for the 2022 season will vary depending on the final achieved rank. In addition, a new integrated rank is given according to the experience points acquired in the past general rank and season rank. The unified rank uses the same badge of rank as the existing general rank, and from the general, rank is relatively determined according to the unified ranking.
In addition, if you complete the quest by March 31 and grow the 'Sudden Pass' and 'Challenge Pass' sequentially, you will be rewarded for each level. The main rewards of 'Sudden Pass 2022 Season 1' are 'Zero' permanent characters and weapons, and a new weapon 'MSR-200'. In addition, it provides abundant benefits such as experience and SP. 'MSR-200' is a new type of sniper rifle that can penetrate enemies and inflict damage to other enemies in a straight line.
This challenge pass introduces a ranking system. When you reach level 31, you can participate in the ranking, and if you increase the level, you will go up in five grades, from Challenger to Challenger Top. A user information window that shines as a reward according to the grade is provided, and the grade is displayed on the status board.
In addition, 'Rank Battle 2022 Season 1', 'Tournament 2022 Season 1', and 'Territory Battle 2022 Season 1' will be held until March 31st. In the case of 'Rank Battle 2022 Season 1', we partnered with 'Live Mate', an asset management platform of KB Kookmin Card that launched My Data service on the 1st, and when reaching Top 100, 'Live Mate' can use 5 Only point-less coupons are paid. In addition, 'Rive Mate' and 'Nike' skin weapons and experience items are provided when the rank is achieved. We present a coupon with 10 coins.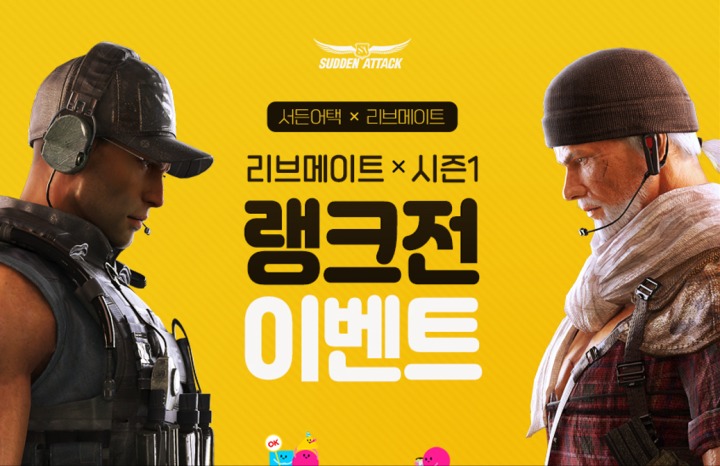 In addition, if you raise the level of 'Sudden Club' by acquiring VIP points by participating in events and using cash items by April 7, you can receive 'T.Contender VIP', 'E.Shield VIP', clan experience item, flea market fee discount, etc. It offers a variety of benefits. If you use the VIP ticket, 'Dancing Judith Hawk Character Permanent System', '[M]'Mak-12(I) Evil Permanent Agent', [M]You can use the VIP shop that includes 'Mak-12 (IS) Evil Permanent'.
More detailed information about '2022 Season 1: Zero Hour' can be found on the official website of 'Sudden Attack'.
'Sudden Attack' official website: https://event.sa.nexon.com/220106/intro
Reference-bbs.ruliweb.com