[기사 본문]
– Intense competition in the prospect of 'Ryanggang Composition' for Gen.G-T1
– You can get various drops by watching on lolesports.com
The 10 LCK teams, which have drastically changed since last year's squad composition, will be shown to the fans for the first time.
League of Legends Champions Korea (CEO Sang-Heon Oh, www.lolesports.com, hereinafter 'LCK') announced that the 2022 LCK Spring will start on the 12th with DRX vs. Liv Sandbox, and T1 vs. Guangdong Freecs.
After completing the League of Legends World Championship in 2021, 10 teams undertook a major reorganization through the Stove League, which has progressed in earnest. It was evaluated as the hottest stove league ever, and as a result, most of the teams, except for one or two, replaced three or four regular players and even hired new managers and coaches. Since the composition of the squad has changed so much that it is difficult to list them all, it is not easy to predict which team will play in what style.
◆ "Gen.G and T1 seem to be strong"
The commanders and representative players of 10 teams who participated in the 2022 LCK Spring Opening Media Day held at CGV Yongsan I-Park Mall LCK Hall in Yongsan-gu, Yongsan-gu, Seoul on the 5th agreed that Gen.G and T1 would perform well in the spring.
They expected Gen-G and T1 to be strong in different ways. In the case of Gen.G, he analyzed that the players would perform based on their individual skills because the faces of the players were ace-class, and predicted that T1, which started to match hands and feet from the LoL World Championship, would be strong because most of the members remained.
Gen.G and T1 took opposite steps ahead of 2022. Gen.G recruited all four main players from outside, except for franchise star 'Ruler' Jae-Hyeok Park. Hanwha Life Esports' mid laner Jung "Chobi" Ji-hoon was the lead, KT Rolster's top laner Choi "Doran" Hyun-jun, and African Freecs supporter "Lehenz" Si-woo Son were recruited. These three players have worked together in the past when Griffin was in his prime. In addition to this, we combined veteran jungler 'Peanut' Wang-ho, who worked as a member of Gen.G in 2019, and as coaching staff, Koh "Score" Dong-bin, who had a relationship with general manager Lee Ji-hoon, and Won "Mapa" Sang-yeon as coach, were hired as a coach. has been reborn as
T1 has selected the new talents it has developed as the main players in 2022. T1, which used a variety of players while running the 2020 and 2021 roster tightly, announced that it will come to the roster with a tidy roster in the spring of 2022. While Lee "Faker" Sang-hyeok, a player representing T1, took center stage and Ryu "Keria" Min-seok solidified his position as a supporter, rookie jungler Hyun-joon "Owner" Hyeon-jun and a distance dealer who performed impressively in the 2021 LoL World Championship. Kumayushi' Lee Min-hyung was chosen as the main player. T1, which exclusively appointed 'Zeus' Woo-je Choi as the top laner, built a lineup of newcomers nurtured through the 'farm system'.
Commentator Kim Dong-jun, who participated in the '10 minute discussion' program presented before the start of the spring, gave Gen. During the off-season, Choi Woo-je of 'Zeus' showed his advanced skills, and T1 is also drawing attention as he received more than 4 points from the '10 minute discussion' panel.
◆ On the 16th, Gen.G and Damwon Kia match, 1st week big match
In the first week of the 2022 LCK Spring Summer regular season, which kicks off with a match between DRX and Liv Sandbox, T1 and Guangdong Freecs on the 12th, Gen.G and Damwon Kia are emerging as the biggest match.
As explained earlier, Gen.G showed his aspirations for victory through the lineup by bringing together aces from several teams. Damwon Kia recruited Tae-yoon "Buddol" Tae-yun and Yong-ho "Hoya" Yun as top laners as Dong-ha "Khan" Kim chose to retire due to military enlistment, but it is evaluated that it does not have the same weight as before. However, Damwon Kia is holding on to Jungler "Canyon" Geon-Bu, who has advanced to the World Championship final for two consecutive years, and mid laner "Showmaker" Heo-soo, and 'Deokdam' Seo Dae-gil, who led the surprise performance of Nongshim Red Force in 2021, and ' Kellyn' Kim Hyung-gyu joined, so it's not an easy power to watch. If Roh Tae-yoon participates as the top laner for Damwon Kia in the match against Gen.G on the 16th, he may gather topics while meeting with his former team.
DRX and Gen.G are drawing attention in Gyeonggi Province on the 14th. This is because Jung "Chovy" Ji-hoon and "Deft" Hyuk-gyu Kim, who played together in DRX in 2020 and Hanwha Life Esports in 2021, will meet to advance to the world championship. He played for the same team for two years and before the 2022 season, Jung Ji-hoon chose Gen.G and Kim Hyuk-gyu chose DRX.
◆ LCK with on-site fans for the first time in 2 years
The 2022 LCK spring will be held on an ongoing basis. At the opening Media Day, LCK Secretary General Lee Jung-hoon said that fans would be able to watch the game on the spot, and said that it would accommodate up to 287 people while observing the government's quarantine rules. Those who completed the second vaccination (including the third vaccination), those who submitted a PCR negative confirmation within 48 hours, those who were excluded from vaccination for medical reasons, and adolescents under the age of 18 can enter.
It is the first time since the COVID-19 pandemic that more than 200 spectators enter the Jongno Roll Park LCK Arena, where the LCK will be held. The LCK allowed admission to only 10% of the total capacity in the first round of the summer of 2021, but it was switched to no audience due to the re-spread of Corona 19.
Fans watching through LoLEsports.com can also earn various drops. If you log in with your Riot Games ID on lolesports.com and watch the LCK live stream, a chance to get a drop will appear randomly. In addition, new limited emotes and icons will be released to mark the start of the 2022 LCK spring.
As sponsors of the 2022 LCK Spring, Woori Bank, BBQ, HP OMEN, LG Ultra Gear, Logitech, Secret Lab, CGV, and Tiffany & Co are together. Woori Bank, HP OMEN, Logitech, Secret Lab, CGV, and Tiffany & Co have been sponsoring the LCK from 2021, while BBQ and LG Ultragear have newly joined the sponsor lineup in 2022.
The 2022 LCK Spring will start at 4:20 pm on the 12th on Afreeca TV (https://bj.afreecatv.com/afol), Naver e-Sports & Games (https://game.naver.com/esports), and the LCK official channel. Location channels (https://www.twitch.tv/lck_korea), as well as online platforms such as Afreeca TV cable channels (Delive 154, Olleh TV 129, Btv 136, U+tv120, Seogyeong Broadcasting 256) broadcast live through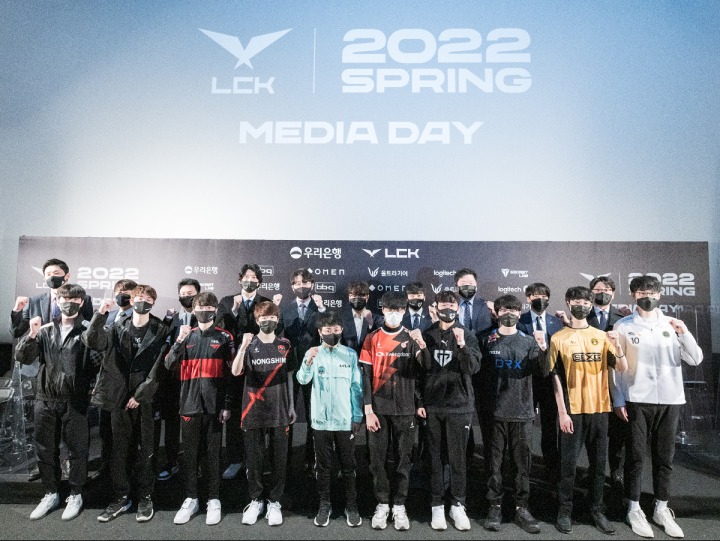 The coaches and players of 10 teams participating in the 2022 LCK Spring Opening Media Day…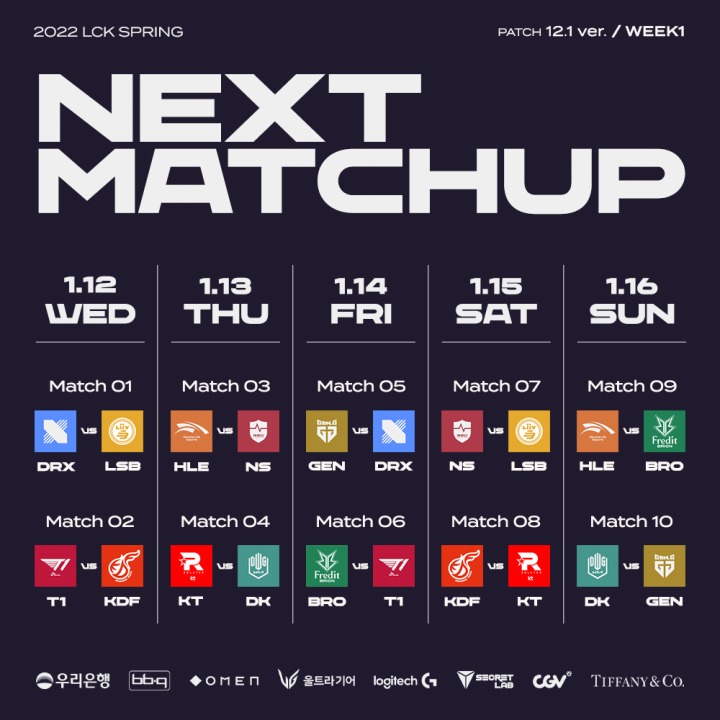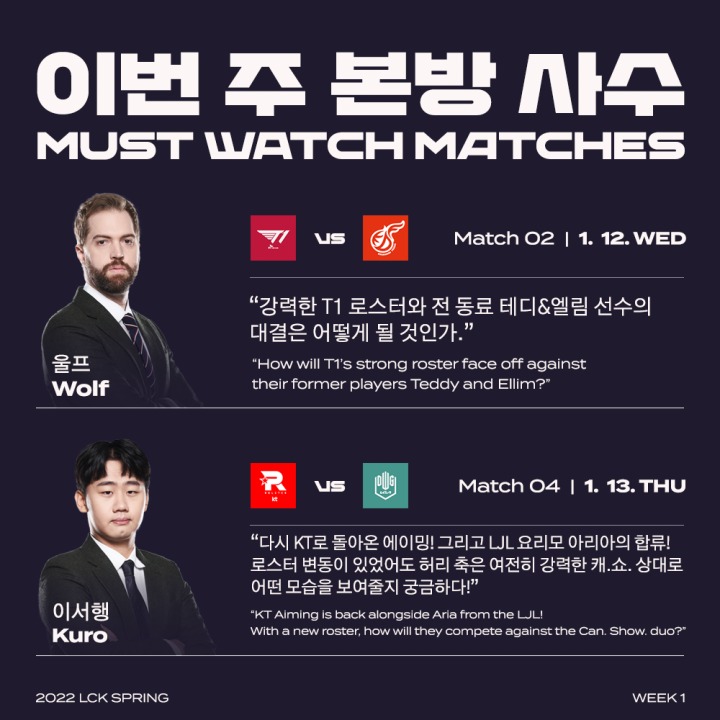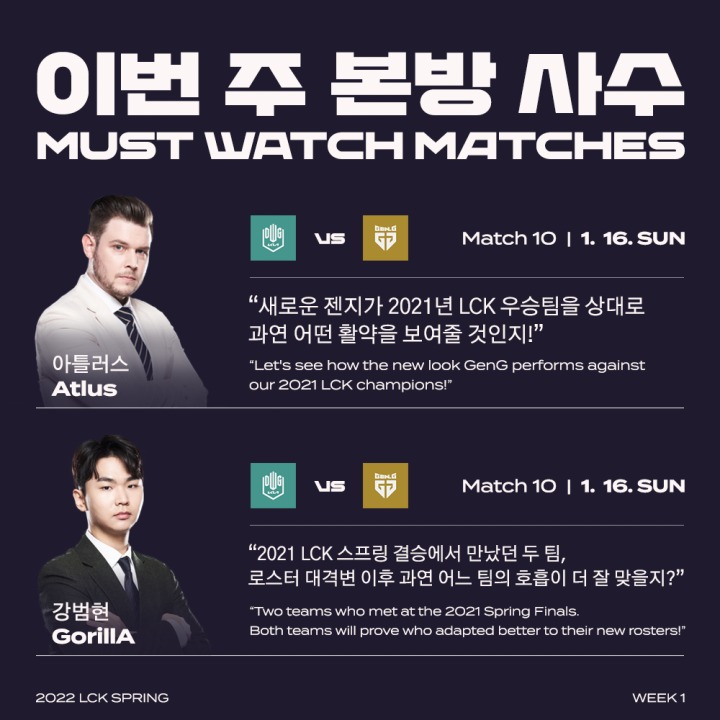 2022 LCK Spring Week 1 schedule and matchups.

Reference-bbs.ruliweb.com