global PCManufacturer Acer(acer)A high-performance, large-screen ultrabook comparable to a gaming laptop 'swift(Swift) X SFX16-51G'was launched domestically.
presented this time 'swift X SFX16-51G'silver last year 2The car was sold out and received a lot of attention in the domestic market. 'swift(Swift) X'as a large-screen model of 16Intel to inch display 11Gen Core processors and Nvidia GeForce RTX Graphics work through powerful performance even with the graphics card, video work, Expanded the scope of use to games.
Acer official "'swift X SFX16-51G'is a desktop computer through an efficient combination of an external graphics card and an Intel Core processor. PCIt is the key to providing powerful graphics performance comparable to that of"saying "Here 16Since it is the only ultrabook product with an external graphics card, it is expected to be a good choice for gamers as well as creators who frequently work with graphics and video editing."said.
'swift X SFX16-51G'is equipped with the latest Intel processor and Nvidia graphics card, and Microsoft's latest Windows11support.
especially Intel 11generation core i5/i7 Nvidia's on the processor 3Generation Technology and Ampere(Ampere) Nvidia GeForce based architecture RTX 3050Ti Video editor with built-in graphics card, graphic designer, Creators such as YouTubers and office workers, It not only provides excellent graphic performance to students, but also supports graphic performance that is not lacking even for gamers..
up here 16GB LPDDR4X Dual channel memory and up to 1TB NVMe PCIe SSD It is equipped with high-performance specifications such as support 11Built-in high-capacity battery for enhanced portability, The luxurious design realized through the all-metal body also stands out..
'swift X SFX16-51G'Is 16.1inch large screen poolHD(1920×1080) It is specialized in video editing and graphic design work through display. sRGB 100% color reproduction and 300nits bright IPS You can experience a wider and more vibrant screen through the panel..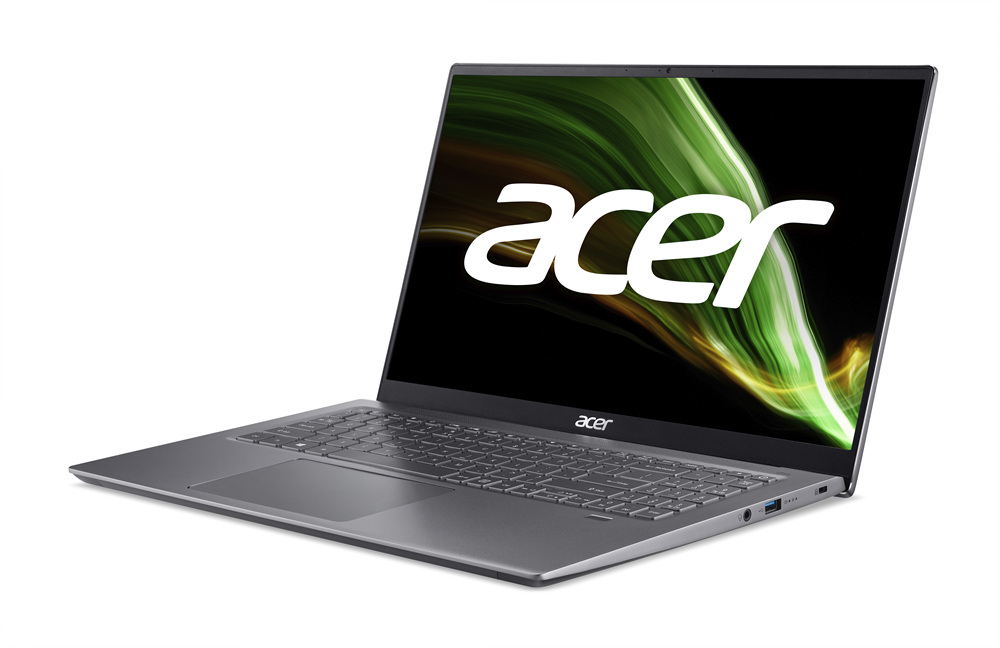 In addition, the lift hinge design and intake keyboard enable heat management to maintain stable performance and low noise., Normal, With multiple cooling modes such as performance mode, heat performance can be controlled depending on the location, so you can use it in the library without worrying about noise..
'swift X SFX16-51G'Is USB typeC Various input and output terminals such as Wi-Fi6, Thunderbolt4, Bluetooth 5.1Ultra-fast data transfer and battery charging through, Fast wireless connection is possible.
together DTS The audio technology sound system allows you to feel the rich, three-dimensional sound from the built-in stereo speakers., Essential for online classes and video conferencing HDA webcam is also included..
In addition, a backlit keyboard is mounted, so you can work skillfully in low light or dark environments, and a Kensington lock slot is supported, so you can use it with confidence without risk of loss from the outside..
released this time 'swift X SFX16-51G'The price of Intel i5 processor model. 1,449,000is a circle i7 processor products 1,649,000won(lamb 16GBclass 512GB SSD mounting, window11 including)is, Available in major online markets.
Also coming from Hi-Mart online mall 31You can purchase it at a special price through the Acer special exhibition event that runs until the end of the day..
Article report and press release: [email protected]
Reference-ongam.tistory.com