[기사 본문]
– 16 kinds of emoticons containing the humorous appearance of the 'Caruple' characters released
– Instant payment if you link your KakaoTalk account in the game, additional benefits are provided when inviting friends
– New season 'Factory' opened, adding a lot of new carts, tracks, and characters including 'Black Beetle'
Nexon Co., Ltd. (CEO Jeong-heon Lee) announced on the 12th that it has released KakaoTalk emoticons for the mobile racing game 'Kart Rider Rush Plus (hereinafter referred to as Carruple)' and added the 'Factory' season through game update.
The 'Carople' emoticon, which will be released for the first time, consists of a total of 16 types, and contains the humorous appearance of 'Carople' characters, including 'Dao' and 'Baezzi', and can be seen through a limited-time event until February 22. .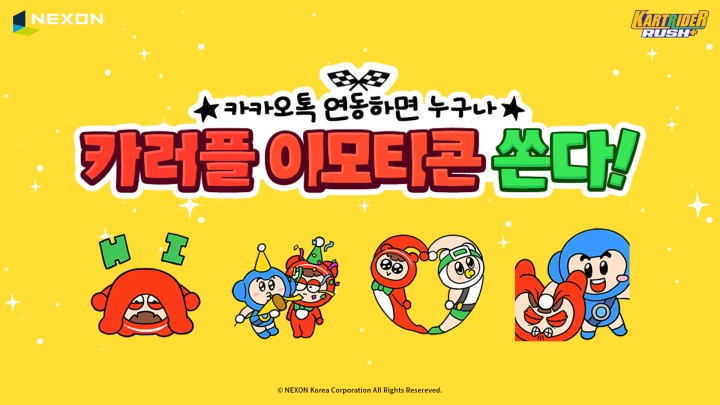 Nexon immediately provides 'Carople' emoticons (30 days) and 'Summer Princess Disney (Permanent)' to users who link their KakaoTalk accounts in 'Carople' in-game, and the number of times they invite KakaoTalk friends after linking their accounts Compensation benefits such as up to 30 days of mentees are given accordingly.
In addition, Nexon opened a new season 'Factory' with the first update of 'Caruple' in 2022. In this season, various carts, including the legendary speed cart 'Black Beetle' that surpassed the limits, and the legend grade item cart 'Indust', which jumps over all obstacles with a huge front wheel, are scheduled to be released sequentially from January 12th.
In addition, dynamic tracks such as 'Factory Booby Trap Factory Exploration', in which containers run through a densely stacked workshop on both sides, and 'The Threat of Giant Cogs in the Factory' reflects elements such as robots that interfere with the race and moving doors, and 'Brody', the factory manager. ', 'Doctor Rivasky' and 'Paper Batchy' will be introduced.
In addition to this, a lot of content for colorful game play is added. Introduced the 'Fog Mode', which competes skills by overcoming visual impairments, and the 'Cart Lab' system, where you can experience the functions of a prototype cart body prepared for the development of new functions, and open a scenario containing the story of the 'Factory' season. In addition, we update the infinite booster mode before ranking, change the 'track custom' mode so that all users can participate, and add 'room droid' to help manage 'my room'.
In the update commemorative event, a 'secret code' to acquire the 'Brody' character is provided to users who participate in a specific mission every day until January 21 and collect 'pieces', and achieve the season pass level by stage by January 27 It provides items such as 'Super Legend Decryptor*10' and 'Silver Gear Parts*5' to users who do.
You can find more information about the new 'Caruple' emoticon and the 'Caruple' game on the game's official site and community.
Kart Rider Rush Plus Official Site: https://kartrush.nexon.com/2022/event_220112-launching
Kart Rider Rush Plus Official Community: https://forum.nexon.com/kartrush/
Reference-bbs.ruliweb.com