[기사 본문]
– Conducting VR games and XR education and training projects in the metaverse value chain with world-class VR content implementation technology
– IP expansion of VR gun shooting game 'Mortal Blitz'… New game to be released ahead of release of new high-performance VR HMD
– The only 'large space XR working system' in Korea… XR market expected to reach $1.5 trillion in 2030
– A total of 2,226,300 shares open for public offering, hope band 9,000 won to 12,000 won… January 20-21 general subscription
– "We will leap forward as a leading company in metaverse technology that connects the real and the virtual world"
Skonec Entertainment Co., Ltd. (CEO Daesil Hwang, www.skonec.com, 'Connect') held an online IPO press conference ahead of its listing on the KOSDAQ in February to reveal its core business competitiveness and vision after listing. SKONC will conduct a demand forecast for institutions from the 13th to the 14th.
Founded in 2002, SKONC is a company specialized in the development and production of virtual reality (VR) contents. It possesses the world's best VR content realization technology and is promoting VR game business, XR education/training business, and XR future business within the metaverse value chain.
In 2015, SKONC applied 'VR motion sickness reduction technology' to launch the world's first VR first-person shooter (FPS) 'Mortal Blitz'. In 2017, it released an upgraded version of the same IP to Sony's PSVR device, ranking first in global downloads. SKONC predicts that the market will grow sharply from 2022 to 2023 as a number of global ICT companies such as Meta (formerly Facebook), Apple, and Sony have announced that they will release new high-performance VR head-mounted displays (HMDs). Three new games based on the Mortal Blitz universe will be introduced.
The core business of SKONC is to create content and provide services that lead the metaverse market based on XR (extended reality) technology including AR (augmented reality) and MR (mixed reality) as well as VR games.
In particular, SKONC is the only company in Korea that has the 'large space XR working system' that allows multiple people to participate in virtual reality training at the same time as its core technology. The technology was established as a domestic standard in 2020, and it was adopted as a standardization plan by the International Organization for Standardization (IEEE) and global standardization is in progress. In addition, SKONC has the technology to develop precision of movement and character motion tracking according to the size of the virtual space and the number of participants, thus securing differentiated technology in the XR convergence sector.
As the XR market, which can be linked with metaverse technology, grows rapidly, SKONC plans to secure a differentiated business model by linking the technology with various industries. The global XR market is expected to reach $476.4 billion in 2025 from $45.5 billion in 2019, and $1.5 trillion in 2030, accounting for 1.8% of global GDP.
Through this public offering, SKONC is offering a total of 2,226,300 shares. The desired band for the public offering is 9,000 won to 12,000 won, and the total expected amount of the public offering is 20 billion to 26.7 billion won. The public offering price is confirmed through demand forecasting, and general subscriptions are held from January 20th to 21st.
Hwang Dae-sil, CEO of Skonec, said, "With the IPO as an opportunity, we were able to introduce Korea's only 'large space XR working system' technology and core competitiveness to investors. , XR education and training system development and metaverse content development, etc. will be used for R&D funds, marketing funds, and operating funds, etc. said.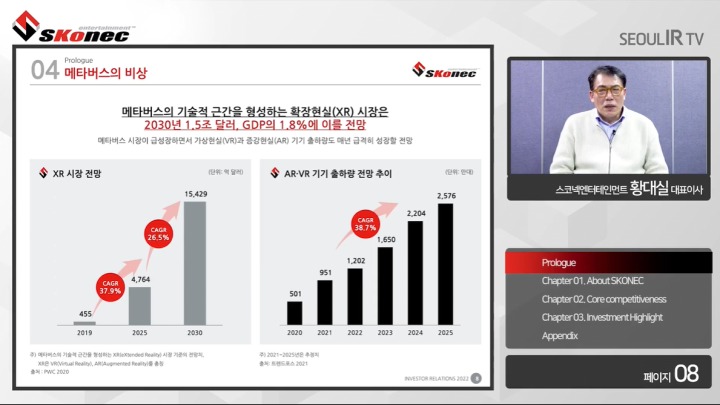 Reference-bbs.ruliweb.com